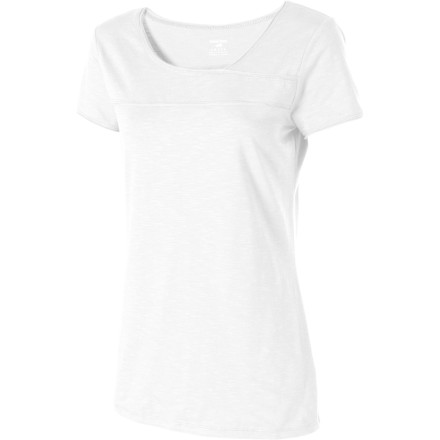 Detail Images

Community Images
Bought this shirt in black because I needed a black t shirt. It fits very well, true to size ( M ), very soft, non itchy. It has interesting detail on the neck and not low but a smooth rounded line. I actually love Horny Toad products. This shirt washes well, does not shrink ( although I take all of my shirts out of the dryer while still a bit damp and hang them). This shirt is long enough to cover a rounded stomach and hangs just to the hip which is a great style. It is not tight and not loose but hangs perfectly.
This tee goes with everything. I like that it's not super fitted, and the fabric is nice and soft. The neckline is good if you want something that gives a bit more coverage.
This is a great shirt. The details are great just as the review written by Re. +1
I wasn't sure if the seam details at the neck and across the chest would work for me or not, I was afraid it might look too boxy, but turns out it looks great! The fabric is awesome, too. A little bit thicker than Horny Toad's "Swifty Top" (which is on the thinner side) but I think it's perfect (and I do live in the desert) as a tee that has a bit more style.