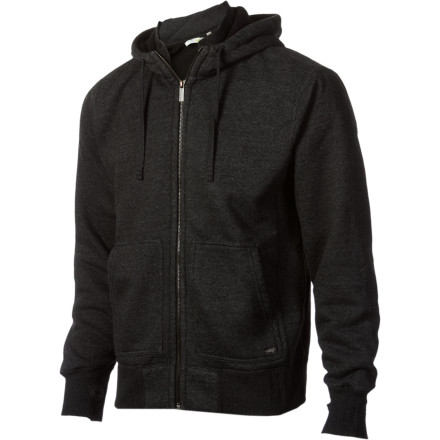 Detail Images

Community Images
Horny Toad's Frigate Full-Zip Hooded Sweatshirt is the perfect uniform for strolling about a pumpkin patch or brewing your own harvest-season ale. It comes with super-soft and nubby Voodoo Heather fleece for that holy-cow-I-want-to-live-in-this-forever feel. Wear it as your outer layer on fall days or under a jacket when the snow starts to fall.
How roomy is this sweatshirt? I have a...
How roomy is this sweatshirt? I have a gut and find that many products out there are for the fit and trim which I'm not! Therefore I'm looking for a product with some room in it! Does this sweashirt qualify?
This is not slim-cut. It has a typical sweatshirt feel and look, nice and roomy.
Fantastic Jacket, More than a Sweatshirt
I've worn this around quite a bit lately. I'm 6'7" and 200lbs, and this is a little baggy but long enough for me in the body and sleeves, which is what counts. I actually was wearing this heavy sweatshirt (I consider it a jacket, because with an extra long sleeve layer underneath, its all I've needed down to 30 degrees in Wisconsin) when I was in a car accident last night. My North Face jacket and sweatshirt that were next to me in the passenger seat (in the back) got completely shredded by the glass, but I was completely fine. I was showered with large trunks of glass, but no one cut through. It was soft and cozy as I got checked out by paramedics, and I have no doubt that this super super comfy sweatshirt kept me from some pretty serious cuts. Who thought I'd ever say THAT in a review??
Prelude to a Dinner Party
Weekends are unpredictable so the Frigate zip up hoodie is constructed for continuous, multi-purpose wearings. Made of our supreme VooDoo Heather knit, it's lined in sherpa fleece for core-warming comfort. The hood has a drawstring, the zip front offers temperature control, and a hidden inside chest pocket has a slit for your earphone cord. Comes with handwarmer pockets, rib-knit cuffs and waistband and the risk that it'll get appropriated by anyone who spends the night.
I bought this for my boyfriend. He loves it. He says it's super cozy. Fits him well, he's 5'10" and 165lbs. I got him a large. The fuzzy material is lined throughout the hoodie including the arms and hood.