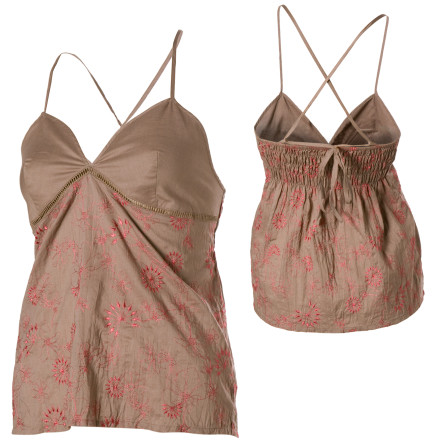 Detail Images
What do you think about this product?
Have questions about this product?
Wish it had worked for me
Horny Toad does a good job of using cool materials for their clothing. I ordered this tank in a size medium. It was a good fit for a 5'3" frame, but I'm not that busty, so the upper part was flat on me and that part did not look that good. I really did like the criss-cross straps in the back, though. I really wanted this tank to work for me because it was so light and airy and the design and color were cool, but I ended up sending it back. Bummer.
Figure flattering cut, high-quality embroidered fabric and good workmanship come together in this super cute camisole top. I have the purple and light blue!
I am 5'9" and am wondering about the length...
I am 5'9" and am wondering about the length of the tanktop... It the tanktop a little longer or a little shorter?
I just received this item in the mail and when I tried it on, the tank came to a little over my hips, but not much. I'd say it's not a long tank.