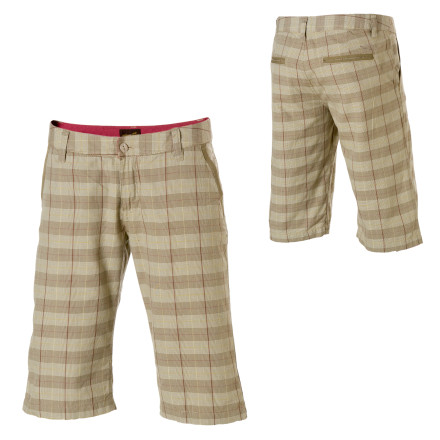 Detail Images
I absolutely loved these shorts, so even though they only had a size 10 in the color I wanted, I wear a comfortable size 8, I ordered them hoping that the fit would run small. No such luck, after trying to wear them twice, I had to return them because they were just too big. I didn't like any of the other colors unfortunately, so I just ordered different shorts. But I would definitely recommend these shorts, just order them in the correct size, because the run true to size.
The fit was good; however the pockets gapped enough for me to return them. I wish they made them without pockets.
I got these to tool around the golf course in -- they're great! nice and roomy too. I'm 5'6 and weight 120, the size 4 fits perfect, lots of room for all activities -- riding the cruiser around town and golf.
Like the others, go a size smaller and they're perfect. Great for stylin' (got lots of compliments). Forgot my mtb shorts, so I wore them over my lycra with a belt. As it turned out, these shorts are great for riding. I only wish the back pockets were functional. The back pockets are a third of the size of what they should be.
These shorts are super comfortable! They are my new favorite bermuda shorts. You cannot go wrong with horny toad either. They are a great company with great products.
These shorts are super comfortable but they do seem to run a tad big, I'm generally in between a size but I for sure would go smaller for this pair. Love them.
For a classy casual look...
Very cute and stylish shorts. Definitely compliments my figure!!! The fabric is quite cool (especially for hot humid days) and fits true to size. Loving every minute with them and I would definitely recommend them!

P.S. THIS SITE IS AN OUTSTANDING WEBSITE AND THEIR CUSTOMER SERVICE GOES BEYOND ONE'S EXPECTATIONS!!! - A Customer for life and proud of it!!!