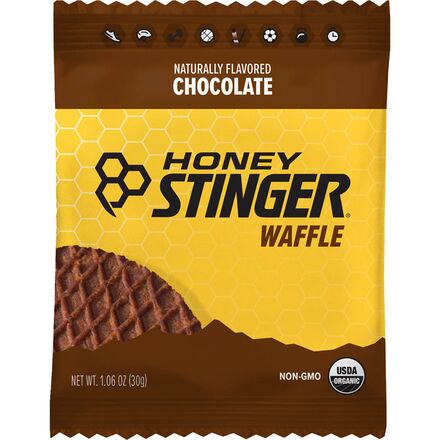 Colors

Detail Images

Videos

Community Images
Description
Get buzzed.
Everybody loves waffles, but Honey Stinger's 16-Pack of Stinger Waffles might elevate your love to the next level. Not only are they delicious (with flavors running the gamut from lemon to vanilla to chocolate to strawberry), but they pack a natural nutrition punch that's tastier than lab-developed frankenbars. Most of the energy comes from honey, which is easy to digest so you never feel like you just ate a brick. The chewy texture of the waffle is just right—not too hard, not too soft—and they're so tasty that you'll probably find yourself snacking on them even when you're off the bike or trail. Each box comes with 16 individually wrapped waffles that are easy to stash away in a pocket. Heads up—Honey Stinger waffles contain wheat, soy, and eggs, so they're not for folks with allergies.
16 individually wrapped waffles
160 calories per waffle
Contains wheat, soy, and eggs
delicious
Familiarity:

I've put it through the wringer
Lemon, chocolate, regular they're all good to eat.
GIVE ME MORE!!!!!!
Familiarity:

I've put it through the wringer
all I can say is WOW!
Ride food of choice!!
Familiarity:

I've put it through the wringer
when I have to grab for a packaged treat during a ride this is the only thing I choose.
Perfect size and easy to digest during hard rides.
Tasty
Familiarity:

I've put it through the wringer
These are delicious and provide great variety from the other types of sporty snacks. I switch off between these and the chews (also from Honey Stinger, or the chews from Clif) and they all work great to keep me going.

My favorite flavor is strawberry, but it's hard to go wrong. Don't pay way more buying these individually at the last minute at the shop/store! Stock up and be stoked.
Poor packaging from Back country
I purchased 3 boxes of HS waffles. They were put into a oversize box and the individual packages were scatter through out the box. I suspect that I will have a lot of crumbled waffles. The individual boxes were not taped shut and there was very little packaging material to keep them from getting scattered about. The stingers are great but I would use a different vendor. Backcountry did a pretty poor job. The five star rating is for the Honey stingers. If rated separately I would have give them a one star for at least getting the right product.
Great taste and easy to eat
An energy bar you can really chug. These usually end up as a package of crumbs which is fine if you just want to tip them back like a bag of crumbled up chips. Way easier than breaking your teeth off in a hardened bar.
Hits the spot
Gender:

Male

Familiarity:

I've put it through the wringer
These are my favorite snacks for trail runs. Simple taste and good ingredients. Doesn't upset my stomach like most other "bars". Top flavors are honey and gingersnap. I put them in my Patagonia Pro Strider shorts and don't have an issue with them crumbling.
Am I Eating a Cookie?
Familiarity:

I've put it through the wringer
I usually hate eating bars or prepackage foods, but Honey Stinger products have become the exception to that. These are so tasty that I have to remind myself that it's not a dessert. I like to bring these on climbs - they are lightweight and easy to eat. Perfect little mid day snack! All the flavors are really good too. You can't really go wrong with any of them.
Pack in the calories, pack out crumbs
Familiarity:

I've put it through the wringer
Very tasty and with 160 calories per waffle they pack in the energy right when you need it. I'm removing a star because of the packaging/crumble factor. The way they open you literally break the waffle in half every time you open it. Maybe this is fine, even better, for eating, but it's kinda annoying. Where the Clif Shot Block has ideal packaging for consumption, this is the opposite. The crumble factor could be residual from the crumbling career of Lance Armstrong who was previously the poster boy.
Great Snack for Riding
Familiarity:

I've put it through the wringer
The waffles are a must-have for the trail. Great if you want something more substantial than gummies but still with that sugar kick. Chocolate and gingersnap are super tasty.
Tasty trail treat
Familiarity:

I've put it through the wringer
Have to admit, didn't think I would like these. But now I am addicted and always make sure they are in my pack. Only had the chocolate but plan on getting a few different flavors.
Hits the sweet spot
Familiarity:

I've put it through the wringer
A delicious on-trail snack that will leave you wanting 4 in one sitting! Highly recommended.
Yummy
Familiarity:

I've put it through the wringer
Not only are they great while riding but they are just great! If you are looking for a great tasting pre/during/post ride treat stinger waffles is what you need
Nice mid hike snack
Familiarity:

I've used it once or twice and have initial impressions
Brought a few waffles on a hike up Mount Washington. My boyfriend and I were off to a very early start, so we skipped breakfast, (Big mistake, I get hangry easily so this was not a good idea for a long hike) chugged some coffee, and headed up the trail. About two miles in, the hanger kicked in hard, so we took a break to dip our buffs in a stream and snack on these and some energy chews.

The waffles were a treat! They sat in the bottom of my boyfriends pack and were still in one piece when we took them out. They were crisp but not dry, and the flavor is amazing. I'm partial to the honey, but I enjoyed the vanilla as well. Definitely did the job of chasing away hunger and adding energy. Also great for when I feel a crash coming on a work, these waffles pick me right back up.

I will be buying more for sure, and maybe sandwiching flavors eating two waffles at a time, because chocolate strawberry sounds pretty fantastic.
I love buying these in big packs so I always have something to grab for adventure sustenance. Caramel, honey, and gingersnap are personal favorites. The only problem is keeping from eating them all the time so we have enough for outdoor snacks!
Caramel is unreal
Familiarity:

I've put it through the wringer
I was a little hesitant with getting the caramel option, but I am so glad I did. If you want to find something that would cause you to purchase it every single day because you went through a whole box in a day by mistake this is it!
Chocolate and honey are my faves.
Familiarity:

I've put it through the wringer
I've tried chocolate, gingersnap, vanilla, and honey. Chocolate and honey have been my favorites, but I'd get all of those flavors again.
Perfect energy food for the backcountry
Gender:

Male

Familiarity:

I've put it through the wringer
Honey is the ultimate energy food for a few reasons. Here are two:

1. It is the only food that never spoils thanks to its antimicrobial qualities. Archaeologists found honey in Egypt that was thousands of years old and upon testing was still perfectly healthy to eat.

2. Our enzymes can break down sugars such as fructose and glucose at the same time but only in a very specific ratio; otherwise one has to wait while the other is digested, which slows down the process. Honey is the only natural food which precisely matches the ratio of glucose-fructose that our enzymes can digest simultaneously.

Stingers deliver honey in an easy-to-hold, no mess form that packs flat, has a high calorie-to-weight ratio, are delicious even at altitude, and are inexpensive. They don't get rock hard in freezing temps like bars, and they won't make your pockets bulge either. Plus they digest easily and get the energy in you fast.

One or two of these plus an electrolyte drink and I am good for hours. I don't go anywhere in the backcountry without at least a few in my pack (I always bring a couple to share!).
Love my Hone Waffle
Familiarity:

I've put it through the wringer
These make the perfect ride snack! I love the way they taste and fill you up the right amount on a long ride. They are great and take very little space! You can put several in a jersey pocket and not even know they are there. The chews and gels are better than anything on the market also! HONEY STINGER!!!!
A good go-to snack while on the go
Familiarity:

I've used it several times
These waffles are light and compact, and easy to travel with. I take them with me when I feel the urge for a small light snack before active sports (cycling, running, basketball games, etc.) They go down easy, and are not too dense, or heavy. So far I prefer the vanilla flavor over the others, not too sweet nor does it have a strong aftertaste.