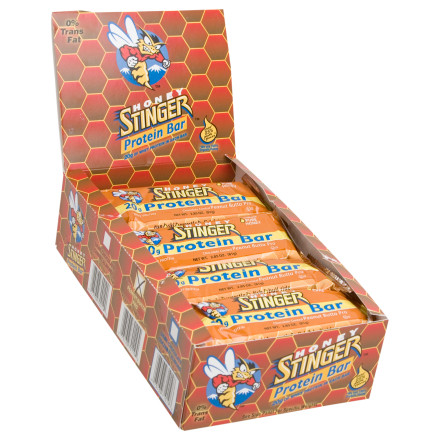 Detail Images
It's true that protein is necessary for muscle recovery after strenuous endurance exercise. But did you know that protein can keep your body from cannibalizing itself during prolonged activity? That's why Honey Stinger 20g Protein Bars should be in your jersey pocket on long rides.
In addition to burning the stored glycogen in your muscles, your body will get 10-15% of its energy from the breakdown of amino acids in your muscles. You can avert this gluconeogenesis (sounds bad doesn't it) and the weakened, sore muscles it causes by providing your body with protein as part of your endurance fuel. As the name would imply, Honey Stinger's 20g Protein Bars give you 20 grams of whey protein for rapid availability. Otherwise, they're made with 30% organic honey that is regarded as nature's energy food. Honey provides a perfect 1:1 blend of simple sugars, glucose and fructose, like the fruit that we eat. The benefits for endurance athletes are quick absorption and that it's easy on the stomach.
Honey Stinger 20g Protein Bars come in a box of 12. They're available in three tasty flavors -- Dark Chocolate Cherry Almond, Dark Chocolate Coconut Almond, and Peanut Butta.