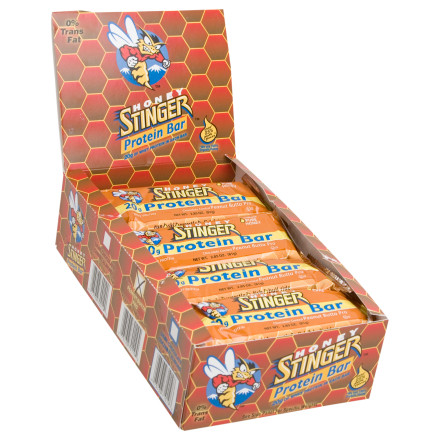 Detail Images
It's true that protein is necessary for muscle recovery after strenuous endurance exercise. But did you know that protein can keep your body from cannibalizing itself during prolonged activity? That's why Honey Stinger 20g Protein Bars should be in your jersey pocket on long rides.
In addition to burning the stored glycogen in your muscles, your body will get 10-15% of its energy from the breakdown of amino acids in your muscles. You can avert this gluconeogenesis (sounds bad doesn't it) and the weakened, sore muscles it causes by providing your body with protein as part of your endurance fuel. As the name would imply, Honey Stinger's 20g Protein Bars give you 20 grams of whey protein for rapid availability. Otherwise, they're made with 30% organic honey that is regarded as nature's energy food. Honey provides a perfect 1:1 blend of simple sugars, glucose and fructose, like the fruit that we eat. The benefits for endurance athletes are quick absorption and that it's easy on the stomach.
Honey Stinger 20g Protein Bars come in a box of 12. They're available in three tasty flavors -- Dark Chocolate Cherry Almond, Dark Chocolate Coconut Almond, and Peanut Butta.
Share your thoughts
What do you think of the
Honey Stinger
Protein Bars - 20g - 12 Pack
? Share a...
tasty
Familiarity:

I've put it through the wringer
I like these as a quick energy pick up while cycling and also as a pre workout snack.the provide 20 grams a whey protein which the body absorbs better than soy. I like the chocolate coconut but try not to let them get warm as they become a gooey mess.
So good, kind of addicted
Familiarity:

I've put it through the wringer
I don't think you can go wrong with any flavor when it comes to these Honey Stinger Protein Bars. Perfect for pre-endurance adventure, as well as during your activity. Gentle on the stomach...and too tasty for your own good.
These are SUPER good, but are on the sweet side and do have lots of calories. I think they are great for meal replacement or after a long, hard workout.
Honey Stinger 20g Protein Bars

Do these contain soy or soy proteins?
Do these contain soy or soy proteins?
It does not list soy proteins in the ingredients, but it does contain soy products (soya lecithin).
Taste of these is nice, but I wish they made them without the chocolate coating though as they're already way sweet. Bits of honey stick around in your teeth for later too, kind of a bonus I guess.

I prefer the Clif Builders Bars (Lemon and Chocolate Mint!) in texture and taste, but these are more filling and higher in calories for that meal replacement scenario. The Dark Chocolate Coconut Almond is really nice, but I haven't had the others.
These are the best tasting protein bars on the market. They don't have the grainy texture of other ones out there and they don't freeze badly in cold weather.
Kind of upset that I didn't try one of these locally before getting, but did get for a steal on S&C.
Not sure what those who compare to an Almond Joy or Mounds are saying. Tastes like sweet, chocolate-covered cardboard to me.
But, trusting that the nutritional info is correct & will use as post-ride recovery--with a big bottle of water nearby to wash down.
My family really likes these protein bars. They taste pretty good and they fill you up for a good 4 hours. Can supplement lunchtime meal with these. My favorite is the dark chocolate coconut almond. The dark chocolate cherry almond was pretty good too. I'm looking forward to trying the peanut butter flavor.
These taste like a candy bar. There's lots of honey in them and they're sweet like a candy bar. They taste super sweet, but they're nothing like a cliff bar or power bar.
I found these of very questionable taste....tried 2 different types and they both tasted bad. Unable to finish either although the dog has no such compunctions and Hanked what was left of them right down. As noted by another, the Clif Builder bars are much better, as are the Balance, Zone Diet, and Promax bars as well: X10 at least.

I'd pass on these unless you could try one first.
Too much sugar - junk candy bars
I bought a couple cases of these on SAC and the 1st ingredient is evaporated cane juice. These things are pure junk food. I wont buy them again. There's more energy loss than gained eating this kind of crap! Yuck!!! they also taste like candy bars. I usually buy waaay better bars than this. They are pretty horrible and nothing healthy about them! A little bit of protein but all the sugar kills any good these bars might do for you. Am attaching a list of ingredients - check out the 1st one which states what these bars are mostly made of!

If you are a serious athlete and don't get what I mean, read Brendan Brazier's book, "Thrive: The Vegan Nutrition Guide to
Optimal Performance in Sports and Life". The Thrive diet is awesome!!!!
Delicious, filling and effective
I love these bars! I purchased the dark chocolate almond/cherry ones and they are delicious! They're the perfect snack after a workout or whenever you're hungry. Definitely try them out!
I wont argue these are better than a lot of those nasty protein bars out there but they are WAYYYY over hyped here and are far from great tasting. As a protein bar they do the trick and are palatable.
If you really want a delicious protein bar, get Clif Builders bars. Better than many candy bars and snack bars (chocolate mint is phenomenal). Wont be getting these again unless i cant grab a Clif.
These are great bars! I had it for the first time a couple of weeks ago while on a ski trip. My brother and I both had the bar for lunch and didn't need to stop skiing for a break. They are pretty sweet, more like a candy bar, but they are packed with protein.
This bar wont break you teeth off when its cold out. Great taste, lots of punch for the weight, and they travel well. At -15 F you can bite through them without worry of injuring yourself. I used them while hunting on the Yukon river this winter, they were well received by my hunting buddies.
Best tasting bar I have eaten so far.It's good to get a break from eating other brands.
I first tried these bars after I got them in a race package....They were so good I almost ate the whole box in one evening....
highly recommend the Dark Chocolate Coconut Almond flavor

I wanted to eat these things for breakfast, lunch, and dinner

very tasty , will buy more
I love these bars, I get them whenever they go on sale at local camping supply stores. I was excited to get a 12 pack from backcountry.com; when they arrived, the packaging has a bit of wear on it (not the shipping box, but the thing cardboard box in which the bars are placed (like, at a retail checkout line area), but the bars themselves were in tact.Unfortunately, when I bit in to one, it tasted funky. I tried two more before chalking the shipment up to a loss, and tossing the pack. Oh well, I guess you shouldn't look a gift horse in the mouth.EDIT: A few weeks ago, I received a package from a representative of this company. They sent a replacement box, and samples of their other products.The replacement tasted just like it should have!2 stars to 5