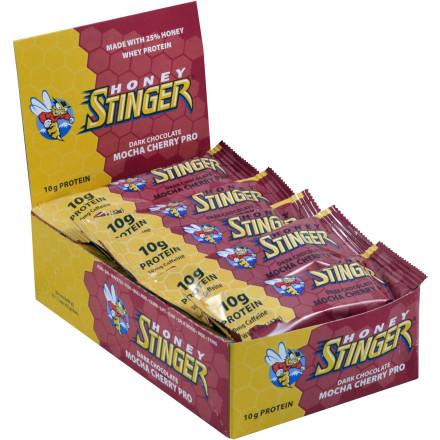 Colors

Detail Images

Videos

Community Images
Description
Honey is the sweet solution.
Honey Stinger's 10g Protein Bars are about half the size of their 20g Protein Bars hence they have half the amount of protein. It goes without saying that the rest of the nutritional information reads at roughly half of the bigger bar. This makes them a better snack size if you don't like to have big objects in your jersey pocket, or if you simply don't need that much food on your training loop.
The more interesting comparison is to Honey Stinger's Energy Bars. They're similarly sized at 50 grams compared to the 10g Protein Bar's 42g total, and they both have 10 grams of protein. However, the Energy Bar has half again the amount of carbs -- 28g compared to the Protein Bar's 18g. So the choice is yours to make depending on your preferred ratio of carbs to protein.
Like the Energy Bars, the Honey Stinger 10g Protein Bars use nature's energy food, organic honey, as the carbohydrate source. The part that makes honey great for endurance athletes is that it's a just right 1:1 blend of fructose and glucose, two simple sugars that enter the bloodstream quickly to give you a rapid energizing effect as you exercise. They also include whey protein. It's known to have the highest bio availability, so it also acts fast to work for your body. This protein is necessary for muscle recovery after strenuous endurance exercise. But did you know that protein can keep your body from cannibalizing itself during prolonged activity? In addition to burning the stored glycogen in your muscles, your body will get 10-15% of its energy from the breakdown of amino acids in your muscles. You can avert this gluconeogenesis (sounds bad doesn't it) and the weakened, sore muscles it causes by providing your body with protein as part of your endurance fuel.
Honey Stinger 10g Protein Bars come in a box of 15. They're available in four flavors -- Dark Chocolate Cherry Almond, Dark Chocolate Coconut Almond, Dark Chocolate Mint Almond, and Peanut Butta.
Satisfying and tasty
Familiarity:

I've put it through the wringer
It's hard to find protein bars that taste good and provide the protein I'm looking for without a chalky texture and taste - BUT these bars do it! They are pretty sweet but make a great bar - the only protein bar I buy consistently!
Best Texture
Familiarity:

I've put it through the wringer
These are the only protein bars that I eat. The best thing about these is the texture is not chalky or hard. It reminds me of eating a 3 musketeer. Light and fluffy! I've only had the peanut butter flavor, but excited to try other flavors. They are small so they aren't really heavy in your stomach.
Sweet and satisfying
Familiarity:

I've used it once or twice and have initial impressions
Got a few boxes of these bars off of Steep and Cheap for a great price, and it allowed me to try a variety of flavors. I was a surprise and treat when I took my first bite and realized how much these bars taste like a candy bar, but are far from one. They aren't overwhelmingly sweet, but can satisfy a sweet tooth when I would otherwise find myself reaching for ice cream or cookies. The small list of ingredients coupled with the long list of vitamins and minerals packed into these puppies are perfect.

I was not looking for a meal replacement bar, more of a post workout or mid hike pick me up, so the 10g of protein and 18g of carbs (for the dark chocolate coconut almond pro variety) was perfect. The whey protein didn't upset my stomach and the bar did not sit heavy or feel like I had just eaten a meal.

I plan to try out these bars on hikes and after a long run and will report back with results. So far, very impressed with Honey Stinger products!

One minor issue, which is not on Honey Stinger at all, is that they were delivered mid afternoon and left on my front porch in the hot end of summer sun. UPS obviously couldn't tell delicious chocolate covered bars were inside the package, so no fault to them either, but they did melt a bit. However, I'm happy to report that they firmed back up pretty quickly and still taste great.
Honey Stinger Protein Bar
almost 5 stars
Familiarity:

I've put it through the wringer
I teetered on the edge of 5 stars for these, but in the end, they're only worth 4 for me, but just know that it's close.

First, these taste really good. I bought the dark chocolate cherry almond, and that's exactly what's in them. There's that chewy protein stuff, but it has chunks of cherry, bits of almond, and covered in good dark chocolate. They taste really good for being a protein bar. I have eaten them after hikes, mountain biking, and the gym, and each time, they seem to take the edge off my hunger and also help in recovery (not so sore the next day).

However, a few things I don't like about these:

They're expensive for what you're getting. At almost $2/bar, you could get REALLY good protein bars (by good, I mean high quality) at Costco or REI, and they will be bigger, taste pretty good, and provide more calories/protein. I know a lot of the rage today is portion control, but these just seem small, and 10g of protein isn't much. I know there are 20g bars, but still 10g is not much, and there just isn't a lot of substance in one of these bars i.e. I'm still hungry after eating it. Also, the taste is good, but not GREAT. I'd prefer a CLIF builder's bar to these, for taste, amount of protein, and size of the bar, not to mention they're cheaper. That's the main reason I can't give these 5 stars, because there are better products out there that get the job done just a little better. Not bad though, if you can find them on sale such as steepandcheap, the price/bar is a lot more bearable.
Not bad
Familiarity:

I've used it once or twice and have initial impressions
typical slightly chalky taste of a protene bar but nothing extreme. Another decent product from honey stinger.
Chalky, but still a Stinger
Smaller bar, which is good, imo, than other massive, hard-to-eat-in-one-sitting protein bars. Mint flavor is subtle.
Really as good as everyone says!!
I really like this bar!! It has thin coating of dark chocotate that hits just perfect on every bite. It does taste more like a candy bar, but not sickening sweet. I usually do not like any "energy bar" but keep trying them. Really glad I tried this one.
Best protein bar out there
These things are great...they're a good size for packing, they've got what you need to keep you going, and they taste AWESOME. They're not just my favorite protein bar, they're one of my favorite foods. The chocolate mint are the only ones that I buy, but the others are very good as well. I recommend these to everyone...
I purchased another dark chocolate coconut almond and they are the best. I eat one before a ride and some times during my ride. They taste good and they are better than most other bars.
I've got to start by saying that the dark chocolate mint almond pro is the best of the best when it comes to protein bars. the flavor is all there, the texture is "not chalky," and the bar just all around delivers, normally. But in my last shipment things were a bit sketchy. i could see that the box was a little worse for wear. When I opened up a bar and took the first bite, something was wrong. The bar was hard and chalky. When i checked the box for the sell by date, it read: Sell By June 29.Hopefully this was a fluke but it still hurts to trash twenty-five dollars.
...careful to read the label...the first order was 20G of protein, the 2nd was only 10G. Otherwise good product for a good price.
I just got two boxes of these bars (via Steep and Cheap which is part of Backcountry.com). One box had an expiration date July 19 (1.5 months from now), the other was mismatched (the bars were Coconut Almond but the box was for the assorted bars). And, of course, both boxes were crushed. Is this site selling leftovers?
Really good, very filling, lots of energy and enough sweetness to make it taste more like a candy bar than a protein bar. The sweetness from the honey is a nice change up from typical bars and they are very smooth and not grainy like some bars.
I will order another box since the taste is so good. If you are sick of the taste of those other bars you should try this brand. Organic and gluten free honey!
I ordered the dark chocolate coconut and you can hardly taste the coconut.
These bars have great flavor. You would never know that they are "protein bars". The tastes are distinct and real tasting, none of the fake/plastic taste of some of the others on the market. There is none of the gritty grainy texture either.
these bars are yummy and feel easy to digest at the crag. they gave me some energy back throughout the day, i could really tell.
These things are great. I first tried them stateside while shopping at REI, sorry BC, you don't have a store for me in Seattle, and was hooked.

Just ordered the coconut almond and the peanut butter and I need to put a lock on my food bag as I could eat them all in a day, they are that good!
Great as a pick-me-up in the a.m. afternoon, whenever. One of the best tasting energy bars out there. Another homerun for Backcountry!
These bars are so easy to eat while on the bike unlike many others and they just happen to taste great, too. I have a hard time not eating them when passing through the kitchen. I primarily use them for 6hr XC MTB racing and they are a great solid food to mix into the calorie mix.

They give quick energy and digest easily and sit well on my stomach unlike other BRICK bars.