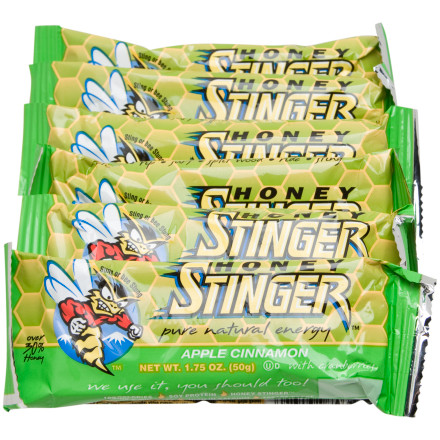 Way too sweet for this is just a personal preference. Had 1 bar and threw the rest away. texture was like eating brown clumpy sugar with a hint of cinnamon. (apple cinnamon flavor)
The peanut butter-honey bars are quite tasty and do a very good job of keeping you going when you need it. I've even had one in a pinch for breakfast or 1/2 for a snack.
Loves the peanut butterz.
I'm not a big fan of hard to digest energy bars, the honey does add some zing but for fast energy I recommend the Honey Stinger energy gel's much easier to carry and they taste great.
They get hard to eat after about half the bar. The taste is good but it is pretty dense. The chocolate coating is the best part though. If the bar was half as thick they would be a lot better. They freeze pretty solid in the winter so keep them close to your body if your planning on bitting into them so you don't break your teeth. In the summer they turn in to a gooey melty mess.
These are extremely tasty and seem to do the trick after a long bike ride. The soft consistency makes them easy to chew and swallow. The only drawback is that I expect they would not hold up well in the heat (although I have not tried that yet).
but pretty hard and crunchy. Not soft and chewy like I was expecting. Fair warning to those with artificial parts in their teeth... the hard pieces in this could break something loose. But if your teeth are strong and you like honey, this will do the the trick.