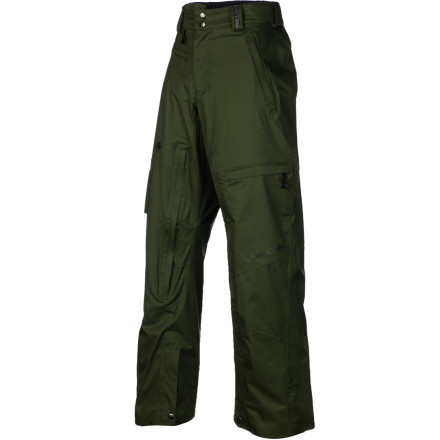 Detail Images
The Homeschool Men's Line Up Pant hails from the Pacific Northwest where the snow is wet and the gear can't be ghetto. Oozing style and tons of functionality, the pant's 2.5-layer waterproof breathable construction delivers the protection to keep you from marinating through your wet pants and looking like a tourist in the process.
Continuum 2.5 layer laminate provides a high level of protection from moisture with superior breathability
Xcelerator technology attaches a layer of Cocona fabric to the laminate to move moisture vapor and body heat via natural active particles
Fully taped seams put unwanted moisture in a sleeper hold
HSS Engineered Fit provides a classic fit that's built with comfort in mind, however you choose to layer
Inseam zip venting dumps the heat
Adjustable inner waistband allows for a fine-tuned fit, even for in-between sizes
Jacket-to-pant interface allows for a snow-proof seal with compatible pieces
Accessory holster conveniently holds gloves, goggles, and beanie while you adjust or head into the lodge for condiment salad
good product
Gender:

Male

Familiarity:

I've used it once or twice and have initial impressions
Very comfortable and easy to move around in. Adequate pockets in convenient locations.
Got these in Black and I love them. They are great in terms of breathability (they have an opening along the thigh that makes it great on warm days to breath.) I've also taken these out on cold days and still stayed warm and dry with a little layering. Im 5"7 and weigh 160, I got the medium size and their not too baggy in appearance but definitely not slim styled pants. I would describe them as classic or standard fit pants that are great if thats what you're looking for. Love the pants and am loving the brand, I got the Homeschool Jacket as well and will defintely buy them when adding to my collection. Im telling everyone that Homeschool is the way to go.
Night=Black Homeschool=killer gear
Just got the pants via UPS. Just to clarify, the Night color is really black. Do not be fooled by the photo, it is straight up black. In fact if you look at other Homeschool products that are "night", they look black. Other than that, Dogfunk really came through with solid costumer service and speedy free delivery. Two thumbs up on that front. Can't wait to take these pantalones out where they belong.

I am 6'4" with a 36" waist and the XL fit pretty near perfect. I have long legs so not as much length as I would prefer, but thats normal.
Awesome Company! Awesome Pant
These are great pants! I ski Tahoe mostly and the waterproofing is great for those spring days when everything is melting after lunchtime. They were also warm enough to hold up to temps in the teens and high winds during our weeklong Colorado trip so I can't really see any place these pants couldn't hang. There are plenty of pockets to store everything, I especially like the holster on the right leg, its perfect for stashing gloves or even just the right sized water bottle if you're not doing anything too strenuous.

I bought these at the beginning of the season and my 2nd time out I took a nasty fall in the park and cut my leg clear open, took 8 staples to close it. I called them up hoping they could help me with some kind of patch or repair and they offered to replace the pants for free for me! Totally great customer service with this company I'd absolutely buy whatever I need from them in the future.
Hi I am 6' 1" and usually wear size 32-34...
Hi I am 6' 1" and usually wear size 32-34 in jeans etc. Just wondering what would be the ideal size to order these pants in small or medium?
At 6'1", I don't imagine anything "small" will fit you lengthwise. I would choose a medium at least or else you'll end up with some waterproof clam-diggers!
I'm 6' and 32 waist, I have the mediums and they fit a little big on me. Depends if you want the baggy boarder look or something more fitted, you could probably wear either just fine
I'm just short of 6'1 with a 31.5 inch waist and the small fits me just about perfect. Not too short at all. If you're above 32.5 or more then roll with the mediums as the small might be a little tight
Bought my Homeschool pants at the beginning of the season and I've been really impressed. I've always had Burton gear so I was a little apprehensive when buying these pants but I'm so glad I did. I ride Mt. Hood a lot so they've seen all kinds of weather - including rain - and they've kept me dry through it all. Super breathable. Super awesome. Buy them... you won't be disappointed.
My info: 6'4", 200 lbs. 10 years riding.
Own these in an XL.

These be fresh! If you aren't into wacky-looking outerwear and like those earthy color tones, Homeschool makes some stuff you'll like!

Fit is pretty traditional, kind of on the boxier side. I wish these pants had a little more length to them, but being 6'4", I say that about everything I own.

Now let's get to the real treat about these, the Cocona shell. The breathability deserves the hype! These feel amazing and I've had no problems with waterproofing, even in the PNW! Layer up on a cold day, or get free ballin' on those warm days and let those babies breathe! The breathability on these pants is AMAZING and incomparable to anything else out there!

TLDR; Excellent waterproofing, retardedly amazing breathability, you have to try these to believe it!