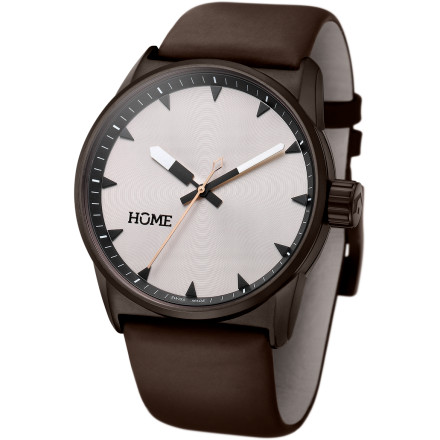 Videos
The hOme C-Class watch delivers a refined take on classic luxury-watch style. Full Swiss movement and hand-made construction ensure quality that's built to last, while fresh details like the contrast-color second hand and inner strap give you a subtle yet unique look.
Acid-etched, hand-numbered case back
Water-resistant to 50m
Designed, built, and tested in Switzerland
hOme Watches C-Class Watch
Faithful to the ol' saying that one learns something new every day, here is Robjn's take on the one piece of knowledge Mark acquired as he got his first hOme watch.
Diameter - 1.73" (not including the Crown)
If you like that C-Class just by looking at it here, wait until you actually get it. The band, omg that rubbery leather material they use is a killer! It has the super soft feel of a rubber band but with the touch of class that leather brings. A little annoying when everyone wants to touch it but there you, compliments all the way.
I bought the C Class watch in white and wore it on vacation! I was a tad worried that it maybe too big for my wrist but it's perfect. I love this watch and it's so comforatble. The leather band turns to butter after about a week of wearing. I just ordered the R class in After Dark Black!
the c class watch is simple in style with great details.
i love the all leather band on this watch. it has broken in great. it is a very easy and comfortable watch to wear. this watch gets compliments all the time.
LOVE my hOme C-class watch. the quality of these watches is unbeatable. hand assembled in Switzerland with 3-hand swiss movement, and a quality leather strap this make more than just a watch, it is a statement of class.