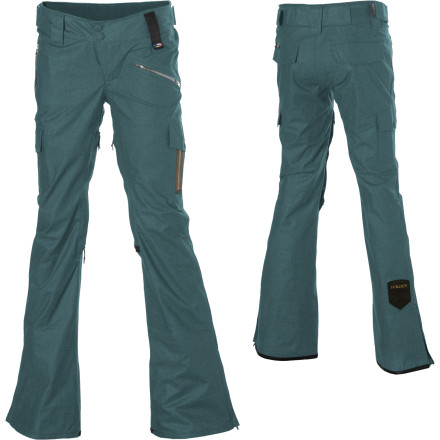 Detail Images

Community Images
these pants do look great on without boots. when i have my snowboarding boots on, the gaiters were really snug. i had a hard time getting them over my boots, creating a bulge underneath my pants. i've only worn them a few times and it doesn't seem that waterproofed. my bum is always wet looking and ice sticks to the pants like glue. for the price, i expected better tech than that.
The fit is amazing, I'm 5'8 and 120lbs. The first day on the mountain, my undergarments felt wet. My friends told me my backside is wet. By the time the day ended, i felt like I went snowboarding with my jeans on. Snow stuck to the pockets, I had ice hanging. Not a good look.
If you want a good fit, I would recommend this pant. But if you are a going riding, this would not be a good choice.
at least they are earth friendlier
some good things about these pants: earth friendlier fabrics, all the functional design features, they look cute, they fit pretty good - i'm 5'3" 115 lbs i could have got away with extra small (the small is a bit long and baggyish and the waist is cinched as tight as it will go) but glad i got small because i like to be able to wear fleece pants underneath if doing something in the cold other than boarding.

but i would like anyone who is shopping for pants to keep in mind that the hemp fabric is not like your standard slippery snowpants that the snow just slides off of, powder especially will STICK to these pants. you'll be having too much fun to notice it while riding but then you go have lunch and end up sitting in a puddle when it all melts and some of that moisture makes its way in. also at the end of the day you have chunks of icy snow attached to the back pocket flaps, and it doesn't break off easy. i have also noticed some wearing of the fabric and i'm skeptical of durability, even though it's hemp.

if you can afford to buy new pants every season or you want to have several pairs these are a good resposible choice because of the earth friendlier composition.
if you are like me and want pants that will last awhile these are great pants but i'm not highly recommending them.

in the end, who cares about the damn pants, it's all about the riding anyway.
These pants are so comfortable and easy to ski in. Holden has one of the best fits around and I couldn't be happier with the styling of these pants.
I picked up a pair of these, due to the unique detail of the hemp / PET fabric. I have them in Indigo. It almost has a blue "heathered" look. Check out the detailed views to see what I mean. I also like the back leather detail patch on the back of one of the legs. Holden is always ahead of the game, when it comes to fit/fabrics/eco friendliness.

I also bought these because Holden is the best and I like my pants snug. I am a guy in chick pants, just to get them extra tight, without dealing with tailoring. I normally wear sz 32-33 men's denim and got the large. They were slightly loose in the waist. I could have squeezed the mediums, but I wanted the length, and riding all day with a tight waist didn't seem ideal.