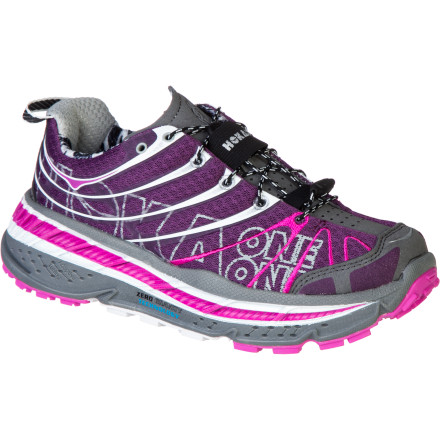 Detail Images

Community Images
No more rationing your runs: the oversize, rockered, supremely cushioning midsole of the Hoka One One Women's Stinson Trail Running Shoe not only encourages efficient running, but it makes it easier to get up the day after a long run and do it all over again. Offering 2.2 times the midsole cushioning of most other running shoes and 30% wider contact surface with the ground, the Stinson gives you one-of-a-kind comfort as well as excellent stability and traction. Its light weight means it won't slow you down on uphill pushes, but users (or converts and evangelists, as they end up being) report that where the Stinson really shines is on the downhills.

Within the Hoka One One line of revolutionary running shoes, the Stinson Trail offers the second-largest volume midsole (just behind the Mafate), and while it features the same midsole as the Stinson Road, it is slightly stiffer and offers a grippier outsole for rough terrain.
Breathable, debris-proof closed mesh upper and thin, foot-conforming tongue give you excellent fit and feel
TPU reinforcements add support while reinforced toe cap protects your foot from trail hazards
Speed lacing lets you easily dial in your fit and won't come untied during long runs
High Performance EVA in midsole is 30% softer and 2.2 times thicker than a typical trail running shoe so it absorbs up to 80 percent of shock associated with heel strike and soaks up rough terrain
Rockered midsole and low heel-toe differential (6mm) allows for natural-feeling strides and easier transitions between steps for improved efficiency
Bucket Seat heel and midsole pockets are recessed into the sole so you feel planted with every step
Extra-wide underfoot platform (30% wider than standard running shoes) stabilizes the movement of the foot upon impact to reduce the rate of under- and over-pronation
Rugged sticky rubber outsole with 4mm lugs conquers off-road conditions
Cushioned Trail Runners
Familiarity:

I've put it through the wringer

Fit:

Runs large
I got these trail shoes for my wife who loves trail running, but after a series of knee surgeries and a history of cartilage issues, it can be pretty hard on her knees. She says that these shoes have definitely helped her knees tolerate mileage on the trail, and she can run downhill comfortably for the first time in years. She is normally a size 8, but the 7.5 in these fit best. Worth the investment!
Love them!! No more knee pain
Familiarity:

I've used it several times

Fit:

True to size
I run long distances and was having a lot of pain after long runs. I researched and found these shoes. I LOVE them...they are a must for long distance running. They aren't heavy or clunky. It was a little different getting used to the bungie type laces but they work out just fine. I ran a half marathon in these and my knees were fine!! LOVE THEM!
I'm a convert
Familiarity:

I've put it through the wringer

Fit:

True to size
I used to giggle at these shoes, swearing that I'd never wear a pair. They look clunky, like you'd topple over and seriously bust an ankle, that you'd never feel connected to the ground, and that you'd surely misstep and ram your toes into rocks, etc. Well, after a season of completely wrecking both of my feet and ankles running ultras in much trimmer shoes, I decided to give these a try. Not only do they feel great on my recovering feet/ankles, but they are allowing me to run again! The instant I put them on it felt like they were made for my foot (teeny tiny and hard to fit). The platform is wide enough that I really can't topple over and do more ankle damage. The tread is excellent on the trails and I feel completely connected to the ground. The toe box is roomy without compromising the rest of the fit - normally a larger toe box for me means the entire shoe is too big and sloppy. My toes feel protected from the inevitable toe stubs. Snowy winter runs have been excellent - warm, dry, the foam stays soft unlike other shoes that get hard as rocks in the cold, fairly grippy. These are one of the most well-constructed pair of running shoes I have ever seen, inside and out. For comparison, I also tried a pair of Kailua Trails but I liked these much more. The Kailua is firmer and has a narrower platform, which is not ideal for recovering ankles. These shoes are worth a try, hands down. All of this is coming from one of the biggest poo-pooers of the product, but now I'm completely in love.
Already coming apart...
Familiarity:

I've put it through the wringer

Fit:

True to size
I want to love this shoe, as it is, in some ways, the most comfortable, correct shoe I have ever run in. Unfortunately, after only about 3 weeks, the reflectors on the fronts are peeling off, which may seem like a small thing, but I worry that it's an indication of what is to come. These shoes were almost $200 and for that amount, they need to be built to LAST. Period. Also I was assured before I bought them that the material on the inner heels has been improved; I'd asked because my last Hokas rapidly became shredded here under normal use, and I wore them for almost 6 more months with duct tape since the rips were causing so much friction. As far as I can tell, the inner material is exactly the same on these shoes as it was on the old ones, so naturally I am concerned that the quality is once again shoddy. I don't mean to whine, but the facts are that I am a student and I just can't spend $200 on shoes all the time if they won't last, even if they are truly otherwise-amazing shoes like these. I hope my worries are unfounded but I am frankly not optimistic. Hoka, if you're out there, please make more durable shoes! They are so close to being the best shoes ever!