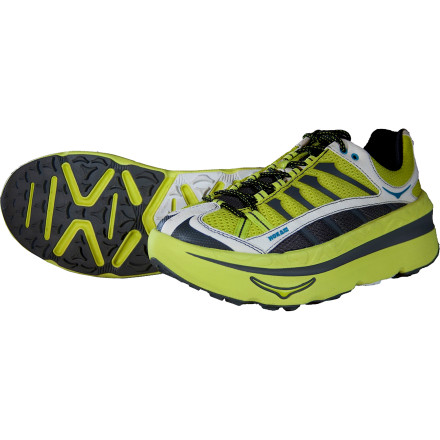 Community Images
It may offer a radically different approach than that of the popular 'barefoot' shoe style, but surprisingly, the effect of the cushy Hoka One One Mafate 2 Trail Running Shoe is very much the same. The unusual design maximizes efficiency, stability, and light weight, and it offers superb trail feel on top of incredible comfort.
Ultra-cushy EVA midsole is 30 percent softer and 2.5 times thicker than a typical trail running shoe so it absorbs up to 80 percent of shock associated with heel strike
Oversized outsole offers twice the surface area of a standard running shoe for maximum trail contact
Rockered midsole and low heel-toe differential (4mm) allows for natural-feeling strides and easier transitions between steps for improved efficiency
Oversized midsole stabilizes the movement of the foot upon impact to reduce the rate of pronation and supination
Ultra-lightweight design (10.5oz) means you tire less running uphill
Speedy downhill performance makes it ideal for adventure racing
Built for the trails
Familiarity:

I've put it through the wringer

Fit:

True to size
First of all kudos to Backcountry for getting these shoes shipped out to me super fast.

This is my 2nd pair of Hokas. My 1st pair were the Stinson Evos. I beat the hell out of those running trails in San Diego. 350 miles and the treads are totally worn off. Since I run 90% off road, I decided to try a pair of Mafates. Only have about 100 miles on them but so far so good. They fit better than the Stinsons and have a slightly wider toe box which I appreciate. The uppers are sturdier and the treads are heavy duty. Like my Stinsons, the Mafates are good for most types of trails but they get a little squirrley on tight narrow technical single tracks, the kind of trails where it's difficult to find footing. I have not rolled my ankle yet but have come close on those types of trails.

Also, after 100 miles I am noticing the rear tread on both shoes is starting to pull up at the corner. I've read other guys say use superglue...but they really should be designed better in the future. I bought these for trail running and they should be able to handle a beating.

Overall, I like the Mafates a lot and will probably buy another pair. Good for running ultras.
I have found "the Shoe". Now granted, I know that these shoes aren't for everyone. I was very skeptical about them initially until I decided to give them a go in my first hundred. I'd been battling PF for several months leading up to my run and was worried I wouldn't be able to complete my first attempt at this distance. Needless to say, around mile 30 I decided to swap out of my brooks cascadia into the hoka mafate. The rest is history. Instant relief, of course supplemented with my sole orthotics. These shoes went above and beyond my expectations. They do take a bit to get used to. Heel to toe differential is low, which accomadate a mid- forefoot strike. The major difference noted between the hoka and previous trail shoes is the reduction of jarring impact to the quads. Your quads and knees will thank you. They are fun on the down hill. Overall, I'd your a runner looking for a soft, yet supportive shoes and have been struggling with injuries I would definitely consider giving these shoes a go.
Impressive!
Gender:

Male

Familiarity:

I've used it several times
These shoes work as advertised. I purchased these in advance of a relay run and truly believe they were key in enabling me to run nearly 35 miles broken up over a 25 hour period.
not stable
Gender:

Male

Familiarity:

I've used it once or twice and have initial impressions
Confession: I'm a cyclist, not a runner. Bought these to ease impact after a recent running foot injury. First time use was a ~2 hour hike up a rocky canyon. Positives: Traction is amazing. Feel like walking on clouds. Downside: despite large print, they feel wobbly because they are so soft. I ended up with an ankle injury on first use...it is hard to imagine these being stable enough for trail running. 3 stars 'cause they were so great until they weren't.
these shoes are on Steroids :)
I wore them the first day and got blisters after 3 miles

wore two pairs of socks next day. did 6 miles hike and fell in love. next day I did a 9 mile road run recorded my fastest pace in 3 years

my knees never hurt once during the run and havent since looking forward to getting back to more competitive times
I was having hip bursitis issues and pain in my heel from running and was worried I would have to take 2-3 months off of running to let these issues heal. I did some physical therapy for 2 weeks and bought a pair of Hokas, I am now able to run pain free. The Hokas are amazing. For the size of the sole they are incredibly light and for how high they are off of the ground they are really stable. My favorite part of these shoes is the recovery i have after running in them, my legs recover much faster then in my barefoot shoes.

They look a little funny but if you are tough enough to do a 50 miler then you can endure peoples comments about how you look like a Bratz Doll.
These are awesome running shoes. I am a heavier runner 6'0 230 pounds and these shoes are perfect for high mileage training. They are great on trail or road. When I first saw the price I thought they were a little pricey after running several months in them I can't put a price on how great they are. I would not run in anything else.