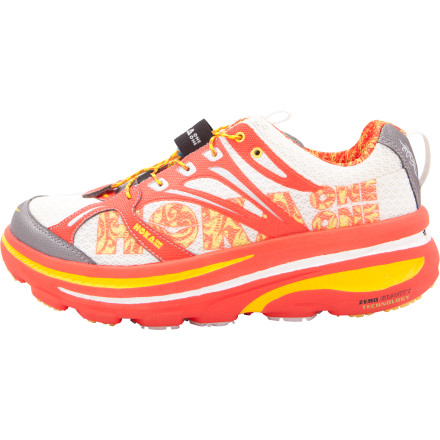 Videos
Your legs work hard for you in the bike leg of your triathlons, so show them a little love and slip into the Hoka One One Men's Bondi Speed Running Shoe to finish out the race. The upper design on the Bondi Speed is slightly different than that of the popular Bondi B, offering a transition-friendly quick-lace system and vertical heel loop, but the same deeply cushioned yet highly responsive platform underfoot takes care of your feet like no racing flat ever could. In fact, wearing the Hokas has been shown to reduce energy expenditure by 33%, so you can run faster and still have enough left for a final kick at the finish. Think of it as 100% legal performance enhancement.
Closed mesh upper locks out dirt and debris while it allows for plenty of airflow so your foot stays cool
Thin, supple, microfiber-lined tongue conforms to your foot for ultimate comfort
Die-cut Ortholite insole backed with an additional 4mm of EVA offers comfortable support
Quick-pull lace adjustment allows you to either tighten or loosen the cable laces with a single hand, and large heel and tongue pull loops get you into the shoe quickly
Midsole foam is 30% softer than the foam material used in traditional running shoes and there's 1.8 times the volume of foam for cushioning
Extra cushioning dissipates up to 80% of the shock from heel striking and allows for as much as 20mm of sole compression to reduce impact on your joints
Bucket Seat heel and midsole pockets are recessed into the sole by 20mm so you feel planted with every step
Sole has a low heel-to-toe offset (4.5mm) and uses a rockered profile to encourage a rolling motion that leads to proper midfoot strike
Wide outsole provides lateral stability and plenty of surface area to keep you in contact with the road
Sticky rubber outsole features shallow 2mm lugs for fast yet secure footing
Share your thoughts
What do you think of the
Hoka One One
Bondi Speed Running Shoe - Men's
? Share a...
When will you be getting more in stock? ...
When will you be getting more in stock? I've been looking for a size 9 for a few weeks and am interested to purchase it, but it's not available. Thanks!

Are these 2012 or 2013 models?
Are these 2012 or 2013 models?
Hey Marp,

Yes, these are Hoka One's 2013 model. Feel free to call or chat in and speak with one of our Gearheads if you have any further questions! We would be happy to help out.
Hoka One One Bondi Speed Running Shoe
Shoes took a bit to get used to (wide outsole, calves got blasted first couple long runs, I look like I should be on the short bus, etc.), but zero knee and joint discomfort whether hitting the pavement or gnarly trails. I believe the shoe has help to improve my gait and quickened my turnover. Cushion is softer than Stinson Evo Trail. Now only if Hoka would hire designers that aren't colorblind...