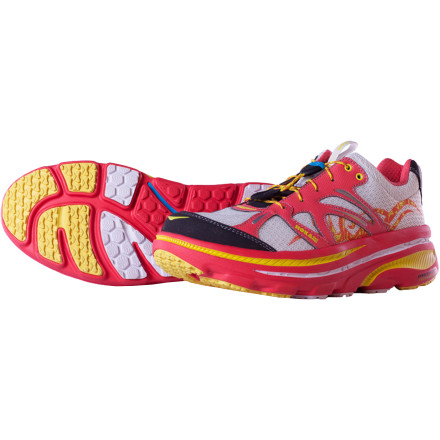 Minimalist running shoes might be all the rage these days, but the engineers at Hoka One One didn't shy away from their own vision of what a road shoe could be when they designed the Men's Bondi S Running Shoe. The wide, thick, and distinctively rockered outsole of this shoe takes a different approach by heavily cushioning your foot strike and encouraging a natural roll of the foot through the toes. Surprisingly lightweight and nimble for its appearance, this shoe lends a near-weightless feeling to your stride whether you're pacing out a marathon or dropping the hammer during a triathalon.
Closed mesh upper locks out dirt and debris while it allows for plenty of airflow so your foot stays cool
Microfiber-lined tongue conforms to your foot for ultimate comfort
Quick-pull lace adjustment allows you to either tighten or loosen the cable laces quickly with a single hand
Midsole foam is 30% softer than the foam material used in traditional running shoes and there's 2.5 times the volume of foam for cushioning
Extra cushioning dissipates up to 80% of the shock from heel striking and allows for as much as 20mm of sole compression to reduce impact on your joints
Bucket Seat heel and midsole pocket is recessed into the sole by 20mm so you feel planted with every step
Sole has a low heel-to-toe offset (4.5mm) and uses a rockered profile to encourage a rolling motion that leads to proper midfoot strike
Wide outsole provides lateral stability and plenty of surface area to keep you in contact with the road
Sticky rubber outsole uses a shallow tread pattern designed specifically for road running
What do you think about this product?
Have questions about this product?
Great, but...
Familiarity:

I've put it through the wringer
These are by far and away the most cushioned, impact-absorbing running shoe I have ever encountered in my 40+ years of running. They really do feel a bit like floating. But!



Hoka need to do some work in a few areas. First is the outsole. It needs to be toughened up as mine are already starting to show marked wear after less than 50km. Now I am not concerned that I am going to be feeling the pavement against my feet any time soon. But Hoka ought to consider using a more abrasion resistant rubber formula on the outsole.



The second area of concern is the upper. There is still some work to be done in smoothing inner seams to prevent rubbing. I wear Thorlo socks and still got blisters from inner seam rubbing.



Third is the stability issue. I am fortunate in having a neutral gait, but I can foresee problems for severe pronators as the uppers are not very beefy and the midsoles are so soft. Caveat emptor!



Last is a personal taste issue. Hokas are amongst the ugliest shoes on the market. They look like they were styled by someone who was stuck in the 1970s! The color ways are rubbish, there is no consistent theme to the designs and they just look 'cheap'. This is ironic because they are some of the most expensive shoes on the market! Please do something to improve the appearance Hoka. I can live with the thick midsole, but the bargain basement design needs lots of work!



Will I buy another pair? You bet I will! But that does not detract from my constructive criticisms.



Listen up Hoka! You can make your brand truly great with a little work. Please make the effort as I have finally found the best running shoes available,but I still want them to be better!