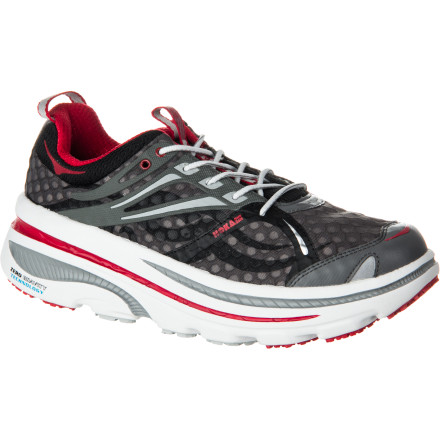 Detail Images
Admit it, you're dying to find out what the fuss is about. If you're looking to check out the Hoka One One running experience, the Men's Bondi 2 Running Shoe is a good starting point. Squarely in the middle of the Hoka One One line in terms of midsole volume, weight, and traction, the Bondi 2 offers the same exceptional comfort and performance as its brothers. The extra-tall midsole works to protect you from bumps in the road and shock while keeping you fleet-footed thanks to its rockered design, natural-feeling low drop, and light weight. Equally at home on the road as on easy-going trails, the Bondi 2 is a versatile game-changer.
Closed mesh upper locks out dirt and debris while it allows for plenty of airflow so your foot stays cool
Thin, supple, microfiber-lined tongue conforms to your foot for ultimate comfort
Die-cut Ortholite insole backed with an additional 4mm of EVA offers comfortable support
Midsole foam is 30% softer than the foam material used in traditional running shoes and there's 1.8 times the volume of foam for cushioning
Extra cushioning dissipates up to 80% of the shock from heel striking and allows for as much as 20mm of sole compression to reduce impact on your joints
Bucket Seat heel and midsole pockets are recessed into the sole by 20mm so you feel planted with every step
Sole has a low heel-to-toe offset (4.5mm) and uses a rockered profile to encourage a rolling motion that leads to proper midfoot strike
Wide outsole provides lateral stability and plenty of surface area to keep you in contact with the road
Sticky rubber outsole features shallow 2mm lugs for fast yet secure footing
Lots of cushion very little durability
Familiarity:

I've put it through the wringer

Fit:

True to size
These are very cushioned plush shoes, which are surprisingly light for the stack height. The are a bit akward running at anythong other than a recovery or slow pace however, and running uphill is drudgery, while running downhill in them is a dream. The bottom of the outsole was just hammered in only 100 miles, I only got 300 out of these and the upper started to tear away from the sole. I only wore them on trails maybe once and didn't feel stable so totally stuck to the roads on these. That being said without them I would not have been able to run with my plantar fasciitis without them. I recommend them if you have a serious foot problem or need a lot of cushion but really, DO NOT expect to get much mileage out of these. Honestly, the durability is embarassing, Hoka should issue an apology to every buyer or a voucher or something. For sizing the length was correct but was a bit narrow through the widest part of the foot - I often got pinky toe cramps.
Don't get for trail running
Familiarity:

I've put it through the wringer

Fit:

True to size
Loved the original Hoka Mafate, so I purchased the Bondi. I ran them in the mountains and they really only lasted 4 weeks. The uppers tore out and the outsoles quickly wore down. For a 170$ shoe it's a terrible waste of money. I'll never do it again.
Old man's dream shoe
Familiarity:

I gave it as a gift but have feedback to share

Fit:

True to size
I bought these for an older marathon runner who was doing one last marathon and needed something to keep his joints from going out on him. He says the says they are his favorite shoe and plans on only running on these from now on.
Pounding Protection
Familiarity:

I've used it several times

Fit:

Runs small
This is my 2nd pair of Hoka Bondi B's. LOVE them. Maximalist protection and cushioning with minimalist drop. I use them for any run that extend into the double digits (My Nike Flyknits are fine for shorter runs). I used to feel knee pain at around 10 miles (especially on the road), but not with the Hoka's. They are at home on both the trail and the road. They look odd at first but you get used to them. They are also amazingly light considering the overall area of the shoe. The only con is the price, a bit high, but I was able to get them from Backcountry for less than my local store wanted. I'm running 26.2 in Vegas next week and wouldn't consider running in anything but my Hokas!
Disappointment
Familiarity:

I've used it several times

Fit:

True to size
After running 4 runs of ~60 miles total, the pair started to separate at midfoot section. However, they were very comfortable while they lasted. I am debating if I should order another pair since Backcountry.com is generously refunding my money.
Fantastic Start!
Familiarity:

I've used it once or twice and have initial impressions

Fit:

Runs small
I am mid 50's, 6' @ 310lbs-not a small guy. Needed a new pair of shoes as I am at that "enough is enough" point. Happened into Luke's Locker (Plano, TX) to just look around. Note I am a dyed in the wool New Balance man because of size and the shoe quality. However, I missed getting a pair of NB 990's at 30% off through Sports Authority so it was on to something or the other. Luke's doesn't carry a large selection of NB shoes, especially NB shoes with wider, thicker soles. The salesman/runner showed me the Hoka One Ones and I almost laughed at the contrast/look of these "running" shoes compared to everything else in the store. I had never heard of Hoka's let alone seen a pair. I tried on a pair and was instantly surprised and thrown off by the cushioning and heel strike. I opted to try a pair half size larger because it was early in the day. (The half size up proved to be the ticket later that evening.) I walked in the shoes for a few minutes and pulled the trigger... I was hesitant initially because of price ($173 and change out the door). However, I thought the shoes would be more than worth it in terms of absorbing shock. I only intended to use the shoes for walking. The salesperson/runner (Orlando Dimas) brought up/confirmed something (without provocation) that I had secretly harbored. I always wanted to run but always put it off because of size, age, shock to the joints etc. Orlando confirmed and detailed a basic way to get started and followed up by giving me his number. I went to Stonebriar Mall yesterday evening and walked 2 miles without a warm up. Keep in mind I haven't walked that far in two years (Texas heat, job schedule, laziness, no motivation, etc.) The shoes paid their way as I had NO joint fatigue i.e. feet, ankles, knees or hips. I stretched out further this morning and walked three miles along Shoreline Trail. Hokas worked fantastic! Heading out to walk again this evening...