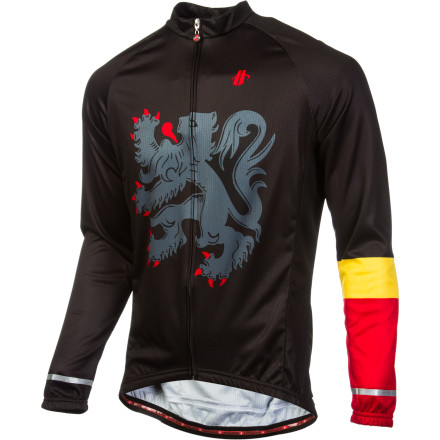 Detail Images
While France and Italy play host to the pretty boy cyclists with manicured nails and perfectly tanned skin, Belgium is widely regarded as the lair of the 'hard man.' The home of pale skin, mud-caked bodies, and strong beers, the cobbled North attracts a rider more focused on the glory of pain than the finish line. George Hincapie is one of these men, and the Hincapie Sportswear Ronde Long Sleeve Jersey stems from his decades of grueling Aprils in Belgium. Learning how to survive inclement weather the hard way, Big George passed his hard-fought knowledge down to the Ronde jersey. Warm jersey in tow, you're in control of your level of suffering.
To combine comfort with warmth, Hincapie made the Ronde jersey from the QuadroHot fabric. This material features a soft, fleecy inner lining that utilizes hollow-core fibers to accelerate moisture evaporation. The lining has a brushed loft that assists in wicking moisture to quick-drying surface. And not only does QuadroHot keep you dry, but its breathable design also maintains a consistent, insulated temperature for warmth.
The Ronde Jersey has a malleable construction that conforms to the contours of your body. And to minimize any shifting during movement, the Ronde has an exclusive Hincapie Gel-Gripper along the hem. The Gel-Gripper itself is flexible. However, the anti-slip elastic creates a secure attachment for a perfect fit. For ventilation, Hincapie supplied a full-length, two-way zipper along the front of the jersey. And to house all of your ride essentials, the jersey comes equipped with three large pockets on the rear. It also features reflective accents throughout the jersey for a heightened sense of visibility in low-light conditions.
The front and rear of the jersey are adorned with the unofficial icon of Belgium, the Lion of Flanders, and the left sleeve and rear pockets fly the national colors of Belgium -- wear them proudly.
The Hincapie Sportswear Ronde Long Sleeve Jersey is available in the color Black and in five sizes from Small to XX-Large.
great fit, superior quality and material and it turns heads with most everyone asking where did you get that..never seen that type of jersey before...also warm and perfect for those 50' to 60' days when a baselayer is too much and a short sleeve is too cold
great fit, superior quality and material and it turns heads with most everyone asking where did you get that..never seen that type of jersey before...also warm and perfect for those 50' to 60' days when a baselayer is too much and a short sleeve is too cold