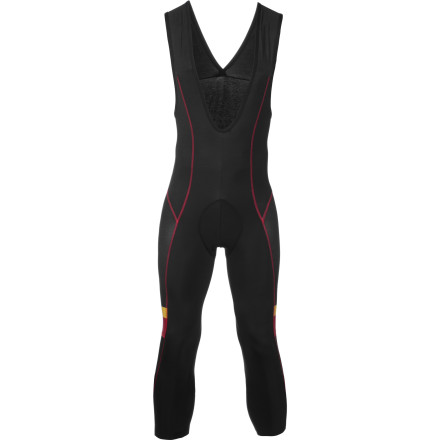 Detail Images
Difficult weather means difficult riding, and no race knows the struggles of inclement weather more than the Ronde van Vlaanderen. Even more so, no cyclist knows the pain of Vlaanderen more than George Hincapie. That's why it didn't take any celestial inspiration for Hincapie Sportswear to name its tough-as-nails Ronde Bib Knickers after the devilish April race.
To combine comfort with warmth, Hincapie made the Ronde bib knickers from a blend of the plush and stretchy BodE Thermal Loft and BodE Thermal Heat fabrics. These material deliver a soft inner-lining that utilize high-loft, fleece fibers to accelerate moisture evaporation. With that being said, you probably guessed that the bib knickers are designed to stay dry against the skin. Your guess was correct. The lining assists in wicking moisture to the quick-drying surface. And not only do the fabrics work together to keep you dry, but the breathable designs also maintain a consistent, insulated temperature for warmth. In fact, Thermal Loft employs one of the heaviest knit structures in the Hincapie lineup to ensure heat retention. However, this is complimented by the outer-layer's Lycra and nylon blended-makeup. Accordingly, the bib knickers effectively wick away moisture to keep you riding dry and at a consistent internal temperature.
The Ronde bib knickers have a malleable, four-way stretch construction that conforms to the contours of your body. And to minimize any shifting during movement, the Ronde has an exclusive Hincapie Gel-Gripper along the hem of the legs. The Gel-Gripper itself is flexible. However, the anti-slip elastic creates a secure attachment for a perfect fit. The knickers also feature reflective accents throughout the legs for a heightened sense of visibility in low-light conditions.
And while warmth and fit are important, nothing compares to a luxurious chamois. Luckily, Hincapie understands this logic and incorporated its Team Chamois. This pad uses a four-way stretch, variable thickness construction to compliment Team's most important design feature -- the ability to move with your body in motion. By doing this, and adding an antimicrobial treatment, Hincapie eliminated the chafing, abrasion, and bacteria that help lead to the formidable saddle sore. The design also reduces pressure on the perineum region while minimizing the buildup of moisture from friction.
The sides of the bib knickers are adorned with the unofficial icon of Belgium, the Lion of Flanders, and both the legs and rear panel fly the national colors of Belgium -- wear them proudly.
The Hincapie Sportswear Ronde Bib Knickers are available in the color Black and in five sizes from Small to XX-Large.