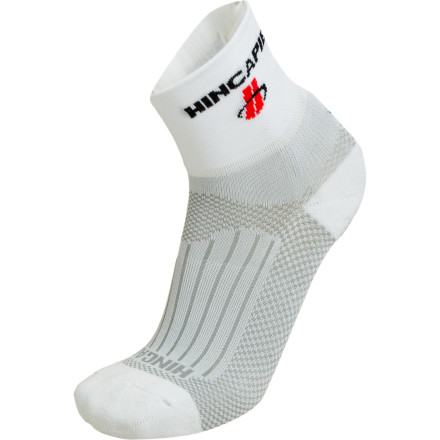 The simple truth is that all the shoe ventilation in the world won't keep your feet cool, if your socks insist on holding sweat like an old mop. The Hincapie High-Cut Socks utilize CoolMax fibers to keep your feet cool and dry on long rides, and odor-free when it's time to take your shoes off. And don't let the title deceive you - Hincapie refers to "high cut" only in the sense that it's not a "no-show" sock. The traditional three-inch cuff keeps your heels fully protected from your shoes, without going beyond the ankles.
The impact of CoolMax, even on a cycling accessory as innocuous as socks, cannot be understated. CoolMax is a patented (fun fact: patented and owned by the same textile company that owns the names to Lycra, Cordura, and many other major fabrics we rely on) four-channel fiber with a larger surface area than traditional polyester weaves, which spreads the moisture across the fibers to enhance moisture transport and evaporation speeds. The moisture evaporation rate is so quick, on numerous occasions we've pulled CoolMax socks from the washing machine completely dry, and put them on immediately before going riding. In essence, this fabric is perfect for cycling socks.
The Hincapie High-Cut Socks socks are stitched together with a high thread count to maximize lightweight comfort, and feature a unique hidden toe seam to eliminate any bunching or irritation inside your shoes. They are available in Black or White.