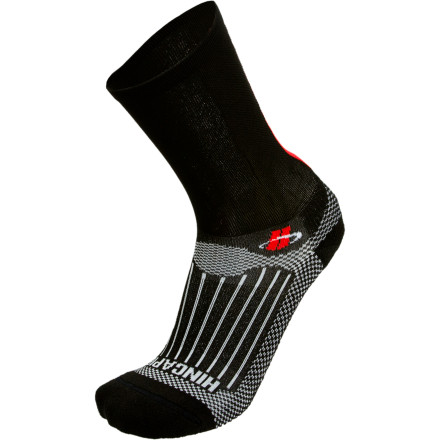 Modern cycling shoe construction has made great strides towards improving ventilation, but without the right socks, your feet are still going to swelter on hot rides. The Hincapie Crew Socks are constructed from CoolMax, cycling's gold standard for superlative moisture-wicking and temperature regulation for your feet, so the advanced tech of your shoes won't be cancelled out by sweaty socks.
The impact of CoolMax, even on a cycling accessory as innocuous as socks, cannot be understated. CoolMax is a patented (fun fact: patented and owned by the same textile company that owns the names to Lycra, Cordura, and many other major fabrics we rely on) four-channel fiber with a larger surface area than traditional polyester weaves, which spreads the moisture across the fibers to enhance moisture transport and evaporation speeds. The moisture evaporation rate is so quick, on numerous occasions we've pulled CoolMax socks from the washing machine completely dry, and put them on immediately before going riding. In essence, this fabric is perfect for cycling socks.
The Hincapie Crew Socks socks are stitched together with a high thread count to maximize lightweight comfort, and feature a unique hidden toe seam to eliminate any bunching or irritation inside your shoes. They come in a five-inch cuff (which hits just below your calves), and are available in Black or White.
What do you think about this product?
Have questions about this product?
good quality. Sharp looking. Perfect fit and comfortable.
Love these socks! fit is perfect and they are comfy on long rides
Unanswered Question
I'm right in between a 9.5 and 10 US. Any...
I'm right in between a 9.5 and 10 US. Any suggestions on a medium or large? Thanks