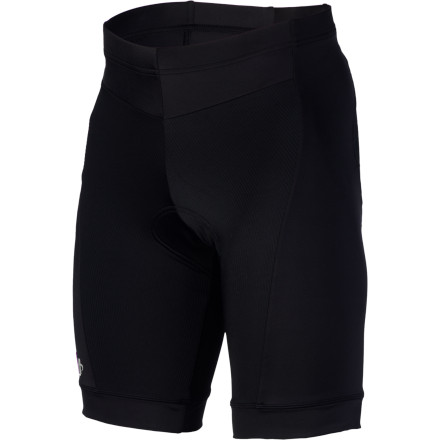 Detail Images
Hincapie Power Shorts take the design innovations of their Power Bibs and engineer a comfortable waistband so all the features of the bibs can be shared with those who don't want to venture to the dark side.
Hincapie utilizes a rollover waistband on these shorts so they'll stay in place without binding, grabbing, or pinching. It's a two-layer fabric where the cut of the pattern functions as part of the grip, thus making a hidden elastic band unnecessary.
The waistband is the icing of a super-comfortable short, one that is designed to hold up under the stress of epic days in the saddle. Hincapie has deploys AT2 Force Power Lycra for a firm but gentle squeeze of your legs. This means not only that the chamois won't move, but you'll experience fewer jarring vibrations when riding. And thinking that everyone wants shorts that last for years, Hincapie places ABR Resistor Lycra in areas where the shorts come in contact with the saddle. Instead of grippers at the bottom, the legs have a double layer of spandex leg bands, which hold well without biting into the skin.
While the shorts may be Black in color, they're actually cooler than your typical black spandex bottoms. The cool comes from the application of Schoeller's ColdBlack treatment to the black panels. This invisible finish reflects the sun's heat away from the body for greater comfort and insures that the shorts provide SPF 50 protection.
The chamois is Hincapie's Anatomical Power Chamois, a multi-density stretch pad with high-density foam added to the sit bone areas.
The Hincapie Power Shorts have reflective accents on the backs of the legs. The color is Black. Sizes run from Small to XX-Large.