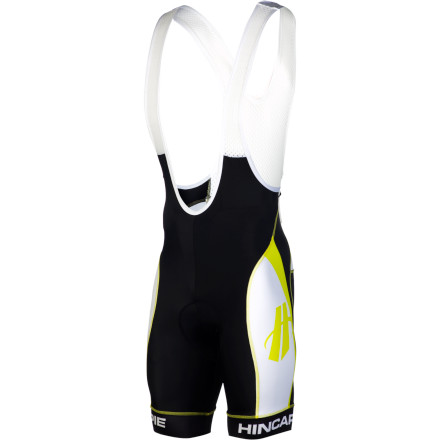 Detail Images

Community Images
It's no secret that Hincapie Sportswear places a massive amount of research and design into each of its pieces, and its Nitro Bib Shorts are a perfect example of this. As a result of this obsessiveness, Hincapie's thoroughness translates directly into enhanced aerodynamics, efficient pedaling, and long-ride comfort.
Hincapie constructed the Nitro from two essential fabrics, AT2 Tour Lycra and AT2 Transition. Combined, the two materials provide a light compression that shields the muscles from the fatigue-inducing effects of road vibration, while also providing a complete freedom of movement. To achieve this, the AT2 fabric features a polyester and Lycra composition blend that's supple against the skin, yet its knit is substantial enough as to support the muscle groups of the legs. Meanwhile, the Transition Lycra uses a ribbed polyester blend that further enhances the fabric's naturally malleable characteristics. This means that the material gains a four-way stretch that provides easy transitions in and out of the saddle. Additionally, both materials feature an open-cell knit that effectively manages moisture at the skin.
Adding to the Nitro's perspiration management is a soft, aerating Diamond Mesh upper that quickly transfers moisture to outer layers where it's quickly evaporated. This keeps your core cool on hot ride. But, of equal importance, is the Hincapie Pro Chamois that's been incorporated at the bottoms. This four-way stretch pad is not only anatomically designed, but optimized to reduce friction. The chamois' dual-layer, multi-density foam construction absorbs shock, but its brushed microfiber fabric adds an element of softness that few chamois replicate. This reduced friction helps prevent chafing, as does the Pro Chamois ability to dissipate heat and moisture.
The Hincapie Nitro Bib Shorts are available in five sizes from Small to XX-Large and in the colors Ocean, Red, and Sulfur.
I'm 5'10, 145 lbs, and purchased a medium. These bibs look stylish, fit great, and have an outstanding chamois. I'm always comfortable wearing them, even after many hours in the saddle. But the leg grippers are pretty poor, at least they are on my pair of bibs. In fact, I would say that the leg grippers are non-existent on my pair. It's a shame because I cannot stress enough just how great these are, save for this one small but significant point. Perhaps I should have gotten a small. Perhaps I just need to get bigger quads. It's possible that it simply was an aberration--and judging by how great everything else is, it seems likely. But be forewarned: you may be riding in a speedo with an otherwise comfy chamois.
Summer Style: Marc Lindsay
The price of cycling kits these days seem to have no ceiling. A good pair of bib shorts and a nice jersey to keep you cool in the summer time can average anywhere from the $120 dollar range all the way up to $500. And that's not including the gloves or the socks. While it may very well be worth it to shell out the dough if your doing a century and plan on spending six hours or more on your saddle in the summer heat, how is one to know which kits are worth the money and which aren't?

The Hincapie Nitro collection is one that fits the bill, especially in the summer months when it's hot. Here's why.THE FIT \nSome clothes look good on a hanger, and some look good on you. The Hincapie Nitro bib short and jersey combo definitely falls into the latter category. This kit will make you feel fast before you ever get on the bike. Lesser cycling kits have a tendency to bunch on the shoulders or become baggy on the arms, making the jersey feel more like a t-shirt than a high priced aero jersey. And the leg grippers are just right too-they won't slide up while your riding but aren't so tight that you'll feel got a rubber band tied around your thigh. The Lycra in the bibs are light, breathable and provide just enough compression to support your muscles without feeling tight. The seams are stitched with such high quality precision that you'll barely be able to notice they exist. Overall, from top to bottom, this kit will make you feel like a pro.

BREATHABILITY \nWith the Nitro collection and the Power Max jerseys (designed specifically for the summer), Hincapie sportswear has decided to focus a lot of effort into keeping you cool and comfortable. The bib short straps are wide and made of a Diamond Mesh that dry quickly and won't trap in excess heat. The jersey uses Accelerator stretch mesh along the shoulders and back to make it extremely breathable too, and you'll notice this difference in material quickly from others like it once your riding on the scorching hot asphalt.