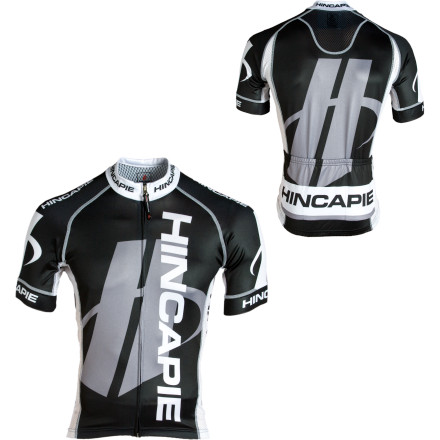 Detail Images

Community Images
With the same fitted design and fabric technology as the BMC Racing Team Jersey, the Hincapie Legado Collection Diablo Jersey provides pro-level performance with exclusive graphics. A mix of SmartDry technology, mesh panels, and DimpleTek sleeves means you can stay dry and primed for the next ten, twenty, or fifty miles.
TourTek fabric in the body uses SmartDry technology to wick sweat

Accelerator stretch mesh side panels enable mobility and vent your body heat as you climb through the ranks

Full-length hidden zip allows a bit of ventilation and stays securely fastened to the comfortable collar when closed

The sleeve cuffs feature DimpleTek fabric, which holds the jersey in place, wicks moisture, and uses a unique pattern to break up the airflow and keep you aero

Gel-Gripper in back waist secures the jersey when you're tucked for many miles

Three back pockets hold fuels and liquids

I recently purchased this great Hincapie kit. Did a 70 miler with great results. Bib shorts provided great support and the jersey was very comfortable.
This is a fantastic jersey. Others are spot-on with their assessments of the red...it's a deep, gorgeous red. I'm nearly always a L in jerseys and this fit as expected. I'm a middle aged guy (read: not an athletic build) with a size 44 chest who weights 180 pounds in winter (that drops a dozen in the summer) and the L fits perfectly for that seasonal change...snug but not tight, with very little wind ripple. If you're considering the matching bibs, get some...they're currently my favorite. I got an XL because I always have problems with the length of the straps and they fit just like the jersey...snug but not tight with little of the unwanted "play" that can ruin a good day in the saddle.
I like Hincapie stuff because I think their fabric is top notch. The mesh panels are great. The chamois is a little lacking in thickness. The designs look very sharp in my opinion. The major problem I have is the bottom of the zipper scrapes up the crotch area on my bibs. I'm going to have to do a little Magyvering because it's becoming a real issue that could cut the life of the shorts... well short...

5'9" 155 lbs M fits great in both jersey and bibs
I'm 6' Average between 160 - 165 lbs. The Med. Jersey ran short in the length. The Large was long enough but run to big in the waste & chest. The jersey is for person with a short torso and long legs. I wish it would have fit. It looks great and the price was super...Any Suggestions?
This jersey is the bomb. Shipping was fast and was unsure about the big logo. Damn thing fits like a glove and looks sharp in black. Going to sport it on my next group ride. Very good quality for the price!!
Bought the bib and shirt - very nice!
I'm a 42 chest, 5'9" tall and the xl fits me well, it's not tight nor lose. The material is more of a warm weather climate since the sides are perforated but not entirely open, it has a thin sheet of fabric throughout.
6'3", 205lbs., size XL, fits perfectly
Really like Hincapie products. Well made. Fit nicely, Durable. My only wish would be for more colors. 6'3" - 205lbs. - size XL - fits well
I have been cycling for a long time and have always gone with a low to medium quality choice for my kits. Never again. The Diablo collection provides amazing comfort and a killer look for a very reasonable price. I own two sets and would own many more if I could afford it. I guess my cycling groups will just have to get used to seeing Hincapie on a daily basis because my other kits are collecting dust! A+++ in my book.
Yeah, it's like that. Pure love. I got a second one. Sickness...
I love my custom Hincapie Velocity kit made for my local bike shop and wanted to purchase another one with different colors/graphics. The kit I already own is black, but the technology of this material allows it to reflect the sun's rays so that you stay cool. I've ridden in the black top and black bottoms on 90+ degree days and I was very comfortable with no complaints whatsoever.

I went with the black Diablo jersey and matching bib shorts. I was hesitant at first to purchase the jersey, as I felt the branding was over the top. However, once I opened the jersey and tried it on, it was no longer an issue. Everything about this jersey is top notch. The material is very soft, has nice touches like mesh/venting material on the sides and back, and silicon grippers on the inside of the back to keep it in place. The zipper is very solid and functions easily when you want to access it during a ride.

My only suggestion is to make this kit in more colors. A predominantly white kit would be pretty sweet IMO.

This kit is a steal on Bonktown, but it's even worth the regular price as well.
Picked this (and the matching bibs in black & white) up off Bonktown for a killer price! The Live Chat guy on Realcyclist got me onto the correct size. I thought I was an XL but he said they run true to size. I got a L...fits perfectly!! I do not have the typical noodle-roadie arms and there was no restriction in the arm holes.

The fabric is very breathable and the bigger holed mesh down the sides & the at the base of the neck on the back are uber breathable. The zipper is like buttah, baby! It may be a bit on the shorter side, but its is my first road jersey so I cant really say.

I took it out for 20 miles the day after I got it...my only complaint...the tan lines. But now, I consider them a badge of road-warrior honor
Kit so good...I own 10 of 'em!
This jersey is the Hincapie Velocity custom jersey but with Hincapie graphics. Team BMC will tell you that this is the jersey they wear but a close inspection of big race photos shows that they actually wear the Emergence jersey. However, it is still a top notch jersey. I own several of these jerseys of different vintages and all have proven to be extremely well made and very comfortable for the average (i.e. not 125 lb) rider.

The fit on this jersey is a "race" cut but you don't have to be 6' 4" and 145 lbs for the jersey to fit correctly. What I really like about the jersey is the longer sleeves. I have tried a number of jerseys with a standard length sleeve that rides up into your armpit when the body of the jersey fits correctly. The sleeves in this jersey do not do that.

Unlike the Equipe version of this kit – the same garment but with different graphics – there are no reflective logos or piping which has become a trademark of Hincapie Sportswear.

The graphics on this kit are sharp! The stock pictures that accompany the description here do not do them justice! They look much better in person. The reds are very rich – more like a crimson – and look good even when wet. These kits are much better looking than the Equipe graphics which are an identical garment. My only complaint is that there isn't a version that is primarily white for those of us who live in warmer climates.

Overall, a very comfortable, well made kit.