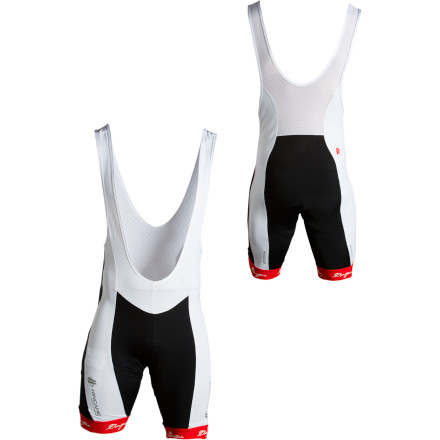 You probably don't have an invite to ride with Team BMC waiting in your mailbox, but seeing the mailman deliver your new Hincapie Men's George Cycling Signature Bib Short sure feels like the next best thing.
A blend of lightweight and durable AT1 Superstruct and Lycra Power fabrics provide compressive support and supple stretch

Resistex Carbon panels breathe well to help keep your body temperature low and offer light compression to prevent lactic acid concentration in muscles

DimpleTek mesh upper wicks moisture away from the body

ABR Resistor panel inserts in the saddle area reduce friction for improved durability and comfort

Anatomical George Signatire Chamois features E.I.T. Max fabric and perforated foam for exceptional wicking and comfort

Reflective zones help keep you visible during night rides

What do you think about this product?
Have questions about this product?
I'm 6' 3" and 205 lbs, I'm a daily commuter and I ride approximately 6500 miles a year. I'm in and out of my riding gear twice a day for my 37 mile RT commute. I like my gear to be form fitting.

I currently wear 2xl in Castelli, I also have a pair of Gore Xenon tights for cold weather riding in 2xl. I recently tried a 3xl in Castelli as I am right on the upper end of 2xl and the lower end of 3xl and found the 3xl's to be a little bit too big and returned them.

I just received a pair of Gore Xenon and Hincapie bibs in 2XL and knew as soon as I pulled the Hincapie's out of the bag they would be much too large.

I have a 38" waist and used the Hincapie "bottoms" size chart which 2XL = 36 – 38. I would have to guess I might need a Large in Hincapie bibs to have a fit similar to the Castelli. The Gore bibs are a good snug fit maybe not quite as tight as the Castelli's, nonetheless a good fit. I look forward to enjoying them on my daily commutes and my upcoming century in a few weeks.

I can't give a poor rating for a size issue as I believe rating should be about both size and quality of the product and since I can't comment on quality only size I give these 3 stars.

Quality observations: The fabric and construction of the Hincapie's look very high quality and I love the design with the red border on the legs. This sizing issue will not stop me from considering Hincapie's in the future if I see something on sale I like I know now to order at least 1 size smaller maybe 2.

To help you better see the difference the photo shows the Gore Xenon along side the Hincapie's both are 2xl. Although you may not be able to read the tape measure the Hincapie's measure approximately 17" wide and the Gore's are right around 13" as are my 2xl Castelli bodypaint bibs.

So I returned the Hincapie's and ordered another pair of Gores, I would have reordered the Hincapie's if they had my size. I greatly appreciate the ease of returns with Realcyclists.

Hope you find this review helpful when looking for bibs.
Hands down the best bibs I have owned, and WAY better than the price tag. The chamois in this think is like a Cadillac! Plush, smooth, and stylish. Hincapie has the best fabric in the biz! Excellent hand and feel on the skinz! I wear mine under my pants to work every day. Check out the G'Sig SS Jersey too...a must to accompany this bib...Better than Assos, Castelli, etc...and cheaper!