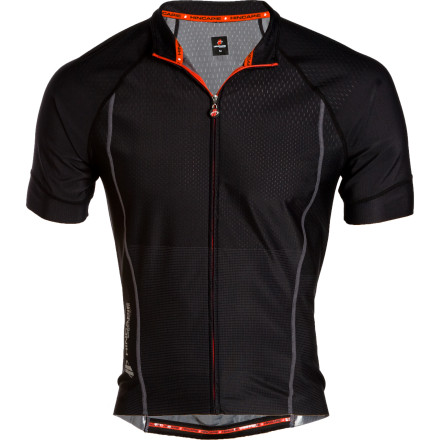 Detail Images
Body mapping is a technology that is revolutionizing how everything from orthotics and footwear to equestrian saddles and office chairs are made. The technology gives designers the ability to see how pressure and temperature are distributed across an item. The Hincapie Emergence Short Sleeve Jersey uses this new technology to cut panels based on what a rider needs at a specific location. Compression panels are placed to reduce fatigue, ventilation panels are located in high-perspiration areas, and even abrasion-resistant panels are used in high-wear areas. Body mapping gives Hincapie the ability to cut the jersey snug through the torso and waist without restricting movement in the shoulders and arms.
The Hincapie Emergence Jersey uses AT1 Dynamic fabric, a lightweight and handkerchief-soft nylon/polyester/elastic blend. The fabric is coated with a hydrophilic finish that speeds wicking and drying to keep you as cool and dry as possible. And while most jerseys require separate panels to offer ultra-breathable perforation, body mapping allows a fabric to be perforated even within a given panel or to have its elasticity altered to give a jersey improved venting on the sides or increased stretch through the shoulders.
The outside of the jersey is finished with Schoeller's Coldblack finish. Coldblack helps regulate heat by reflecting environmental heat away from the body and providing a 50+ SPF for significant UVA and UVB protection. Seams are flatlocked for minimal bulk. A full-zip allows you to get maximum ventilation while three rear pockets give you ample room for food and more. A fourth, zippered security pocket is the perfect place for a key or your ID. Reflective accents will keep you visible during dawn and dusk rides.
The Hincapie Emergence Short Sleeve Jersey is Coldblack and comes in five sizes from Small through XX-Large.
Schoeller Coldblack technology reflects heat away from the body to keep you cooler and provides UPF 50-rated protection from the sun

Open the full-length front zipper to quickly dump heat

3 rear pockets with a zippered security pocket keep your valuables organized as you churn out the miles

After 2 returned orders from other sites (stupidly small stuff marked XXL), I found a jersey that fits. Very happy with the Hincappie emergence jersey. Great quality, feel etc and its big. Like other reviewers, I agree that it is generously sized even given the size chart. I'm sure I'd fit into an XL even though the chart had me in XXL. I am happy to wear it looser than "race fit" though so it fits the bill for me.
Great jersey. I'm 6', 44" chest, 40" w and 235 lb-got the XXL. The fit is on the comfort side rather than skin tight. The length is perfect, as most jerseys in XL or XXL are way too long for my torso. It works well for me, and a great deal 50% off.
Bought this jersey a while ago, but I have yet to wear it!!! Reason? It fits VERY big! It didn't quite make sense for me to return it as I used to live overseas... I checked the size chart and all before purchasing, and it was still a lot bigger than I needed. The material was very nice, and I susupect that it would work great... unfortunately, it does not fit!!
Loved the fabrics but the fit didn't work for me
This could be a great jersey. The breathability of the fabrics are great. It's also a sharp looking jersey. Since I only tried it on, I cannot attest to the sun reflective properties of the Coldblack in the sun.

Unfortunately for me, the fit was off. I'm tall (6'4", 202, 34 waist 44 shoulder), and this jersey fit pretty short in XL, even in comparison to the Hincapie Potenza jersey. But if I went XXL, it would have certainly been too loose, as this was already not quite tight around the midsection. Hincapie seems to be a good brand for tall people generally, but this particular jersey didn't have the right fit for me.
Unanswered Question
5'11'' 135-140 lbs. Size?
5'11'' 135-140 lbs. Size?
Okay - this stuff works. Really.
This is my third review for the day. I purchased the jersey, bib, and skinsuit, and while I've had some complaints about the gripper (or lack thereof) for the bibs and the forearm of the skinsuit, when it came to the jersey, the thing fit really well, with and without a camelback shoved underneath. The fabric works - it REALLY works. I've been riding the last two weeks in an early Summer N. Texas heat wave, and I really believe the claims that the Coldblack fabric keeps your skin temps cooler. The jersey is of a high quality, with great zippers, and a good fit around the waist. My only complaint is similar to the complaints I had about the bib grippers and the skinsuit grippers - the biceps grippers are 'loose'. That said, I sort of expected it, since the trend nowadays is to have loose short sleeves. It's not aerodynamic, but it does feel a little bit better, and yesterday, when the temps once again hit the 90's, climbing to the 105 range, I was comfortable for a longer period of time. If Hincapie can fix their cut dimensions, and their gripper elasticity diameters (or whatever, I'm not a clothing designer), then they could sell the bejeebers out of this stuff, especially since they are selling it at about 1/3 of the price that Descente wanted from their Coldblack products.