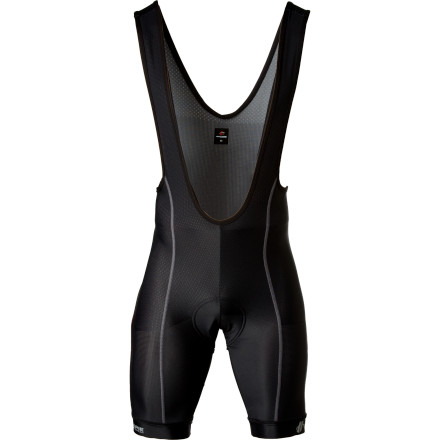 Detail Images
Research on endurance athletes -- cyclists in particular -- has shown that performance suffers as core temperature rises. At first glance, the Hincapie Emergence Bib Shorts don't look like they'd do anything to help keep you cool. They are solid black, and black absorbs heat more readily than lighter colors. However, Hincapie is offering a new technology called Coldblack, made by Schoeller. Coldblack is a finish that coats the shorts, reflecting heat energy away from your body and helping to keep you cooler.
The 11-panel bibs are cut from Hincapie's AT1 Dynamic fabric, a lightweight and handkerchief-soft nylon/polyester/elastic blend. Body mapping technology allows the fabric to be changed within individual panels so that the amount of elasticity or breathability even within a given panel can be dialed to the exact needs of the rider. You'll get extra give where you need it, like across the rear, while other areas can provide less stretch and more support, such as along the hamstrings. The fabric is coated with a hydrophilic finish that speeds wicking anddrying to keep you as cool and dry as possible.
The Emergence chamois features multi-thickness, high-density foam and a 3D-curved anatomic shape. This means that it conforms to your body more naturally than other pads that are manufactured flat and then sewn into shorts. The foam is covered with an antimicrobial microfiber for a soft feel against the skin that won't cause chafing. The cover also features Carbonium fibers to increase heat dispersion on hot days. Another bonus is that the carbon in the chamois also provides some antibacterial protection.
The Hincapie Emergence Bib Shorts are Coldblack and come in five sizes from Small through XX-Large. The Coldblack finish helps regulate heat by reflecting environmental heat away from the body and providing a 50+ SPF for significant UVA and UVB protection. Seams are flatlocked for minimal bulk.
AT1 Dynamic stretch fabric provides structure and compression for a compact fit and wicks moisture for all-day comfort
Schoeller ColdBack technology reflects heat away from the body to regulate temperature and provides SPF 50-rated sun protection
Abrasion-resistant AT1 Dynamic-Reptile panels in the saddle area prevents wear and helps dissipate friction
Anatomical Hincapie Power Chamois features E.I.T. Max fabric and perforated foam for exceptional wicking and comfort
Hincapie Gel-Grip leg bands prevent the shorts from levitating during your ride
Flatlock seams prevent chafing
Reflective zones help keep you visible during night rides
Nice bibs
Familiarity:

I've used it several times

Fit:

True to size
On the bike, these are awesome. Very comfortable, well-made, and I'm guessing durable. I've only worn them for about 100 miles so far, but I'm thinking this was a good score. Like the other Hincapie stuff I've bought, top quality. IMO you can't go wrong with this brand. Everything Hincapie that I have ever bought has been great, and these bibs are no exception.



Off the bike, when my skin is dry, the straps come off my shoulders very easily. This is very annoying, but I can live with it, because I got these for such a good price. Even if one of the women in my riding group laughs at this "feature" (reminds her of ill-fitting bra straps). In addition, these bibs come up higher in the front than other brands I've used, which can make bathroom breaks a bit annoying, but I don't often need bathroom breaks when riding. I apparently either sweat it all out, or have a hollow leg or something.



Other reviews have flagged the loose leg grippers, and I would concur. Apparently I do not have guads like GH or other professional track cyclists.



Bottom line, when on the bike, these are great bibs. My favorites, my new go-to bibs.
I'm 5'6" about 155 and the smalls fit very nicely. Usually I'm between a medium and a small but there's no question the small is the right choice. The materials and construction are fantastic.. love the smooth leg grippers, don't sqeeze your quad at all and no hair pulling. The pad is also high quality and very conforming.
Hincapie tends to run big
Not a review, just a response to the previous post.

I find that Hincapie gear runs a little big. I wear a size smaller than what I wear in say Castelli, Assos or Giordana...in the case of Assos two sizes smaller. I wouldn't call it a "club" fit, but just more generous through the chest/shoulders and legs.

I have the Signature Bib and have no issues with the elastic band around the quad not fitting.
Okay - i just ordered this bib this past week, and it arrived before the big weekend ride. The rally scene in North Texas in the spring and summer is intense, and the incredible heat wave has left many people suffering and sagging in. The Coldblack fabric worked pretty well for me last year through Descente products, but the cost was prohibitive. This year, I decided to try the Hincapie Coldblack. Suffice it to say that once again, the fabric works. I am definitely feeling less stress from the heat and humidity, and the fabric definitely has a 'cool' touch to it.

My problems with the bib are two-fold. First, despite the face that I respect Hincapie's design and popularity, I did find that the elastic seam around the quads was too loose. I saw this same problem afflict Chris Horner in the Tour of California, and I am seeing it now with my bibs, and also the $350 coldblack skinsuit. I don't know it there is a solution, other than rolling it up, much like other elastic shorts on other brands. It's disappointing that the fabric is too stretched, and catches in the wind. This from a guy with a skinny chest and bigger quads.

Second, and this is more disturbing.... The chamois was AWFUL. I was sore less than 90 minutes in to the ride, and it only got worse. I'm really a pretty adaptable guy, but this pain was not due to a saddle or position change. This was due to a chamois that did not hit the right parts in the right way.

I'll certainly wear these bibs again, and frequently, but I'm going to have to roll up the shorts, and add some really slick chamois cream in order to overcome the problems with these bibs.

I wish I could give a better report, but right now, the bibs only merit 3 stars. Maybe RealCyclist could call up someone in Greenville and ask them to 'cinch up' the elastic a bit on the legs?