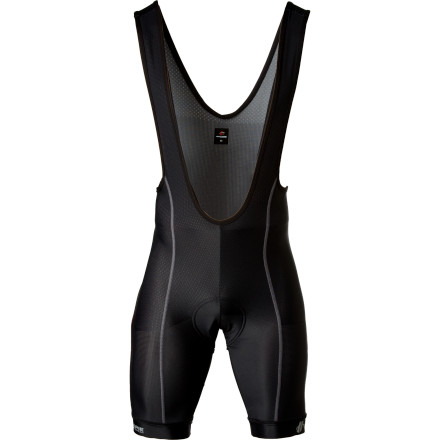 Detail Images
Research on endurance athletes -- cyclists in particular -- has shown that performance suffers as core temperature rises. At first glance, the Hincapie Emergence Bib Shorts don't look like they'd do anything to help keep you cool. They are solid black, and black absorbs heat more readily than lighter colors. However, Hincapie is offering a new technology called Coldblack, made by Schoeller. Coldblack is a finish that coats the shorts, reflecting heat energy away from your body and helping to keep you cooler.
The 11-panel bibs are cut from Hincapie's AT1 Dynamic fabric, a lightweight and handkerchief-soft nylon/polyester/elastic blend. Body mapping technology allows the fabric to be changed within individual panels so that the amount of elasticity or breathability even within a given panel can be dialed to the exact needs of the rider. You'll get extra give where you need it, like across the rear, while other areas can provide less stretch and more support, such as along the hamstrings. The fabric is coated with a hydrophilic finish that speeds wicking anddrying to keep you as cool and dry as possible.
The Emergence chamois features multi-thickness, high-density foam and a 3D-curved anatomic shape. This means that it conforms to your body more naturally than other pads that are manufactured flat and then sewn into shorts. The foam is covered with an antimicrobial microfiber for a soft feel against the skin that won't cause chafing. The cover also features Carbonium fibers to increase heat dispersion on hot days. Another bonus is that the carbon in the chamois also provides some antibacterial protection.
The Hincapie Emergence Bib Shorts are Coldblack and come in five sizes from Small through XX-Large. The Coldblack finish helps regulate heat by reflecting environmental heat away from the body and providing a 50+ SPF for significant UVA and UVB protection. Seams are flatlocked for minimal bulk.
AT1 Dynamic stretch fabric provides structure and compression for a compact fit and wicks moisture for all-day comfort
Schoeller ColdBack technology reflects heat away from the body to regulate temperature and provides SPF 50-rated sun protection
Abrasion-resistant AT1 Dynamic-Reptile panels in the saddle area prevents wear and helps dissipate friction
Anatomical Hincapie Power Chamois features E.I.T. Max fabric and perforated foam for exceptional wicking and comfort
Hincapie Gel-Grip leg bands prevent the shorts from levitating during your ride
Flatlock seams prevent chafing
Reflective zones help keep you visible during night rides