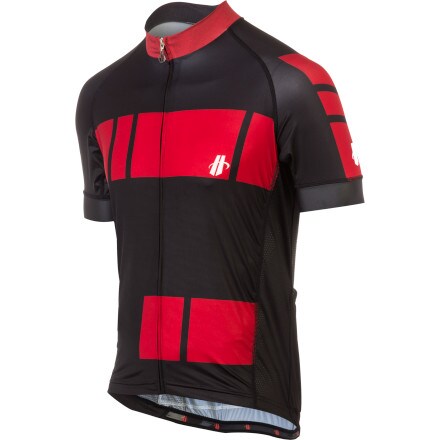 Detail Images
Description
Get that Edge.
George Hincapie didn't need to ask what cyclists wanted from a jersey when he started his own clothing company. He has had a lifetime in the saddle to figure it out on his own. It's this knowledge and experience that led to the creation of the new Edge Jersey.
Hincapie approached the Edge jersey with a series of objectives in mind. Basically, the Edge was to represent the key fundamentals of a cycling jersey — a light overall weight, a comfortable and supportive fit, and drag-reducing design. Luckily for you, Hincapie achieved each of its goals. Starting with the bulk of the construction, the Edge jersey features the soft-to-the-touch, ultra-lightweight TourTek fabric. TourTek provides the best of both the polyester and Lycra worlds. The blend ensures that you benefit from the gentle feel and powerful wicking of polyester, while maintaining the supportive fit and aerodynamic edge of Lycra.
For breathability, and further weight reduction, the Edge jersey features Quantum Mesh stretch panels on the sides, back, and underarms. This produces an effective airflow through the jersey in order to keep you cool, and to aid in rapid moisture evaporation. Additionally, it also aids the fit and movement of the jersey with its malleable composition. So, when you bend and flex in the cycling position, the Quantum Mesh construction helps the jersey move with your body, not against it.
As for the fit of the jersey, Hincapie designed the cut for the position and movements of cycling. Accordingly, the rear of the jersey has been lengthened, while the front hem resides a bit higher on the stomach. While providing more adequate coverage than a traditional hem line, the system's primary duty is to eliminate the bunching of fabric. After all, fabric bunching is a typical source of skin abrasion. That's why the Edge jersey has been designed with next-to-skin fit. Further assisting this are the securing features of the jersey. You'll notice that the sleeves don't use any elastic at the openings. Instead, Hincapie opted to use its HyperOptic elastane. This material provides a more even compression compared to an elastic gripper. Additionally, it creates a seamless surface for ideal airflow, furthering the jersey's aerodynamic properties.
Just as impressively, HyperOptic looks ordinary by day, but in low-light conditions, it's highly reflective. This bolsters your visibility to motorists when your ride goes a little bit longer than expected. And for storage on these long days in the saddle, the jersey features three rear pockets.
The Hincapie Sportswear Edge Jersey is available in five sizes from Small to XX-Large and in the colors Clay, Classic Blue, and Black.