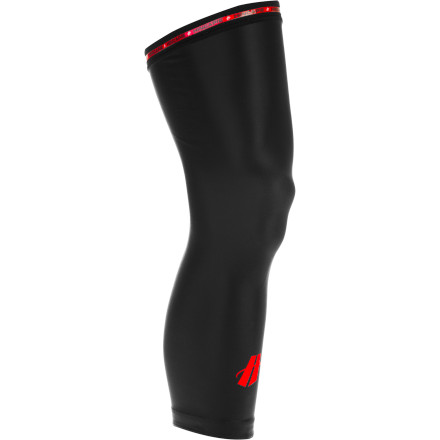 There are wet rides when the question is whether or not to wear knee warmers at all. Then, there are the Hincapie Edge Hydro Knee Warmers. These are not only warm, but water-repellent, keeping the wet out and limiting the sogginess of a long day in the saddle.
Hincapie starts with a plush, lofted fleece material that is warm on the inside, smooth on the outside. Then it adds the Acqua Zero treatment. Acqua Zero is a simple idea that should be used more often. It's a fabric finish that limits the ability of water to soak into the clothes it is treated with. In practical terms it means that the spray of water whooshing off wheels and drizzling down will bead up, and when it starts coming down hard, it will take some time for the warmers to soak through. They also dry fast when washed (wash on cold only, please).
The treatment is a great finishing touch on a good warmer. The Slip-Knot two-sided silicone bead gripper at the top is there to grip both your leg and the shorts.
The Hincapie Edge Hydro Knee Warmers comes in White and Black. Sizes run from Small to XX-Large.