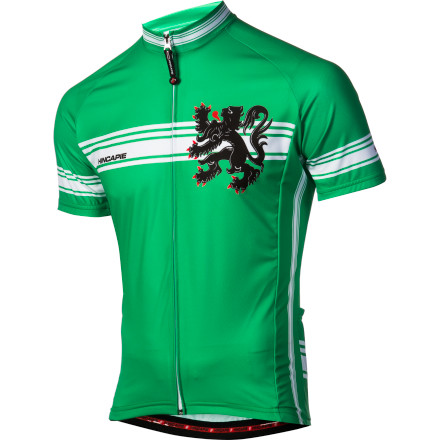 Detail Images
It should come as no surprise that the spring races of Belgium hold a special place in Big George's heart. And when it comes to legendary races, the Ronde van Vlaanderen makes the educated cyclist both swoon and cringe. Why's this? Two words -- Oude Kwaremont. Tough enough to replace the Bosberg (when climbed three times, like in 2012) the Oude Kwaremont climb was deemed worthy of Hincapie Sportswear to pay homage with the East Flanders Jersey. With a design that replicates their flag down to the color, stripes, and lion, the East Flanders jersey is the best way to flaunt your passion for the roughest place in cycling.
Although the Oude Kwaremont climb is most visible in the cold Belgian rain, for the daring in Flanders, it gets more attention on warm summer days. And what happens on hot days in the saddle? You sweat. That's why the East Flanders jersey has been constructed from the patented SmartDry fabric. This material not only features a feathery, lightweight composition, but it's been designed around an exclusive moisture management technology that effectively wicks moisture away from the skin. And for further protection from the detrimental effects of the sun, the SmartDry has SunSmart fibers sewn into it. This treatment protects both your skin and fabric from Ultraviolet rays, preventing burning and fading.
SmartDry has a unidirectional stretch that is conforming to the body's contours, yet is able to effectively retain its natural shape when not in use. The East Flanders jersey also uses Hincapie Gel-Grippers at both the sleeve openings and bottom hem. This proprietary gripper is highly malleable and is designed to provide a no-slip traction in order to keep the jersey in place.
Hincapie has also supplied the jersey with a full-length, hidden front zipper, and three rear pockets to house your riding essentials.
The Hincapie Sportswear East Flanders Jersey is available in the color Green and in five sizes from Small to XX-Large.