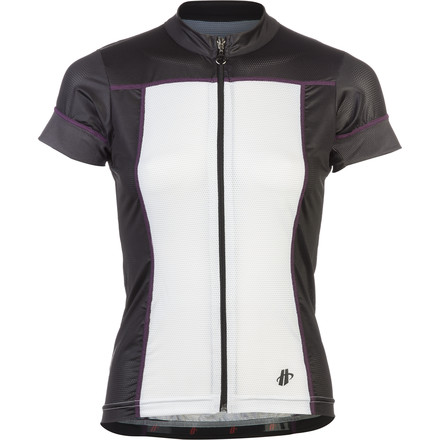 Detail Images
Description
High-tech, high-style.
Color is important for getting noticed. And getting noticed is great for being safe on the road. Not only is the Hincapie Women's Chromatic Jersey a looker in the day and night, but it is comfortable and fast to boot.
The bold, blocky pattern is memorable, especially when contrasting colors are employed. What's more subtle are the HyperOptic Elastane panels that finish the sleeves. They may look like typical jersey panels but they reflect at night. This is accomplished by constructing the top layer in a micro eyelet pattern that is bonded to the regular fabric. The micro-eyelets are not visible in daylight, but when a car's light beam hits the panel, the micro eyelets reflect the light.
In terms of comfort and speed, Hincapie utilizes the Countermeasure Carbon joined via flatlock stitching for the main panels. The stretchy material has carbon fibers woven in along with the polyester to cool the body and lower the heart rate. The paneling works with an athletic form to flatter the body and fit well wile riding.
The Hincapie Women's Chromatic jersey comes with two rear pockets. There is silicone elastic woven in to the rear of the waist hem to contact and stick to the shorts, but leave the rest of the jersey free to move where it fits best. Sizes run from X-Small to X-Large.