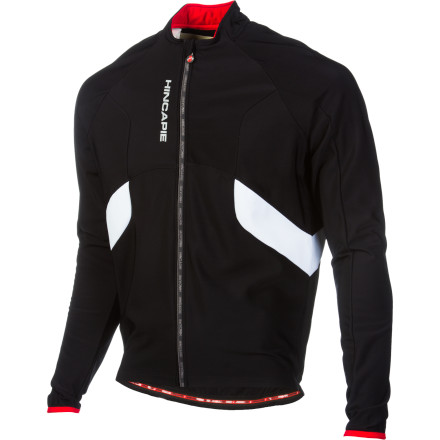 Detail Images
Like the Ardennes classics are a test of a man's determination and fortitude, the Hincapie Sportswear Ardennes Long Sleeve Jersey is man's test of nature. When prepared, does Mother Nature hold the ability to bend and shape our will? We guess not, and one ride in the Ardennes jersey will have you confident that you can take whatever she dishes out.
To combine comfort with warmth, Hincapie made the Ardennes jersey from a blend of the plush and stretchy BodE Thermal Heat and BodE Thermal Loft fabrics. Together, the materials deliver a soft inner lining that utilizes high-loft, fleece fibers to accelerate moisture evaporation. With that being said, you probably guessed that the jersey is designed to stay dry against the skin. Your guess was correct. The lining assists in wicking moisture to the quick-drying surface. And not only do the fabrics work together to keep you dry, but the breathable designs also maintain a consistent, insulated temperature for warmth. In fact, Thermal Heat features the heaviest knit structure in the Hincapie lineup to ensure heat retention. However, this is complimented by the outer-layer's Lycra and nylon blended-makeup. Accordingly, the jersey effectively wicks away moisture to keep you dry and at a consistent internal temperature.
For fit, the Ardennes jersey has a malleable, four-way stretch construction that conforms to the contours of your body. And to minimize any shifting during movement, the Ardennes has an exclusive Hincapie Gel-Gripper along the hem. The Gel-Gripper itself is flexible. However, the anti-slip elastic creates a secure attachment for a perfect fit. For ventilation, Hincapie supplied a full-length, two-way zipper along the front of the jersey. And to house all of your ride essentials, the jersey comes equipped with three large pockets on the rear. It also features reflective accents throughout the jersey for a heightened sense of visibility in low-light conditions.
The Hincapie Sportswear Ardennes Long Sleeve Jersey is available in the colors Black and White and in five sizes from Small to XX-Large.