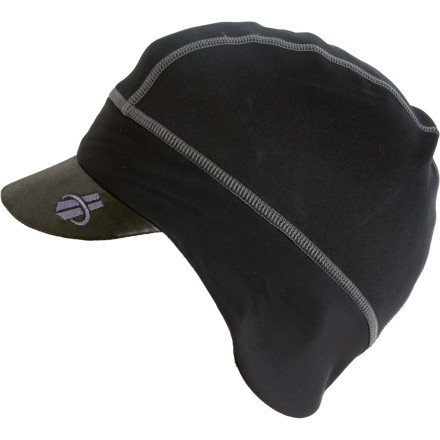 The waterproof breathable Hincapie Alpe Brim Hat can make winter riding bearable. Four-way stretch softshell material with a fleece lining makes the Alpe so comfortable, you might forget you're wearing it.
Fleece headband for insulation and breathability

Shaped to comfortably cover the ears and fit under a helmet

Integrated brim provides added protection from wind and rain

Reflective elements for extra visibility in low light

My head is a 7 1/8" circumference; usually a medium hat works fine and large is usually too big. This was supposedly a L/XL size, but I could barely stretch it on. Started to cut off the circulation; I couldn't imagine wearing it for a four hour bike ride, or even 10 minutes.
Pretty good, glad I have it
Gender:

Male

Familiarity:

I've put it through the wringer
I purchased several winter cycling hats / headwarmers this winter to try to find something that would fit under a helmet nicely and also keep my ears and head warm. The Hincapie Alpe Brim Hat ended up in second place behind the Rapha Winter Hat. Overall if I had to recommend just one hat, it would be the Rapha Hat, it is only a few dollars more (retail prices) and is much more versatile and I have ended up wearing it the most.



Both hats have traditional Belgian styling with a brim and ear-band. Rapha's brim is a little larger in every dimension and is also a little stiffer. It keeps its shape better, but can obscure your vision a little more than desired depending on how deep your drops are. On the tops/hoods both brims will block moisture and glare equally well. The Rapha hat has longer earflaps and they cover my entire ear, keeping them nice and warm into the mid 30s. The Hincapie hat in L/XL leaves my earlobes exposed (but I do have a large head - size Largo Giro helmet)



The Hincapie hat is constructed from a softshell material that seems to fend off rain pretty well, but is very slow to dry out from perspiration (it will usually still be slightly damp the next day, the Rapha won't).



Rapha

-Warmest hat I've found that still fits under a helmet well

-Full coverage ear flaps

-Dries quickly

-Comfortable from mid 30s to 50s



Hincapie

-Better water resistance

-Less bulky / but also less warm

-Can fold up the ear flaps with a helmet on (the Rapha ear band is too thick to do this with a helmet)

-Dries slowly

-Comfortable from low/mid 40s to mid/high 50s



Bottom line - unless it is raining or warmer, I will choose the Rapha, but this is a good hat to have in your arsenal.
Is this very warm? I live/ride in Montana...
Is this very warm? I live/ride in Montana and it gets cold as you know what sometimes, plus would it be worthy to wear casually? Since it fits under a helmet I'm thinking superthin and not very warm.....
Best Answer
See my review above, its warm, but probably not warm enough for Montana. I found it not always warm enough for Southern California.



I doesn't look horrible without a helmet over it, but I don't think that I would wear it with non-cycling clothes.
I love mine and ride in New England. I have worn it for 3.5 hour rides in below freezing windy days hitting 40 mph descents and been very comfortable. I was able to wear it on day in in the upper 30's, but there was really cold strong wind.



I was concerned that it would be too bulky but it fits under my helmet, just fine. Recommend it highly!
This is a great hat for under a helmet or all by itself. Super windproof, water repellent and just the right amount of insulation on those frosty rides. An essential for winter commuting. The brim fends off precipitation of all forms. One full winter of use so far - this is one of my favorite pieces.