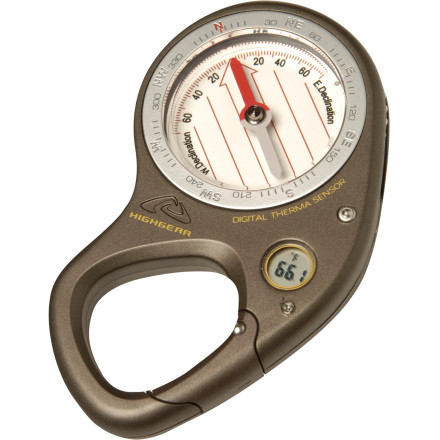 Usually, the less complicated something is, the less likely it is to fail. Highgear employed this concept in its Trail Pilot 2 Compass, which won't freeze or run out of batteries when you need it to navigate back to the warmth of home. The air-filled, see-through compass face and rotating bezel make detailed orienteering easy, and the adjustable declination ensures that you get good readings from Mexico to Montana.
The small digital thermometer switches between Celsius and Fahrenheit and works from -14F to 122F (-10C to 50C)
The tough 10m water-resistant housing will keep the Trail Pilot 2 functioning even if you drop it in a stream
But it includes a built-in clip so you won't drop it anyway
Replaceable battery (for the thermometer) to keep it good for many excursions
What do you think about this product?
Have questions about this product?
This thing is junk. I'd call it a toy, but that'd be disapraging to toy makers.

The thermometer doesn't work at all, and the compass is really a low quality chidren's toy type. They say you get waht you pay for, but they deliver significantly less than that with this compass. I'll steer clear of this brand.
Good not great - short battery life
Great little compass. Clip-on feature is great. Purchased it to have the dual functionality of a thermometer. However, I found that after a couple winter hikes, the temperature display became extremely faint. Going to try a new battery, but have an idea that the watch-style battery isn't going to hold up to prolonged exposure to cold weather.
Could you please tell me what type of...
Could you please tell me what type of battery this takes?