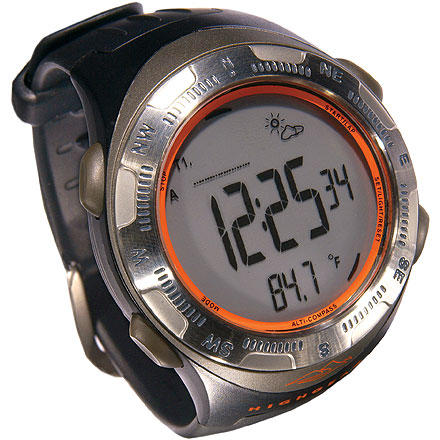 Unanswered Question
HI, i have a highgear watch I bought new...
HI, i have a highgear watch I bought new in about 2001. I have not used it in about 3 year and lost the directions for it. I was wondering if anyone new of any online directions i could look at to help me remember how to use the watch. All i know about it is that it is a highgear altimeter watch
how do you calibrate the altimeter
how do you calibrate the altimeter
Most altimeter watches can be calibrated by entering in a "reference" altitude at a known location. For example, my house is at about 6,950 feet. I set this reference altitude and then when I go up or down, the watch extrapolates the elevation based on the change in barometric pressure. I believe you can also set it to a known barometric pressure. Of course as storms come and go (causing the pressure to vary), altimeter watches can get a little off, but they're usually pretty close to the mark (I rarely calibrate my Suunto T-6. I have a friend who also has an altimeter who also rarely calibrates his -- we're usually within 2-300 feet).
Any suggestions on a watch that can go in...
Any suggestions on a watch that can go in the water has a thermometer, but won't have condensation problems?
Suunto Oy makes some killer gear. Sure, it's a little more expensive, but you can dive down to 30 m with this sucker:http://www.backcountry.com/store/SUN0056/Suunto-Vector-Altimeter-Watch.htmlI'd say the Suunto X6 is a good call:http://www.backcountry.com/store/SUN0151/Suunto-X6HR-Heart-Rate-Monitor-Watch.html
I need a watch that will keep track of how...
I need a watch that will keep track of how many ski runs i make.
You'll need a watch that has a GPS. Either that, or count your runs. Some ski areas that use RFID season passes (such as Alta and Solitude) allow you to track the number of runs based on your pass use.Check these items:http://www.backcountry.com/store/SUN0186/Suunto-t6c-Multisport-Pack.htmlhttp://www.backcountry.com/store/GRM0072/Garmin-Forerunner-305-GPS.htmlAlternately, just carry a regular GPS unit.
Cheaper is not always better...
Don't get me wrong, the functions on the watch are quite easy to use, and they are pretty accurate. The biggest issues I found with this watch are one, the plastic housing where the straps meet the face. They are too weak to handle one year of outdoorsy activities. I'm on me second watch waiting for my third. And two, I'm waiting on my third watch because Highgear's warrenty/repair service is slower than molasses.
If this third watch cracks in the same place, I'll spend the extra money on a Suunto.
I really enjoy this watch, it does everything that I need and it is very accurate on predicting the weather as well. The price is very nice for everything you get as compared to some other brands which are very expensive. I reccomend this product. It is very big and people will say "wow thats a big watch" but i think thier jealous
I bought a Highgear Summit watch in July of 2005 and was excited with the triple sensor features. In the fall, we hiked through the Grand Canyon and I was anxious to review the elevation changes throughout the hike. Five days later on the trail up the South Rim the altimeter ceased to function. I called Highgear and explained the situation and they authorized a return. I received a new watch a week later (November 2005) and all seemed OK.

In July 2007 I started to experience problems again. Now the barometer would not change and since the altimeter is tied to the barometer that too was incorrect. I procrastinated calling Highgear and with an upcoming vacation planned to the Tetons in September 2007 I wanted to have a functioning altimeter. However, the watch then signaled a low battery by beeping and flashing a number of times and went blank. I replaced the battery and nothing. Total blank. I tired the complete reset maneuver (holding all four buttons simultaneously) and still nothing.

When I called Highgear and explained all the problems, the customer service person was nice and did a lot of searching to find my original contact in 2005 and the authorized return. She informed me that the replacement watch was within the 2-year warranty and likely they would replace the malfunctioning watch. I was told I would get an email with the RMA. That never happened. A week passed and no email. I called again but never got through to a person as the customer service number immediately transferred to voicemail. I left my contact information repeatedly but never received a call back.

Upon returning from the vacation, I called again and customer service still transferred directly to voicemail. I called back but choose technical support and talked to a technician. This person was either having a bad day or did not like taking support calls. His first reaction was that I did not know how to change the battery. His second reaction was that I was using an expired battery as a replacement. When I insisted I had a fresh battery he then informed me I would get an email with an RMA (sound familiar) and to send the watch back with a copy of my receipt and Highgear would either replace or repair after they evaluated the watch. When I told him that the watch had been replaced by Highgear in November 2005 and that a previous customer service contact indicated the replacement watch was within warranty he just repeated his instructions without any comment about the prior replacement.

I never received the email with the RMA and at this point no longer interested in any Highgear solution.

Pros:
The watch is attractive and I received a lot of compliments on its look.

I liked the large size and large numbers.

The backlight feature was strong and there were times I used it as a quick flashlight in a dark tent.

Cons:
The mechanism failed in two watches in two years through normal wear and tear.

Customer support and technical support do not follow up on their commitments.


Here' the bottom line: The watch was not cheap and should have more durability than I received. I could understand one watch having a problem but for two watches to fail in two years seems very odd and a bit concerning. Since I am in the market again for another watch, I have read more reviews on triple sensor type watches and have learned that all seem to have issues, regardless of manufacturer, mainly in the barometer and altimeter features. Perhaps it may be too much to ask a timepiece to accommodate the triple sensor technology.
I bought this watch as a replacement of my Suunto Vector, which the compass failed twice seems common fault. I like the Summit the display is clearer than the Vector with more information display at the one time, but there are few annoyance. Firstly as mention by others, the light button serve multiple and the light will not stay on long enough preventing us to use the watch in complete darkness, secondly, it is impossible to show the month in any mode other than the set mode, thirdly, the altimeter seems too sensitive or unstable as compared with the Vector. The last one is not an annoyance but quite funny to me, I don't see how useful is the dual time clock which can set different year as well !
right price, right features, but still annoying
This watch, functionally, works great. It has pretty much everything you need at a great price (vs. Suunto). The gripes I have though outweigh the positives. The first is setting the alarm at night. The set button is the same as the light, and the light is never on long enough to set the alarm. The other is the size. At first, it's sweet having a huge watch, then you try to put your pack on and the straps get stuck on it. Or you bend your wrist and it pushes the buttons. Annoying.
The Highgear Summit has lots of fun features and seems well built and reliable. It's huge, a genuine beast, almost too large for long sleeves, but still comfortable. My only gripe is that it's easy to inadvertently press the mode button. You should probably try this watch on before purchasing it.
i was surprised at how accurate it was when i first got it. after i dropped it on my wood floor the barometer, altimeter, and thermometer stopped working. this watch is very fragile. i suggest you read the first part of the 9th review it is very accurate. i just used it up in the sespe wilderness of California. even though it was snowing my watch said it was 88 degrees after being off my wrists for 30 minutes. after all its a good watch if you're going to be super careful with it and protect it from everything. i thought this watch really did not impress me.
My son loves his watch! It was the first thing he asked for on his Xmas list and it hasn't disappointed him. Only negative thing is the current room/outside temp. reading. It does add 10-15 degrees on the reading because of your body temp. So you don't know the correct temp. unless you took the watch off.
The functionability of this watch rocks. It tells me everything I need to know--even the build in the 3-hour barometer based weather forecast seems pretty accurate. I've had a few problems with the waterproofing, (apparently not great in salt water) and the altitude doesn't stay all that accurate if you change altitudes a lot. Otherwise, it's great.
This is a great piece of equipment. Paying $300 for an altimeter watch is no longer necessary. The altimeter stays pretty accurate over time and weather changes and I couldn't be happier!
Yeah, it's big, but we're mountain hippies not supermodels, right?
Had this watch for about a year now and it has been a great help whenever and wherever I happen to be. My biggest complaint is that you can't set the alarm in the dark. The set button also activates the light (which you need for setting the alarm), so once you get to the alarm function the light is activated when you hold down the set button but it doesn't stay on long enough for you to reset the alarm. In order to have light again you have to hit the set button again which saves the time you weren't able to see to fix into the alarm. *Ugh* just use your headlamp! After hitting the default reset buttons on accident last winter the compass has not worked right since. Unfortunately the directions weren't that much of a help with recalibration. Not a big deal as I prefer my manual anyway. Altimeter is delightful and accurate, but needs to be recalibrated every once in a while. Barometer worked amazingly well during ski season, but for some reason hasn't worked that well since - not sure if it's me or if the weather is getting smarter. The watch has never faultered once, but I don't think the build quality is the greatest. Oh yeah, it's FREAKIN' HUGE!! If you ever get lost you can easily use this thing as a signal mirror or dinner plate (if you lost that too).
This watch is awesome I have had it for just a few weeks now, and I especially love the Barometer. 2 weeks ago we were up in the Wind Rivers, and it was perfectly accurate. As we got into the cirque of the towers I thought for sure we were going to get pounded with rain but the watch only said cloudy, and it didn't rain. The next day it did say rain, and it was clear in the morning but a few hours later we had some severely rainy weather. This is the easiest weather gage there is. Most other watches you have to track how the numbers are changing and figure what kind of weather that will bring.
After 1 month... PROS- Fits great! The wide range of functions suits my needs. Easy to learn the set-up/calibration of it's many functions once you do it. CONS- I have only a minor complaint... the ALTIMETER has to constantly be calibrated.
One of the best investments to my field gear
I was skeptical at first about how accurately altimeters measure altitude, especially those that use a barometer to do it. However, I have found this watch exceptionally good at measuring altitude with a precision that is within a 1:24000 topoline. Just as long as you calibrate either the barometer or altimeter-which is accomplished easily by topomaps, GPS, or other means-the watch will work fine (You shouldn't rely on a single instrument anyways to get around in the wilderness). The temperature I have found to read just fine, even though the Summit is on my wrist when it measures temp, it always measures ambient air temps and not that of my body (again, double checked by a thermometer). The 6 hour forecast actually works (as long as it is calibrated correctly)! The only downside to this watch is the compass. I have found that the compass bearing oscillates quite a bit unless the watch is level and motionless. But the oscillations eventually dampen and the bearing can be accurately read (again, measured against another compass w/same declination), good enough to find your way through thick Rhododendrons and briars, and the declination is a sweet little addition. All in all a great field watch without breaking the bank, and backcountry shipped my purchase expediently good job people!
Cool functions but big as a belt buckle
I had seen the $500 Suunto and thought about how to use all the neat gadgets, but really didn't have the moolah. I thought that this represented the best deal for the price, and it probably does. However, the watch stands about 3/4 of an inch above your wrist and is as big as a WWF Championship Belt. Well, not really, but I am a little guy. This would not be a real concern for a watch built for outdoor functions, but they don't include a watch band expander so that you can wear the watch outside your clothing. I mean, why do I want to freeze my wrist so I can find the temperature of my wrist rather than the outdoor temp?
It's just a pretty cool watch in general, especially if you can get it with a discount!
I found the 'temperature' functionality a little useless since it's not accurate when you're wearing it—so what's the point of that?
The altitude functionality is cool, but you have to set it up daily, or else daily changes in pressure will mess it up.
The compass is pretty accurate and is probably the most useful tool on there.
I LOVE the big numbers/display. Overall, a good watch for the price.