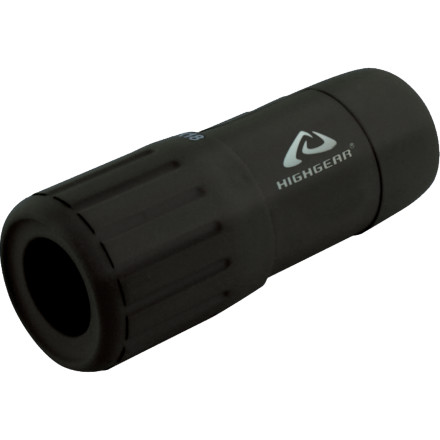 Detail Images
Is that a rock or a ravenous badger in the distance? Are there people on that ridge about to knock a hanging cornice onto your touring party? Answer these and many other questions with the small, lightweight Highgear Solo Scope. Its pocket size and rugged, easy-to-grip rubberized housing make it a welcome addition to your hiking or touring gear, while its 7X magnification brings possible predators, ski lines, and UFO's into focus. The monocular includes a lens cloth, soft carrying case, and lanyard for on-the-go peeping.
What do you think about this product?
Have questions about this product?
Took this on a grueling 2-day backpacking trip and didn't even notice the weight. It's a cool thing to keep at your side for checking out majestic birds of prey or everybody's favorite, the mountain goats. It fits easily into a pocket. Magnification isn't too great, but it works for checking out the local wildlife and finding anchors when climbing.