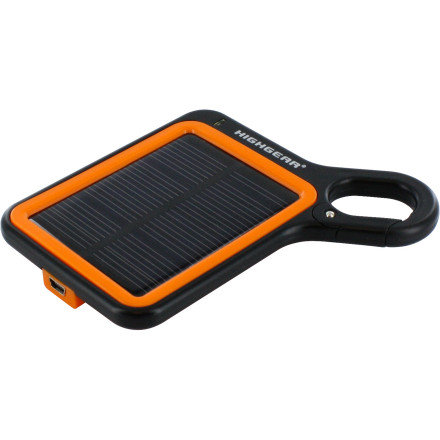 Your solo wilderness trek may be amazing for you, but if you have a few people worrying back in the paved world, it's only courteous to bring along the Highgear Solar Pod to keep your phone charged. It could also come in handy for your other electronics because, in eight hours, the Solar Pod's panel uses the sun rays to charge its built-in lithium-ion 3.7V battery (650mAh). Then you can use that power to recharge a dead cell phone battery, MP3 player, camera, or other compatible device with one of the eight interchangeable connector tips.
Fully charges in eight hours by sunlight or two hours when connected to a computer through its included USB cable
An LED indicates the charge and discharge status, and a low-battery indicator lets you know when you're low on juice
A second cable features a unique connector so you can match one of the eight different connector tips to your device
These connectors include a 2.5mm jack for Nokia models, 3.5mm jack for Nokia, wide pin for Sony Ericsson, round input for Motorola, flat for Samsung, universal USB for cameras and PSPs, mini USB for Blackberry and Razor models, and a female USB for most iPhone and iPod models
A clip lets you attach it to your pack so it charges while you hike
got this as a gift does not work. Read instructions did everything. does not work period. Save your money
This thing has been terrible. It will not charge most things I have tried including Droid Incredible, Nook, iPad, iPod Touch, Sony Camera. It will charge a regular iPod.
Requires 3rd Grade Literacy
Believe it or not, this little battery pack comes with instructions. If read, they provide valuable insight on how to operate it.

It requires putting the device through a few powercycles before you can expect it to hold a full charge. This is very common of rechargeable batteries. Essentially, charge it all the way up, run it all the way down, repeat four or five times. Once completed, I'm getting the full 700mAh it boasts.

This is billed as a solar pod, but that billing may be a little generous. I'm sure it does charge in the Sun, but it charges slowly. There is a total of six square inches of solar array, so it does not collect that much energy. I believe the reviewers that said it did not charge up after a full day of hiking, but unless you're hiking in the Sahara, you're not getting full sunlight all day. Its a nice battery pack with some solar capture functionality.

It says it charges in eight hours by Sun or two hours by USB. The USB timeline is about right. May take a little longer in the sun, but have not had a chance to test it fully. The 700mAh battery is enough to charge your cell phone 30%-50% depending on the model. Most high-end smart phones have batteries between 1800 and 2000mAh.

If you're planning on running your iPad in the backcountry, consider a different charging solution, and maybe your motivation for heading to the backcountry. If you're looking for a little extra juice for your phone or GPS to save you some miles on an unexplored hike, this is just the device.

For >$25 on SAC, this is well worth the investment. Remember to read the instructions though, and make sure to understand what it is capable of. Don't expect to get the performance of the much larger solar arrays on the market in such a compact and discounted design.
Bought on SAC, Save Your Money
So...bought this for a little jaunt up Onion Valley to Kearsarge Pass and over in to Cottonwood Lakes, full sun, 11k elevation, all the ease to power this little baby up. And a baby it was. We couldn't get a EVO or a Blackberry working. We left it on my back, little lights were all aglow...and yet it didn't have the juice to allow us to keep our batteries up and running. When phones are acting as your cameras, maybe even your music to get you sleeping soundly from a snoring tent mate, you REALLY need something that keeps your battery powered. I have a 40 miler in Yosemite coming up, but this will not be coming along.
Tried charging by USB, didn't stay charged the rest of the day. Tried charging by leaving in direct sunlight 10+ hours, didn't charge past one bar and was dead before the sun went down. Don't waste the $$$!
Not even a boost for my EVO. Crappy, put it back. Goalzero, is the way to go. Affordable and well put together
This device is pretty worthless
Just the other reviewers, I wasn't able to get this to hold a charge. Instructions state you must charge it for 8 hours in the sun and I've had this thing in direct sun light for days now and still it won't work. What's even more mis-leading is that the carabiner/clip on it makes it seem like you can hook it onto your backpack to charge. You'll never get a full charge out of this clipped onto anything. Save your money and spend it on a Brunton portable power device instead.
Wish the review by fri3034422 was up when I got this on Steep and Cheap! This thing is entirely worthless- while the plugs and pins seem entirely compatible with every portable device I have, I may never know if they actually are since the pod doesn't even charge when plugged into my computer, let alone in the sun. On the one hand, I wish I hadn't wasted the $20, but on the other, I sure am glad it wasn't the $35 marked-down or $50 retail!
Not more than a piece of junk
I got this in SAC on one of those special days of extra discounts. I snapped it up without reading any review. However I went through some of the youtube reviews when the item was being shipped. A few things to note are that the battery does not hold the charge overnight, gets charged only a little even after keeping it outside in bright daylight. I wanted to test it myself once I receive it. The result was exactly the same as the youtube review. If a Solar charger cannot get charged even after keeping it under the Sun in Texas on a day with clear sky and bright daylight, cannot hold whatever charge it gained over the day till the midnight of that day, I think its not more than a piece of junk. I returned it within a week and ended up paying for return shipment.
I wish I could have given no star but I am not sure if no star have any impact on the overall rating. So giving one star.
dont be like chris mccandless notify your loved ones/parents when u can.
Anybody try this to charge an iPad 2
Anybody try this to charge an iPad 2
It does charge it but very slowly. Also, the power drain on the iPad 2 is too quick for use during charging.
Best Answer
Who needs an iPad 2 on the trail. Seriously?
Yep, it works with the iPod charging cable
The unit itself is waterproof but not meant to be operated wet since the attachment point is exposed.