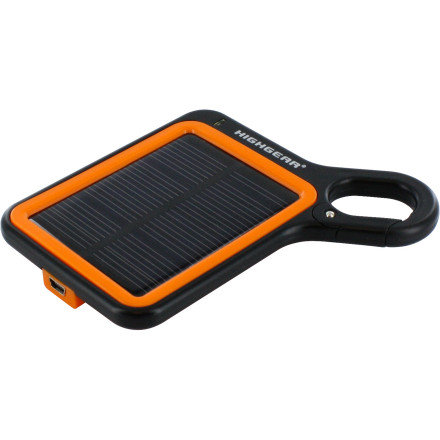 Your solo wilderness trek may be amazing for you, but if you have a few people worrying back in the paved world, it's only courteous to bring along the Highgear Solar Pod to keep your phone charged. It could also come in handy for your other electronics because, in eight hours, the Solar Pod's panel uses the sun rays to charge its built-in lithium-ion 3.7V battery (650mAh). Then you can use that power to recharge a dead cell phone battery, MP3 player, camera, or other compatible device with one of the eight interchangeable connector tips.
Fully charges in eight hours by sunlight or two hours when connected to a computer through its included USB cable
An LED indicates the charge and discharge status, and a low-battery indicator lets you know when you're low on juice
A second cable features a unique connector so you can match one of the eight different connector tips to your device
These connectors include a 2.5mm jack for Nokia models, 3.5mm jack for Nokia, wide pin for Sony Ericsson, round input for Motorola, flat for Samsung, universal USB for cameras and PSPs, mini USB for Blackberry and Razor models, and a female USB for most iPhone and iPod models
A clip lets you attach it to your pack so it charges while you hike
Share your thoughts
What do you think of the
Highgear
Solar Pod
? Share a...