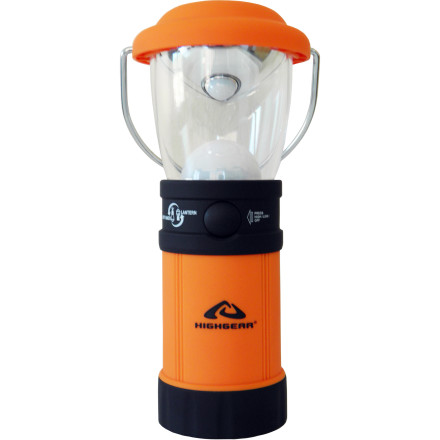 The USB-rechargeable Highgear Smart Lite Lantern lights up camp with 95 lumens for 4 hours on a full charge. The Smart Lite also packs a back-up power hand crank for emergency situations when the charge has run out.
What do you think about this product?
Have questions about this product?
I have two lanterns made by highgear. The Trail Lite and this one. I bought the trail light specifically for the cost and weight savings. I picked this one up when the trail lite turned up missing (or misplaced, rather). Shortly after ordering this, the other turned up. I was really shocked at how much lighter this lantern is than the Trail Lite. With batteries, the Trail Lite weighs in at a stout 12 oz or so. Meanwhile the Smart Lite maintains a 7 oz weight. The recharger interface is awesome, especially if you've got a solar panel. Otherwise, if going ultralight, the crank on this baby is easy and produces great power for the light.

One other neat feature: it works like a lantern or a torch with the twist removal of the reflector and dome (which then screw into the base).
When my 14 year old broke our Black Diamond Apollo lantern, I was at a loss. We weren't due to head home for another 36 hours, but the prospect of spending the entire next day and night without a lantern was less than exciting. More than anything, my son felt guilty for putting a damper on our trip. Enter the Smart Lite. Even though I hadn't bothered charging it before we left, the hand crank on this little beast of a lantern let me get enough light to not only get everything done around our basecamp that we needed to, but I was even able to find the missing piece from my Apollo and fix it once we got home! The look of relief on Jack's face alone was worth the price of this lantern.

Lanterns with a dynamo charger may be old tech, but this little lantern was exactly what we needed. 5 stars!