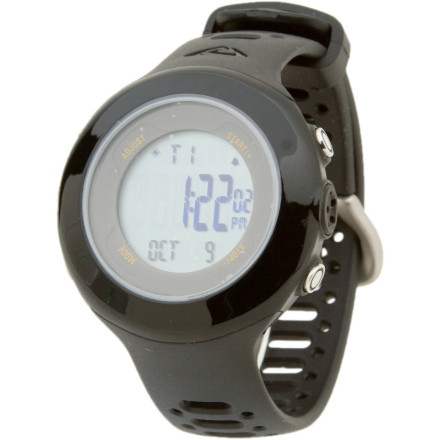 Detail Images
The Highgear Axio Altimeter Watch tracks all the most crucial data during epic adventures far from civilization. The built-in digital thermometer and barometer with 12-hour forecast icons ensure preparedness for oncoming weather, and the altimeter records your accumulated and maximum altitude so you can prove to your friends how high you got last weekend. Hydration and altitude-gain alerts help moderate your pace while you trek to new heights.
Love this watch.
Gender:

Female

Familiarity:

I've put it through the wringer
My favorite watch I've ever owned. It's got cool bells and whistles for the price and it's nice and durable too. I like how the face isn't huge on it like a lot of the other altimeters I've looked at; this one is friendly towards female-size wrists. The one complaint I'd have is that the altimeter needs constant recalibrating to get accurate readings. But once you've had it for a while, you can figure out the rate at which it becomes inaccurate, and do the necessary mental math. Overall a great product.
looking back, I would have gotten the negative version cuz I think it looks cooler, but I couldn't be more satisfied with this watch. First battery lasted over a year, and was easy to replace. Altimeter seems fairly accurate, and the buttons are fairly straight forward. The weather prediction is actually more accurate than I would have imagined. A couple times its told me rain when the weather man says zero percent chance, and its happened.
This watch is pretty cool so far. Its got a nice low profile, not too bulky and looks alright. Altimeter works good and the programming is easy to figure out.
how accurate is altimeter on the highgear...
how accurate is altimeter on the highgear axio altimeter watch,
midnight black?
I find it fairly accurate -- you do have to recalibrate it now and then, though.
Any idea if this one is at all physically...
Any idea if this one is at all physically smaller than the axio max? I'm trying to find an altimeter watch that is as low profile on the wrist as possible....
This watch and the max use the same case, so they are the same size... You might try the Axio Mini, its a little smaller... you might also check Silva's watches, coined Tech4O...
The lowest profile ABC watch I'm aware of is the PRX/PRW 2000 from Casio @ 11.3mm in height. The altimeters on the Casio's are somewhat limited in accuracy, however, and the resolution at 5m/20ft increments, isn't as helpful. The Suunto Observer would be my recommendation in a lower profile watch @ 14mm. I believe the Tech4o Traileader Pro is around that measurement too, and adds the unique feature of an accelerometer in a watch, which adds a new layer of functionality in measuring distance, as well as altitude, barometer, thermometer, heart rate and azimuth.
Best Answer
No compass on the standard Axio. You will have to move up to the Axio Max for that feature.