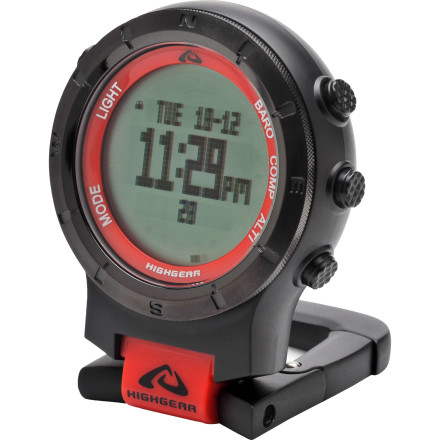 If you're not keen on the wrist-watch look when you're moving through the mountains, clip the Highgear Alti Tech3 Altimeter to your pack before starting up the trail. The altimeter measures elevation, tracks total ascent and descent, and can store up to 50 logbooks for future reference. The barometer allows you to forecast impending weather while the digital compass helps you maintain a direct course home. Add in the thermometer, chronograph, and a range of date and time functions, and you're ready to head to the big mountains armed with information.
Altimeter displays in feet or meters and has a range of 1640ft to 29527ft
Altimeter also tracks total ascent, total descent, minimum elevation, maximum elevation, and stores up to 50 altimeter logbooks with data recall
Barometer displays sea-level and absolute pressure in millibar, hectopascal, or inches of mercury
Barometer features a range from 300mbar to 1100 mbar
Weather forecast feature helps notify you to impending storms
Digital compass features digital calibration, adjustable declination, and 16 cardinal point bearings
Thermometer displays in Fahrenheit or Celsius with a range of 14F to 140F
Chronograph has a 100 hour timer and 1/100 of a second stopwatch precision
Watch functions include day, date, time, world time, sunrise, sunset, and three alarms
Mineral glass lens is highly impact and abrasion resistant
Aluminum carabiner allows you to clip the watch to your pack
Button lock prevents you from inadvertently adjusting settings
Backlight allows you to view the screen in total darkness
30m water resistance ensures worry-free wet weather performance
Runs on a user replaceable CR2032 battery
Looks nice, not dependable
Familiarity:

I've put it through the wringer
Tested the Highgear AltiTech3 for a week. Data consistently and grossly inaccurate, even in a controlled environment.
Not fit for winter alpine work
Familiarity:

I've put it through the wringer
My partner picked up one of these in Hokkaido recently. She asked for something that would specifically work for the backcountry skiing we were about to do. After several days of wondering why the temp gauge would lock on -10 C and not go any lower (80% of the time it was lower) we figured out that the sensor range doesn't go below -10 C. For a product marketed as it is (have a look at their website full of lofty alpine peaks) it's simply a dissapointing failure. The product isn't fit for winter alpine use and it looks like their whole range uses the same sensor and limited range, hopeless!
Is the red connector/hinge between the...
Is the red connector/hinge between the bezel and biner metal or is it plastic?
It's either plastic or nylon. Zoom all the way in. Notice the outside edges are lighter. If it was anodized aluminum, the color would be even.

That doesn't mean it's bad. Some modern plastics are bulletproof, literally.