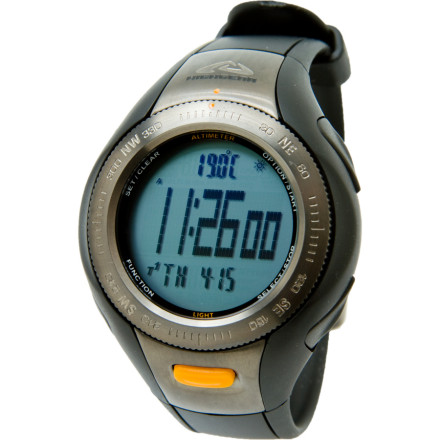 Detail Images

Community Images
The High Gear Alterra Altimeter Watch is a wrist mounted computer for tracking fun. Whether trail running, skiing, climbing or mountain biking, this High Gear watch keeps track of your progress. An altimeter with Ski Chrono function automatically calculates your total vert and speed of descent, and then saves the info so you can rub it in to your friends. For runners there is a 50 lap chronograph and split timer that remembers the fastest laps and average times. Despite its high-tech features, the Alterra Altimeter doesn't forget that it's an outdoor adventure watch. It is loaded with dual time zone functions, multiple alarms, a barometer, thermometer, and compass. The Alterra Altimeter Watch is a serious piece of equipment that provides the vital info you need to get the most out of an epic day in the mountains.
Share your thoughts
What do you think of the
Highgear
Alterra Altimeter Watch
? Share a...
Good Sensor - minor robustness
Navigation through the different menues is straightforward, the altitude sensor is quite accurate, even thouh it tends to overestimate the actual height.I used the watch a lot for ski touring and mountain biking. A major drawback is the mediocre qualitiy of the attachements of the wristband to the watch. Without applying too much force when putting on the watch it ripped out of its fixations. Due to the fact that it is all plastic it can not be be fixed. And this is already the second watch of this type I bought. With the first one the experience was similar: both metal and plastic parts loosened an fell off. Overall not a watch which I can sincerely recommend.
Unanswered Question
Does anyone have a case dimension for this...
Does anyone have a case dimension for this watch? Or a picture of it next to a Suunto Core,Thanks
Write your question here...Hi who knows...
Write your question here...Hi who knows where I can order a new watchband for my alterra techtrail watch.

Thank's for your info

Herbert
Hi Herbert, go to this link for the band you need:

https://store.4implus.com/g.php?g=376&l=1
can you count number of ski runs per day...
can you count number of ski runs per day with this watch?
Nope, it will give you total vertical feet skied. That could get you close to figuring it out. Of course, a Sharpie and the back of your hand/your buddy's face will get you the same tally too.
Just as good as my Tissot Touch at a fraction of the price...
Finally got a chance to use this bad boy on the slopes last weekend and it rocked! The Ski Chair setting is great for calculating vertical feet skied/minute and seems to be very accurate (I double checked the true vertical feet of the resorts base and summit and it was within about 10 ft). It is big, so people with small wrists/women beware. But its nice that it is big with a large band so you can wear it over your jacket so you don't have to constantly take your gloves off and roll up your sleeves to start/stop the functions. Should be fun this summer on the hill to see how fast I can bike the same terrain. The barometer is also very accurate and was spot on with the current weather conditions and it is super user friendly. I usually rock a Tissot T-Touch but this thing goes above and beyond on the mountain. Well worth the money especially from SAC.
I've had this watch for 5+ yrs and have had absolutely no issues. Been in extreme cold skiing and climbing and extreme heat (temps up to 129º during summer deployment to the middle east). I've replaced the battery a couple of times, but everything still works great. It has taken an absolute beating, would definitely buy again and recommend to others.
Okay, but not for runners
The Highgear Alterra will certainly do its job. However, I returned the product because (1) it felt large and uncomfortable on my wrist, and (2) I found the altimeter function slightly inaccurate and hard to use while running.

The watch is definitely bigger than it looked online...and it looked pretty big online. Also, I bought the watch to measure altitude gain while trail running. It would work, but I felt it was very confusing when trying to extract data. Taking the time and vertical gain of each split was quite a task, and I never knew if I had it quite right.

The altimeter also needs to be calibrated from time to time. Maybe this is typical of all altimeter watches, but I found it to be a hassle.

Overall, it may do the trick for a climber or hiker, but I feel it's not the best tool for trail running, much less road running.
I love this watch.

Durability: I have had this watch for about a year and a half now and it is rock solid. I am pretty much a klutz, so it has taken its share of abuse against rocks, trees, falls, and in various weather. I compare this to other watches I have worn. Typically the first thing that goes for me is the face or the band. Both of these have held up well on the Altera.

Barometer reliability: I live in Colorado, so I hit a variety of altitudes and it tracks well. I regularly go from 5500 feet to 10000 plus feet in a couple of hours and it tracks right on. Certainly, weather can alter this a bit, but the largest variance I have seen is 200 feet. In any case, I find the elevation readings to be as accurate as GPS systems - and this is less costly. In one case I traveled all day from CO to NH, stood on the deck of Pinkham Notch AMC lodge and the Altera matched the advertised elevation there within a foot. Pretty reliable!

Size: Plus - it is a watch! Unlike the similar in cost GPS systems, I can wear this thing without having to worry about recharging it or feeling like I have a Wonder Woman braclet on my wrist.

On top, several other very cool features like temp, compass, altimeter log, ski chrono along with all other standard digi watch features.
The Alterra IPT is the lastest version of the Alterra styles. A great improvement was made on the casing of this watch which makes it quite durable being able to withstand the harsh change in elements from heat to cold. Any past isuues have been addressed making the Alterra, once again, the best altimeter watch I've ever used. As in the past, the accuracy and memory of the barometric pressure altimeter make this watch a great tool for the serious hiker as well as a nice g book for the data it's capable of recording. Highgear stands behind this and all their products with a full 2 year warranty. We expect our products to meet your expectations as well as ours.
How to change the thermometer format to...
How to change the thermometer format to centigrades...??
Best Answer
Jorge,
While in barometer mode, press and hold the "S2" button (lower right hand button) to switch between C/F.
http://www.highgear.com/manuals/english/AlterraAerial.pdf
Hope this helps!
Bought the watch in spring of 2007 and worked great until a small problem occurred later in the summer when I had forgotten the watch in the car for 10 mins. The problem was the small rubber piece that wrap around the buttons on both sides had deformed slightly(wave like feature) under high temperature(~40C or 104F). The rubber piece was deformed and the watch was still functioning so I decided I would wear it for the next hiking trip. Unfortunately for me, the rubber piece got caught on my jacket and the rubber piece completely tore right off. That rubber piece is not very durable against temperature change and I think the design could of been designed better. The connection holding the rubber piece to the watch is so small and not strong enough that I am surprised that I don't hear more complaints about it. In the end, after losing the rubber pieces on both sides, the main "function" button on the left side got caught and has completely broken off from the watch. Now I have a watch that is useless and collects dust on my desk. I am disappointed by the quality but think the problem is more related to the design and the material used. My only advise is to avoid this watch. I don't have personal experience but the "axio max" loos like it is designed better as the rubber piece is one continuous solid piece surround all the buttons instead of the two separate piece like the "alterra". Acutally, I just remembered that a co worker had the same watch with the same problem with rubber piece deforming. Now I have to remind him of the problems before it is too late.
Okay, I got this altimeter because the price was right and for my job in Colorado, it was going to do me just fine. The timekeeping works well. Of course, it's kind of hard to screw that up but a lot of other things on this watch need work. My first weekend with the watch, I did 'the decalibron' near Alma, CO. This required me hitting +14K 5 times. According to this watch, which I calibrated at the trailhead, and then again on top of Mt. Democrat, the highest point I encountered was 14, 148 (altitude of Democrat). I was higher than that in the saddle of Mt. Lincoln.
After I came back down, the barometric pressure remained at the level I had started at, but at the trailhead standing at the same spot next to the sign, I was a full 250ft lower than I had been 6 hours previously. My elevation also changed from when I went to sleep at 11,500 and when I woke up 10,900. I don't know if I took a sleep hike, but I'm pretty sure it was the watch's mistake.
The thermometer works pretty well so long as it's not on your wrist. Sitting on your wrist, expect to be 10-15 degrees (F) warmer and it takes a while for the temp. to be updated.

Overall: If you're looking for a cheap approximation of an altimeter, this is the piece for you. If you want some form of accuracy, keep on lookin.
Bought this watch and within 10 days a plastic piece below the face fell off. Highgear was 100 percent helpful with the return and repair/replace. But, less than a month after getting the replacement...the battery went dead. Bottom line: I should read the reviews before buying the watch because eating batteries and parts falling off are two common themes.

Company seems to be very professional, just quality control issues with the watch would prevent me from buying again. Only owned it for a couple months though, so a good couple years could change my mind.
No issues in over 2 years
I've been using and near-abusing this watch for over two years and it has never let me down. It's easy to set, reasonably accurate and rock solid. Others have expressed quality concerns. Perhaps there was a bad batch that went out, but mine has been great and it's been dropped, soaked, hard whacked against rocks and trees (not on purpose!) and it still holds up.
Let me first say that this watch has been a great watch. I have had it for over 3 years now and it has done very well for me. First with the good: The altimeter does a great job, the ski chrono works awesome, the 2 time settings is nice to have, the chrono/lap works great, the compass is a nifty feature, and the barometer does a good job at letting you know when weather is coming in. The bad: the face plate is huge (I get made fun of a lot, but who cares right?), you have to calibrate frequently to keep your altitude correct, this thing eats batteries for breakfast, and worst of all, the construction is not the greatest. I have reattached both metal plates above and below the face plate and the button covers keep coming loose from the sides of the face plate.

I know there was a lot of bad in this review, but this watch has worked great for over 3 years. Overall, I am satisfied with this purchase. Would I buy this specific watch again?? Probably not.
Unanswered Question
I am looking into buying this watch as a...
I am looking into buying this watch as a replacement/step up from a regular ironman. As a sea and whitewater kayaker and canyoneer I need to know how waterproof this watch really is. Can it handle the rigors of waterfalls, rock gardens, and sand while still functioning
After two seasons of sporadic use, this really doesn't cut it as a ski watch. The altimeter/baro function quite well. The ski chrono function is cool (shows elapsed time between user-defined elevations), but there's no memory for tracking multiple descents. The cumulative gain/loss function is also very cool, but again, no memory. Given the watch's bulk (massive, not for the ladies), I'd never use it as a running watch, so why does the plain chronograph have an extensive memory is pretty useless. I haven't had any of the QC problems that others have (bad outsourcing, no doubt), but the thought process that went into the watch seemed to be add features without assessing the utility of them to the user.
I have just initiated my third RMA request on this watch.
The first one the watch started falling apart. Weatherproof plastic on the side fell off and the buttons came loose - Less than 1 season of use.
They sent a replacement and before the end of the second season the pin assembly sheered off the watch so the strap fell off.
They replaced it again. The current watch has not been used this season and the display failed and it is useless.
Highgear has been responsive and done a good job with the replacements, but I'm not a fan of replacing an outdoor sports product every half season because it can't hold up to what I consider reasonable use.
As others have written, the features generally worked well. However, after about a year the backlight failed. Thanks to Backcountry.com's 100% return policy, I was able to return it with no hassles. Still, I would hesitate before recommending this watch to anyone.