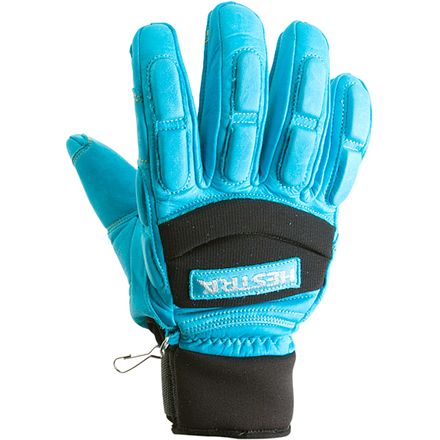 Community Images
Description
License to break the rules.
Before breaking boundaries, suit up with the Hestra Vertical Cut Freeride Glove. Cliff-dropping, gravity-loathing powder patrollers will enjoy the Vertical Cut's tailored, hand-assembled craftsmanship and Thermolite insulation to block out cold. A short gauntlet provides a barrier against snow, and padded knuckles happily take the beatings of passing branches. Stretch Cordura adds durability and flexibility, and the hook-and-loop closure allows you to adjust the fit to match your needs.
Unanswered Question
Are the black and grey still the only ones made out of Goat Hide?
Shveet
Familiarity:

I've used it several times

Fit:

True to size
I was apprehensive to get these, because I prefer the gauntlet style cuff. I am super stoked the wrist wrap works really well to keep the snow out and stays under your coat cuffs. A lot of padding on the knuckles and hand.
Comfy and warm
Familiarity:

I've put it through the wringer

Fit:

True to size
Not sure about durability. I don't know why they would use different leather in the same model just for colors. I have the white and they're in the second year.. I don't know if I will get a third. For the money I won't be happy if I only get 2 Years out of them. They aren't even my every day glove. We'll see, might be going back as warranty.






Warm at first, not particularly durable
Familiarity:

I've put it through the wringer

Fit:

True to size
I've had several pairs of these and must say they're great out of the box, but by the end of the year I usually have several blow outs. They mainly fail on the inside thumb seem at the pointer finger, ripping slowly until eventually your bare skin is showing through. So, I'd say if you are just skiing casually, they'll probably get you through the season, however, if you're looking for multiple years of use, you may want to look elsewhere.
Freeeride Perfection
Familiarity:

I've put it through the wringer

Fit:

True to size
I have had various pairs of Vertical Cuts since 2007. Skiing mostly in Utah and the intermountain west I have had great experiences with this glove. The supple leather ensures maximum dexterity and grip. I had one pair that failed on the thumb stitches, but Hestra honored my warranty no problem. I also noticed the brighter colors tend to bleed color a bit, but no big deal. Keeping them in good shape revolved around regular application of a sealant like Snow Seal or Nikwax. As with any full leather glove, be careful around your ski edges when they become saturated.
Unanswered Question
Anyone running these gloves in CA? Trying to keep my claws warm and dry in the wet California Sierra snow...
Leather type depends on color
Familiarity:

I've used it once or twice and have initial impressions

Fit:

True to size
FYI I bought these in green expecting they would be goat skin. apparently only the black and grey are goat skin and all others are cow hide. So they are not as soft or as durable as my friends black pair which is goat skin. I feel kind of bummed and cheated. Please update your description to reflect this they are infract 2 different products that use the same name and very different material.
Thee Glove
Familiarity:

I've put it through the wringer

Fit:

True to size
Title says it all. These are thee gloves to get if you spend significant time in the mountains. I've put them through the wringer and they are just as warm after a full season of hard use as they were the day I got them. They're durable, comfy, stay extremely dry, and are the only glove I count on when in the backcountry. I strongly recommend these gloves, they are worth every penny. Make sure you balm them up good first thing when you get them.
Hestra Vertical Cur Free Ride
Gender:

Male

Familiarity:

I've put it through the wringer

Fit:

Runs small
I bought these at the end of Dec '13 as it seems pretty much anyone I'd spoken to who skis/boards a lot have a pair. They look great (got black) although still not quite sure why there is so much padding on the top side. I immediately lathered them fully with the Hestra Leather Balm before the first use (and bought a couple of additional 30ml containers). I skied 14 straight hard days in them before taking a day off in Vail/Beaver Creek in Jan '14. The gloves feel terrific and I am now very happy with them. For the $ and rep I was expecting them to be amazing immediately and then forever. This is what I found: they look and feel great, they feel as though they are very well made so after 24 days in Jan in Colorado I would say the quality is outstanding, the fit is slightly small - the hestra heliglove I wear a 10 but in these I found I needed size 11, They have no problem when temps are in 20's, when temps are in teens also fine but single digits they were pushed and were getting a little cold, but temps in single digits might look to mittens instead anyway. Overall, be realistic in expectations for a well made glove and this will be your friend for hopefully many many happy days on the mountain
These gloves rock.
Familiarity:

I've put it through the wringer

Fit:

True to size
I love these gloves. First and foremost they work great keeping my hands warm. I use them primarily for skiing. Conditions have been well into the teens and I'm good to go with these. Also, great mobility with these gloves as the leather is very soft making them super comfy. They are bomber if you take care of them, I condition them once per season and that seems to be enough. I have had mine for a few years now and they are still in great condition. Like any leather product you just need to be careful not to hit any sharp edges with them like your ski edge for instance which could damage the leather. Another positive is they look great too, bought them in brown.
Bomb gloves
Familiarity:

I've put it through the wringer

Fit:

True to size
When I received these gloves, I warmed them up in my oven, then slathered on the snoseal and they were good to go. Very warm for gloves as I was used to mitts. Sealing these types of gloves is critical to water-proofing them. Very well-constructed glove, you pay for quality with Hestra and once you pull these on, you can tell this is no ordinary ski glove. Neoprene cuffs are comfortable and cinch well under the cuffs of my shell. One item you will want to buy in addition are a pair of hestra handcuffs which I picked up at a local shop. I expect to have these gloves for a long time and highly recommend them.
Toasty Warm
Gender:

Male

Familiarity:

I've put it through the wringer

Fit:

True to size
I just got these gloves and they are great. Worn them a few times in the teens and 20s and my hands stay nice and warm. Also not crazy bulky so you can still use your hands. Love the neoprene cuff, keeps the cold and snow out. Only complaint is that the sticking already ripped so I have a small hole in the thumb. I thought they would hold up better for how expensive they are.
Great glove but color not true (orange)
Familiarity:

I returned this product before using it

Fit:

True to size
I got these to match some other orange gear - not gunna do the entire rainbow thing or darth vader. I like a little 'style' with me gear choices, mate. ANYway, I was very excited to get them but one look and I knew I'd return them for another color. They are rather Orange CREAM like the mango lifesaver if you will. That's it - they are MANGO/MELLON... not ORANGE. Done.



FIT - very snug around base of thumb getting them on but they feel super fine - true to size otherwise. The comfort, flex and just badassness of it sold me. Ordered Darth (black) and will try one more color before settling. If you don't already have the Heli gloves - GET THEM. No excuses - get a pair for a buck 12.
Perfect for high fives.
Familiarity:

I've put it through the wringer

Fit:

True to size
I have two pairs of these bad boys and I wear them almost every ski day. Great fit and the articulation makes it feel like I have awesome warm extra big hands instead of gloves. As long as your remember to use the Hestra globby wax stuff, these gloves will last you a lifetime. You can tell that these gloves were made with care.
Gloves like my grandpa used to wear.
Familiarity:

I've put it through the wringer

Fit:

True to size
I was going through a pair of gloves pretty much every season, until I met these. I have had them for 4 years now and they are still comfy, warm, and pretty water tight. I fortunately got them in the old school brown color, which I don't think is made anymore.



They do require very frequent balming to retain water resistance and maintain the leather. I usually balm them after every hard day or so. I have taken care not to allow ski edges to cut them (they are very vulnerable to this). They will sometimes get pretty soaked after a day of riding in wet stuff, but I have yet to really get cold fingers (typically the super cold days they stay dry, duh). The extended cuff feels great and keeps those wrists dry.



Overall, these gloves are built with love. I feel like a glove this solid would have been something my grandpa would have worn back in the day. (read: most modern gloves are complete crap).
I am picky with gloves.
Familiarity:

I've put it through the wringer

Fit:

True to size
Having a go to pair of gloves is essential for most skiers. From scraping snow off the car to ripping through some bottomless snow in little cottonwood. You will end up using them for everything. Hestra provides an accurate measurement system that allows you to get an incredible fit. These particular model is a bit on the lite side but has excellent dexterity because of it. They also provide a little padding on the back of the hand and fingers to knock pine branches out of your line or that snowboarder out of your parking spot.
Of all the gloves I've used over the years the Hestra Vertical cut freeride glove beats all. Form fitting, durable, waterproof all day long and consistently warmer than any other glove. It allows me to stay out longer and never get uncomfortable hands.
Very nice almost every day glove
Bought these because Im a fan of natural materials like wood and leather. The leather they use for these gloves is super soft but you can tell is also durable. With 3 days of skiing and a day of kiteboarding I have to say they are worth the money. They were true to size and did open up a bit throughout the use. I do like my gloves fitted though so if you like a bit more room size up. They were used in Colorado in December to give you an idea of conditions. Lather them up with the balm and you'll be fine I was teaching people to ski and snowboard so you know how much is involved touching snow and taking off and putting on bindings. I could see where the leather got wet because it darkened but never were my hands wet. There was one day these gloves weren't enough and I wish I had something thicker. I have warm hands but it was 20 degrees give or take and the wind was killer so on the lift my fingertips were getting cold. All around these gloves are perfect for me but I had to test them on a cold day and see how they stood up so the coldness was a risk I was willing to take. Durability wise I have a faint scratch on the thumb similar to a thin layer of skin being sliced this was from a freshly sharpened edge. The lighter colors will darken after applying the balm so don't expect the colors to be as vibrant. In the end I would buy another pair.
Awesome gloves
Gender:

Male

Familiarity:

I've used it several times
Wow, warm mitt with great articulation and super soft leather that is incredibly durable. I highly recommend these gloves. Just remember to keep em lubed up. They'll last forever.