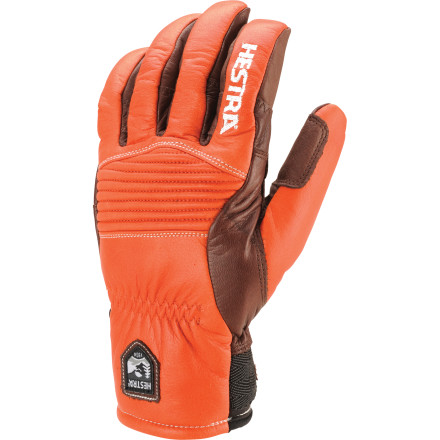 April showers bring May flowers and an awesome, uncrowded corn season. Hence the Hestra Spring Ergo Grip Glove, which will shelter you with its waterproof, breathable insert when it storms and keep things basic with all-leather construction for mild weather.

Impregnated cowhide aniline gives you that inimitable feel of leather and high performance
Czone waterproof, breathable insert keeps the hand dry and non-clammy in the wet season
Ergo grip efficiently uses materials, provides optimal comfort, and lets hand move effortlessly in a natural way
Brushed polyester lining feels good and helps conduct excess moisture away from skin
Loops keep your gloves together
Hook-and-loop closure adjusts for protection at the wrist
Fantastic Gloves
Familiarity:

I've used it several times

Fit:

True to size
Love these gloves, not bulky, high quality leather, they were warm enough for a 10 degree day in colorado. Haven't tried them on a spring day yet so they might be a bit warm, but I was overly happy with these. recommended for sure
Do these come with wrist straps/tethers...
Do these come with wrist straps/tethers like the Hestra Heli's?
Nice, but too warm. Liners pull out.
These gloves are of very nice quality, however I do find them too warm for spring snowboarding here in eagle county, colorado. The liners pull out very easily if your hands are wet or sweaty.
Hestra missed on the details
As a Sierra Nevada skier I purchased the spring ergo grip for use on the warmer days that we so often have. I was basically looking for a lighterweight version of my vertical cut freeride gloves-something with the same quality and dexterity but that wouldn't bake my hands so much. In terms of (desired) warmth and dexterity these are what I expected from another Hestra glove. I really don't notice the ergo grip/less material in the hand. I do however notice a few flaws-1)the leather seems cheap. It has a synthetic/foamy feel to it, especially on the back of the hand. 2)This could be because I haven't treated it with leather balm as it didn't come with any, which seemed odd to me-a $160 Hestra glove with no balm 3)they should have used a cuff like that on the vertical cut-one with a seam that allows for material to essentially disappear rather than just get bunched together 4)plastic clips to hold gloves together suck and don't work well 5)C-zone liner is not waterproof, in fact it seems to soak through fairly easily 6)liner pulls out of the glove VERY easily. In fact, it is hard not to pull the liner out some even when grabbing each individual finger from the outside. 7)after just 20 days the leather on the back of the hand is getting noticeably sunbleached (I have the blue ones). All in all, this glove does the most important things well-keeping my hands from sweating in moderately warm temps and good dexterity. It does, however, leave room for improvement. I'm keeping mine (for the time being) because I didn't pay anywhere near full price and I'll use these about 60 days/year.