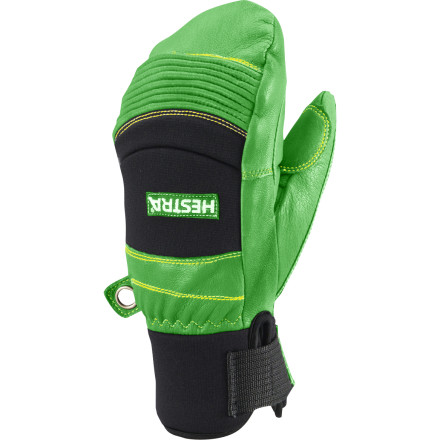 Detail Images
Whether you're competing head-to-head or bashing through the trees on your lonesome, you can enjoy the durability, protection, and warmth of the Hestra Ski Cross Mitt. This short, snug-fitting mitt features a tough cowhide shell with breathable, wind- and waterproof stretch Cordura on the top for extra mobility.
Padded knuckles add extra protection
Thermolite insulation keeps your digits toasty on icy days
Smooth, wicking Bemberg/polyester lining adds against-the-skin comfort
Neoprene cuff with hook-and-loop closure snugs the mitt on your wrist
Microwavable Hands
Familiarity:

I've used it several times

Fit:

Runs small
I'll just come out and say it: my hands get cold when I ski. If it's below probably 20 degrees this was a certainty - until I picked up these mittens. Super impressed after 4-5 really cold days last winter. Lots of dexterity as well. A+ product.
Unanswered Question
Which ones are warmer Swisswool Merino Loft Mitt vs Hestra Ski Cross Mitt
Fall Line vs Ski Cross mittens
I own both the Fall Line and Ski Cross mittens and the Ski Cross is a warmer and more water repellent mitt between the two hands down. Both are quality mitts but I will always buy the Ski Cross over the Fall Line.
Warm, comfortable, and totally awesome
Familiarity:

I've put it through the wringer

Fit:

True to size
Mine are green - that's just cool to start with.



I used the included leather wax to waterproof these up a bit more for those days when it's still cold but you have a chance of getting some wetness on the glove.



Super comfortable, super warm: I'm a backcountry skier so I put these on for the downhill and I can still work the boot levers and bindings with these on. Can't ask for more from a ski mitt. Used these for an entire season, lots of abuse, and looking forward to many more seasons of use from these.
What is warmer - the Fall Line Mitt or the Skier Cross Mitt?
The Skier Cross uses a thermolite insulation and the Fall line uses a foam insulation. My guess is that the Fall line will be warmer, thermolite tends to breathe really well. I am checking my assumption with Hestra, when I hear back Ill let you know.
Make the Smart Decision!
Familiarity:

I've put it through the wringer

Fit:

True to size
Harry: [shivering] Lloyd, I can't feel my fingers, they're numb!

Lloyd: Oh well here, take this extra pair of gloves, my hands are starting to get a little sweaty.

Harry: Extra gloves? You've had extra gloves this whole time?

Lloyd: Uh yea, we are in the Rockies. Jeez!



If Lloyd would have been smart enough to pack the Hestra Ski Cross Mitt, he wouldn't have needed two pairs of gloves. And Harry's fingers would have still been freezing. Considering this, I'm a little hesitant to decide which one was truly dumber than the other!



If you want toasty hands all day, whether you're in the Rockies or not, these Mitts will keep you super warm! My first impression when putting these gloves on was how comfortable they were, it literally felt like my hand was surrounded by plush cushions. I then noticed how soft and supple the leather was, it was surprising, especially for being brand new! Just like an old baseball mitt! In contrast, there is a nice rigid backing material over the knuckles that almost acts like a backbone to the mitten for more protection and durability. The cuffs are also amazing in terms of comfort and functionality. I was concerned about how short they are, but the tight neoprene wrap around your wrist makes that area impenetrable to snow and wind and fits nicely under the cuff of my jacket.



I've now worn these mitts for a good portion of the season and everything that made them great from the start seems to be holding up superbly! They are also incredibly warm, even too warm on some days. I haven't worn them in wet conditions, but foresee no issue with waterproofness. They also come with a small supply of balm to maintain the health and longevity of the leather.



Don't be a Harry, and better yet don't be a Lloyd. Protect your paws on those cold Rocky Mountain days with the Hestra Ski Cross Mitt!
The warmest mitt out there.
Familiarity:

I've put it through the wringer

Fit:

True to size
I wear these every day. If I don't my hands freeze. I've worn a lot of mittens in my life, and haven't ever found anything that keeps my hands as warm as these do. Instead of packing it with insulation and fluff, it's a well-constructed mitt with bomber material and keeps warmth locked in. These are actually significantly warmer than the Hestra Fall Line Mitten, because your fingers are all together, the Fall Line Mitt separates your fingers. In a store, you might thing a super insulated mitten would be warmer but that's not true. Be sure to give it the leather treatment that the gloves come with and they will last forever!!
I purchased a similar pair of Hestra mitts and my mom kept bugging me to get her a pair so I dropped in this past christmas. These gloves are fantastic, basic, hestra leather gloves. There are no wrist gaiters or inside finger separators on these gloves. Great for skiing, snowboarding or drinking at football games. If you're contemplating buying these or those super cheap competitors gloves then make no mistake because you'll be sad and cold with those no leather gloves. GO HESTRA & you'll never go back.
Best Mitten
Familiarity:

I've put it through the wringer

Fit:

True to size
Mittens definitely weren't my thing. Until I started skiing in these guys. Warm but breathable, comfortable but still easy to move and hold your poles, soft touch but burly construction. Pretty much an all time mitt that will leave everyone satisfied.
These are the ones
Familiarity:

I've put it through the wringer

Fit:

True to size
I have not worn mittens since I was little but decided to give them a shot this last winter. I couldn't have been happier with them! I bought them during a really cold time of the season where i was standing out side after dark for a few hours and had been freezing in all of the gloves I had. These changed my winter around, my hands were very comfortable in them, they stayed nice and toasty. They are super durable mittens too, the leather seems like it will last forever and the inside lining is really soft and comfortable. My only regret about these is that I didn't get them earlier! I have middle of the road length hands for women and I got the size 6 and they fit well. I went with the bright green ones and really like them, the color looks just like the picture.
Awesome warm glove, that looks great. when you get it you can tell the high quality of the leather they use. inside, it's super soft, and ridiculously warm, no matter the weather. seriously, i had to take my hand out the glove even on freezing days, to get some fresh air to my hands, i was sweating up a storm. the cuff is really great, you wouldnt think, but you notice on the mountain, nothing gets in. they dont come with the hestra leash, but you can buy it separately for cheap.
Best mitten on the market.
Gender:

Male

Familiarity:

I've put it through the wringer
For me, I really wanted to have a mitten for colder days and one that has a short cuff that you can tuck into your jacket. This is perfect for what I was looking for. It is made with bomber materials and is a first class product. I don't see this being my everyday ski glove because on days that are above freezing, it gets a bit toasty and I get sweaty hands. For everyday use, I have been using the Hestra Vertical Cut Freeride gloves. I am a big fan of Hestra products, and they have always handled the abuse that I dish out on them. Get some, you too will become a life long supporter.
Another great glove from Hestra. I havn't got to use these a ton as it was one of the warmer winters out here (UT), but when I did my hands were incredibly warm.
Are these significantly warmer than the...
Are these significantly warmer than the Seth 3-finger?
Are the fingers together inside the mitt...
Are the fingers together inside the mitt or separated buy the internal lining?
no there are nothing separating the fingers inside