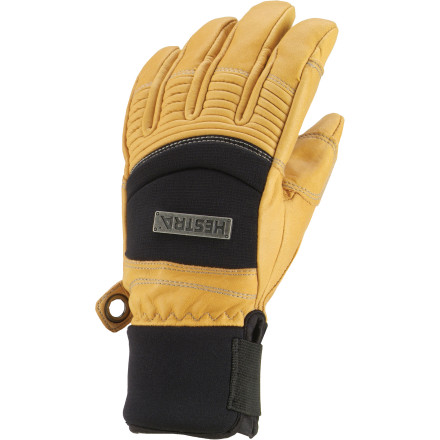 Detail Images
Rally down the mountain with the Hestra Leather Ski Cross Glove, and try to stay ahead of the pack. If you fall back and have to duke it out with the competition, you'll appreciate the extra protection across the knuckles of the Ski Cross Gloves. Supple cowhide lines the palms, while burly Cordura stretch fabric protects the back of your hands. These heavy-duty gloves give you a little extra protection when you take them into the park. They'll hold up to the abuse gloves take when you're constantly throwing grabs into your tricks.
These run small
Familiarity:

I've used it once or twice and have initial impressions

Fit:

Runs small
My hand measures as an 8, I ordered a 10 and they are still small, I feel like these are a woman's glove. Otherwise great quality, great feel and warm.
Many pairs of these
Familiarity:

I've put it through the wringer

Fit:

True to size
I've used these Hestra gloves for years. Plenty warm and pretty durable. Hestra sizing is PERFECT! You have to stay on top of waterproofing so be sure to get some balm too. Don't listen to Jackie Childs - put the balm on!
Buy these
Familiarity:

I've put it through the wringer

Fit:

Runs small
These are awesome gloves that meet all my needs in terms of a glove. Super warm, great fit, and super comfy. They are the perfect length (not a big fan of over the cuff gloves). Super super super durable and great quality. Hestra really hit it outta the park. Wrist straps are also a great feature, help to keep your gloves in your possession and not under the chair lift. Had these for 4 years, still no problem.
Funky Sizing
Familiarity:

I returned this product before using it

Fit:

Runs small
After the overwhelmingly positive reviews of this glove, ordered a pair. I was clearly a size 9 per their chart, but was way too snug. Sent them back.
Like a surgeon's glove!
Familiarity:

I've put it through the wringer

Fit:

True to size
While facetious statement, I can say that I have quite the high expectations for gloves given my work in the operating room. Durability, dexterity, and tactile feedback are all traits that a quality glove should have, and these Hestra Ski Cross gloves definitely fit the bill. Not bulky, trim (some would say tight) fit. If you want to use a liner, even a Hestra liner, size up as there is very little room for bulk. Leather is very tough but supple, and responds well to the balm treatments every 3-4 outings (I don't use Sno seal, just the balm, as I bought the white versions). A full day out can get the leather a bit moist, but I've noticed that the insulation still keeps the digits warm down to 17-20F even if wet from sweat and/or moisture that has percolated through the leather. These gloves can easily stay warm down to 10-15F if the leather stays dry (keep in mind, the snow here on the east coast is more on the wet side). The neoprene cuff is VERY comfortable, but is a bit short in my opinion. I understand the true intention of this glove, but something a bit longer in the cuff would make this the absolute perfect glove. Still gets 5/5 from me.
Comfortable glove
Familiarity:

I've used it several times

Fit:

True to size
Great glove, super comfortable and the leather broke in quickly after applying the supplied leather treatment. Approx. 10 degrees F was the cutoff point for me, before these gloves no longer kept my fingers warm.
Hestra Quality!
Familiarity:

I've put it through the wringer

Fit:

Runs small
I bought these gloves 3 seasons ago and love everything about them. I ski about 100 days a year in the San Juan Backcountry and initially bought this glove for the 'spring' conditions; I ended up putting my other gloves in the closet and use these as my go to ski glove in any conditions. They run a little small and I had to get a size larger then I measure but after finding the right size I have been extremely happy ever since. They are exceptionally durable and show no signs of wear and tear--that being said you need to use the leather balm/conditioner to keep the leather in good condition and waterproof. Also, a few of my friends use other Hestra glove (models) and share my enthusiasm for Hestra products-worth the money!
Best gloves i've owned.
Familiarity:

I've put it through the wringer

Fit:

True to size
I've had these bad boys for a year now, a buddy gave them to me last year (quite a sweet hook up). I ski around 130 days a year and have never had a problem with these gloves. I ski in Washington and it never gets too cold here but our snow is WET. My hands have never gotten cold or wet. I use these gloves in the park as well and these gloves are extremely compact for how warm they are; they dont get in the way of grabs at all.



Durability wise i have yet to have a problem with them. Awesome gloves.
Hestra comfort
Gender:

Male

Familiarity:

I've put it through the wringer

Fit:

Runs small
This is my go to glove. I have owned them for 2 years and they are unchanged in that time. They are extremely warm and I have worn them in temps well below zero. Extremely comfortable and they allow for great dexterity and do not feel one bit bulky. My largest complaint is that the dye in the darker gloves leaches and will stain your clothing. All my pants and jackets are stained from these gloves and Hestra has only said to buy non dyed gloves if this is an issue. I feel for the price they should fix this and stop being lazy. Use the balm when you first get them to treat the leather so it stays waterproof and does not dry out, which leads to cracking in the leather. My gloves look like new even with close to 100 days on them. Make sure to get a can of balm to keep them saturated, this keeps the leather supple. All and all a great glove and I would easily say they are my favorites but I hate seeing my goretex pants and shells stained with black dye. I recommend getting a non dyed natural leather in these to avoid this problem. I wear a size 10 and measure just under 8 inches from my wrist to tip of my middle fingure and 9 inches around the palm.
Good Gloves
Gender:

Male

Familiarity:

I've used it once or twice and have initial impressions
Really pleased with these gloves. Used them for 3 days in variable conditions last week. Made sure I used the supplied balm and worked it into the gloves before I used them the first time. I like the beeswax smell that they now have. Just need to locate a jar of that stuff, as it increases durability and waterproofing.

Used the gloves in a range of temps from -10 Celsius to 5 Celsius no issues that I noticed with cold hands.
Very Warm
Gender:

Male

Familiarity:

I've used it several times
This glove has been very warm and durable.
If you love leather gloves
Gender:

Male

Familiarity:

I've used it several times
Skied with these gloves (in tan) for about ten days now. Temps ranging from -10 degrees to 48 degrees and in conditions from dry (Tahoe) to downright wet (Cascades).



Overall, the best most dextrous glove I've owned. I rarely get cold fingers but these gloves kept my hands warm down to zero and dry even on the warmest days.



Just like any leather glove, you will get some saturation even after treatment. This is just the price you pay for dexterity. If you hang them to dry, they should be ready to go tomorrow. Quality is fantastic.


Great gloves!
Gender:

Male

Familiarity:

I've put it through the wringer
Everyhing you expect from Hestra Warm, good fit, dextrous as f*** and tough. I like to warm them up, put them on and work in a good amount of the hestra balm like it was hand cream. Do that a few times, then do it again with snoseal. Now you're ready to take on the world! Two seaos later and they're still going strong, more comfotabe than ever, jus starting to pack out a bit so not quite as wrm as the used to be No complaints though. Great glove!
According to the measurements of my hand...
According to the measurements of my hand I'm in between size 8 and 9 (7.5 length, 8.5 circumference). I am a Medium with everything else. I read conflicting reviews about these Ski Cross Gloves below someone wrote it was just right, while I've also read advice to buy a whole size up because they run small. What size should I get 8, 9 or 10? Thanks.
Best Answer
I was a solid size 9 according to Hestra's chart. I ordered a 9 and they were too small across the palm. Get a size 10.
I wear a Hestra 8 in the Heli and XCR gloves. Definitely get a 9 in the Ski Cross!
Thanks for your help. I got a size 9 and they fit well, even better when they break in a bit.
I bought these gloves for winter bike riding. They have been everything I wanted warm, light,exellent dexterity,easy to manipulate brakes and shifters. I am extremly happy with these gloves hoping for some decent snow in tahoe so I can test them on the slopes. I am super happy would recommend them to anybody who wants a gl,ove that is warm but not bulky and cumberson.
In response to the guy below, I agree with Rachael -- these are a great go-to glove and have been my daily use (ski, hike, dig, backcountry) glove for almost two years now. While he may have experienced issues with waterproofing, I've had exactly the opposite. In fact, two days ago, I left them in the boot of my SUV sitting under my snow-crusted skis and they were solidly dripped on all night. The morning after, I started the day out with wet gloves (duh), but two runs in total sh*t slush later, they were bone dry and my hands were pretty toasty despite the frigid temps and awful wind. This is just one more reason they're still in my pack.

I have the white ones from two years ago and rocked a black coat but noticed no bleeding from the leather anywhere -- and I've abused these gloves. Sharp ski edges, icy finger-drag whilst sleigh riding and pine tree climbing haven't put a damper on the hardiness of the seams, fingertips or waterproofness. The flexibility and mobility is incredible, especially for such a warm, cozy glove -- it's all but extinct elsewhere on the market. Turning a beacon on, changing my music through my coat and even navigating pack zippers are all simple, straightforward tasks instead of the usual strip down.

If you want a great glove that will take hell and keep your digits warm, get a Hestra -- there's a reason it's the glove mountain professionals choose.
Very good gloves (up to a point).
I'd like to offer an opinion of how these gloves hold up after a full year of use in a wide variety of settings and uses. When I bought these gloves, I was looking for quality and versatility- I live in the Interior of Alaska, where a large part of life is spent in the cold. What I found was that, with the Hestra Ski Cross gloves on, I wound up using them as much for work as for play.
As for the warmth of these gloves in some typical situations: snow-shoveling around the house at -10F was no problem. Backcountry skiing and snowshoeing at the same temperatures, not bad so long as you stay moving and flex your hands often (poles get cold). Hiking eleven miles out to a hotsprings once, the temps dropped to at least -25F, and my hands got too cold for comfort... It was nice to have a fire to warm up by! Winter Skills school in N. California during the winter, up in the mountains, these gloves often became soaked when the snow was wet, even after a few thorough waterproofing treatments. This was baffling and really inconvenient to dry them out under minimal shelter and fire conditions, but any liner-less leather glove would be, I suppose.
So, at this point, these gloves have been retired from serious backcountry snow stuff, and now are used mainly for bird hunting in the late fall or warmer winter days (anything around Zero to -10F), as the flexibility, grip and dexterity of these gloves has become much better over time, and the finger fits well thru a standard trigger guard on a shotgun.
More random observations: The sizing chart was accurate for me. The quality is great- no busted seams after all this time, and a few scars on the knuckles proove these things can handle the occational rock or errant bow-saw. The metal logo (which apparently has been replaced by a cloth patch) is terrible- sharp edges scratched my goggles more than once- good riddance. No snot wipe was a bummer. Great big-ass carabiner clip has probably saved these gloves from being dropped a thousand times. Fair to decent insulation. Overall, a very good product, and would buy them again for use in wholesome fun on fair snow days!
After receiving these, they appeared to be slightly de-spec'd compared to the photos. My friend had 'em last year and they seemed like really nice leather-(broken in).
The coolest detail (which sold me) was the brushed nickel-looking logo badge. GONE. Now you have a cheap looking embroidered patch. (old pics above)

Sizing seems different than the pair of Hestras I own. I have some older size 9 (different model) that are a snug, broken in performance fit, but these 10's, I can barely get my hand and fingers into them. I doubt they would even break-in to the size of my 9's, but the point is I wanted a tad bit more volume than those.
It seems like I would need at least 12's and I'm not a bruiser. I couldn't decide on 10's or 11's when I mulled over them in a shop last year. Wish I bought 'em then.

I really love the Ski Cross design, but feel like Hestra needed to cut costs on this one. Backcountry is really the best for returns, so I'm not complaining to them- just highlighting to the manufacturer, that these don't really look and feel like $100+ plus gloves in person. Also, updating the pics here would be helpful.
The best Hestra's i've found
Of all the different Hestra gloves i have Skied with over the years....Seth's, another pair of Seth's, Vertical Cuts, Guides, and the Army's,, These are for sure the best, For a couple of reasons. First, The Price is Better than many of the gloves mentioned above. All gloves eventually hit the Crapper ( Blow out, Worn out, Waterproofing gone, etc.), meaning having to spend less on a pair is great. I have found the Seth Gloves to have the poorest construction. I have only managed to get 3/4 of a season out of both pairs of Seth's iv'e owned. Second, The fit is better out of the box, Meaning no break-in period. Just throw some Glove conditioner (provided in the small pouch) on them, and your golden. Third, Is i enjoy the shorter cuff, or Gauntlet on these better than other models as i like to have my gloves under my jacket cuffs. And they aren't super bulky like other models. granted they are not as warm because of that, but a pair of liners should take care of that no problem. My second Recommendation would be the Vertical Cut glove for the people that tend to have colder hands, If youre not keen on liners. I hope this helps anyone looking for new gloves.
Probably good for warmer adventures
I purchased these along with a pair of the Vertical Cut Freeride gloves since my hands stay pretty warm. I was expecting the Freerides to be my cold weather gloves and was planning on using the Ski Cross glove for early and late season skiing but after riding with the Freerides for a couple days I think the Ski Cross will be unnecessary. The Freeride glove has kept me warm without sweating in temps from 20-40 so far (but dry overnight easily if i do sweat when skiing bumps or hiking). If you're going to do a lot of hiking and really hate sweaty hands then you might want to consider the Ski Cross glove with a liner but for anything else they probably won't be warm enough.

I gave these a 3 star rating because I haven't worn them yet and from comparison with the Freeride gloves, really don't think they'll be warm at all.