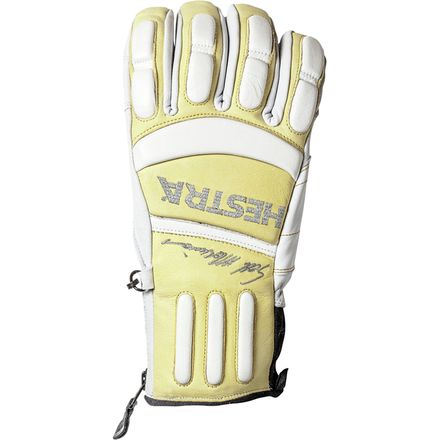 Detail Images

Community Images
Description
Haul-balls down the fall line with this glove leading the charge.
Does flying down huge mountain faces at fifty miles an hour with planks strapped to your feet give you white knuckles? Seth Morrison deals with it by wearing his insulated leather Hestra Pro Glove, so it should work for you. An integrated waterproof, windproof, and breathable CZone membrane shields your fingers from the wind and snow of Alaska (or wherever you rage), while the Thermolite insulation holds in your hand's heat to fight off the arctic temps at any given summit.
The tough, all-leather outer shell features out-turned seams for easily gripping poles at ludicrous speeds
Protection covering the fingers and knuckles prevents bone-shattering tree punches when you're stuck threading through the forest
Zipper closure below the thumb allows quick on-and-off so you can snap photos from the heli or the chairlift
Great gloves
Familiarity:

I've used it several times

Fit:

True to size
So far very durable. I have 11 days in them so far this in November. Comfortable down to 20 degrees, colder than that and switch to mittens anyways.
Worth the price
Familiarity:

I've used it several times

Fit:

Runs large
Got these as a Christmas present for someone; they immediately fell in love with them!



These gloves have been incredibly warm and have a super soft liner for a very comfortable fit. The wrist straps seemed weird at first, but they have actually been very useful. You don't have to worry about losing a glove on the chair lift anymore when getting out your phone or changing the music you're listening to. The goat leather palm is noticeably softer and more supple than your typical cow hide leather gloves. They may seem a little excessive for the price, but it's been the best glove I have ever owned and will last me years longer than my last pair of DaKine Gore-Tex gloves. To me it's worth the investment if you want a great long lasting glove.


Great everyday gloves!
Familiarity:

I've used it several times

Fit:

True to size
I love them... they have everything you'd expect from a glove of this kind! They are warm, they are very resistant and if you treat them with the included product, water resistant!



I'd probably get the Helis for a sick powder day... but that's because I love gear because these may do just fine too!
Good everyday shred glove
Familiarity:

I've put it through the wringer
Have had a pretty pleasant experience with these gloves, though I did have a little trouble with the sizing as some size 11's aren't the same as other 11's. Once the right fit was found for me, they were really warm and comfortable between about 15 and 35 degrees, below 15 I found them a bit cold and over 35 I got a little to sweaty. Also popped a seam on one finger after about 45-50 days. Solid, could be a little better though.
Made In China Gloves
Familiarity:

I've used it several times

Fit:

True to size
I was under the impression that these gloves were made in Sweden. When they arrived the label said Made In China. The gloves are adequate for -10 degree weather which is fine with me. I am getting very TIRED of trying to find merchandise that IS NOT made in China.
Hestra Seth Morrison Pro Glove
Probably the most expensive gloves I've bought yet. But with that aside, I bought them because they are padded better than any other glove I've seen. The tightness of the fit, and the power of the grip for holding onto those poles. I'll let you know more when I try them out this year in Tahoe.
Best Gloves You Can Buy
Familiarity:

I've put it through the wringer

Fit:

True to size
You will never wear another pair of gloves again after wearing these. They're a workhorse- strong, incredibly warm, and made of the best leather out there. Whether you're summitting Aconcagua, trekking across Greenland, or ripping a big mountain line like Seth himself, these are the gloves for you.
Tough, warm, no sweat
Familiarity:

I've put it through the wringer

Fit:

True to size
I've had these gloves for one whole seaosn how and can't tell much for signs of wear and tear. The gloves are great on my East Coast cold days and just too warm during spring conditions. I don't sweat in them like some of the higher end dakine gloves I've used in the past. The padding is nice to help knock branches out of the way when bombing through the woods.
Awesome Glove
Familiarity:

I've put it through the wringer
I purchased this glove already owning the Hestra Heli Glove, looking for a little more warmth and dexterity, and I got it. The dexterity is great and the warmth holds it own compared to non down mittens. Its clearly of good quality and with the proper care (use the included leather balm when necessary) they should last a couple seasons for the guy that skis every week and a lifetime for someone who only makes it to the slopes a couple times a year.
Great dexterity, comfort & protection
I have this glove in a size 9. I am 5'8" 145lbs. My glove size using Backcountry's sizing method is a size 9. The glove fit I chose was snug with finger tips touching the inside tips of the glove. I did this intentionally so I would have maximum dexterity with the glove on. I love the glove for this very reason. This fit yields a glove that is not as warm as one that has dead air space between the finger tips and glove material. That is generally true of all gloves. I have to use a hand warmer in my palm when I ski or ride in this glove. This probably wouldn't be the case if I sized up to a looser fitting glove such as size 11. My hands are generally always warm in any glove that has a loose fit and always cold in a glove that has a tight fit. It's a trade off of warmth for dexterity. Dead air space is a better insulator than most glove insulations. The liner is attached to the shell. It is attached at the wrist area only. With a tighter fit and if my hand or the inside of the glove is moist the liner has a tendency to back out and the finger compartments tangle as I pull my hand out making the glove hard to re-enter. This would probably not be a problem with a larger fit or less of a problem if the three finger area was one space. The shell material has a great deal of tackiness to it. It works well for riding dirt bikes in colder weather. I don't have any problem operating the throttle, clutch or brake. I don't snowmobile but I would imagine it would perform very well. The shell materials tackiness and raised portions on the knuckle area of the glove can make it more difficult to enter tighter ski pole straps especially when moist. The gauntlet ripped off when I snagged a tree branch as would be expected. There was a convenient place to reattach the strap to a brass eyelet at the base of the palm.
I have these gloves in a size 7 and i am a female with crazy long alien fingers. Bought my brother the size 9 for his birthday , he has pretty average sized hands for a guy. They are great gloves, super warm, the zipper on the left one kinda is weird, but its not a big issue.The wrist cuffs are great
Amazing gloves
Gender:

Male

Familiarity:

I've put it through the wringer
These gloves are bomber!!! i would say they are hands down the warmest hestra glove out right now. With that being said they don't feel to bulky while you wear them, making it easier to hold your ski poles on those frosty cold days. Im just about 5'10 and have a pretty average size hand, i wear a size 9. I have had my same pair for the last three seasons and they still feel brand new!!
Awesome, but I'm worried about wear.
Gender:

Male

Familiarity:

I've used it several times
These gloves are awesome. Great fit, real warm, look sexy.



I'm concerned though, after only one week of skiing (every day, yeah), they are beginning to lose their luster. The colors are fading.



Do I need to worry about this?
Warm
Gender:

Female

Familiarity:

I've put it through the wringer
Great quality. Warm. Functional. Love them. (kind-of strange zipper... but doesn't seem to be a problem)
best gloves
Gender:

Male

Familiarity:

I've put it through the wringer
still hands down the best gloves on the market!!! I have yet to find a better set of gloves.....
After 1 season in Japan and just finished an epic Australian season these gloves have had a lot of use.They are super comfy and my hands havent been cold once. One wrist strap was looking like it was about to break soon after I got them however they have held together fine. Just keep looking after them with the leather balm and they will last
These gloves are super warm and last a long time. I have a pair that is still in decent condition, with over 150 days on them. The padding is great for when you get too close to a tree or are on the race hill slamming gates. The color is great but did fade a bit.
Good glove, but not the warmest.
I have used these gloves for 41 days so far this season and they're not bad. The wrist leashes both broke on me but they are a comfortable, durable, glove otherwise. I don't know if it's just me but I have on several occassions had my hands get so cold in them that I thought I was going to get frostbite. These occassions were in areas that are not considered to be that cold either i.e. South Lake Tahoe, CA. where the temperature wasn't any lower than 19 degrees or so. It's funny because they kept my hand perfectly warm in Jackson Hole, WY. where the temperature was -7 on a few mornings. Maybe because it's so much drier out there, I don't know. Anyways, they're a good glove but I wouldn't recommend them for really cold temps, spring skiing might be they're best use.
do they stretch in the width very much
do they stretch in the width very much
Best Answer
Once you break them in they do get a little larger, but not enough to goto the next size down.
I am snacking on this glove so much lately. I love it. I have owned many other good gloves, (arcteryx and Dakine) but these are the best. I love the ample thumb wipe! Great fit and lots of attention to detail.