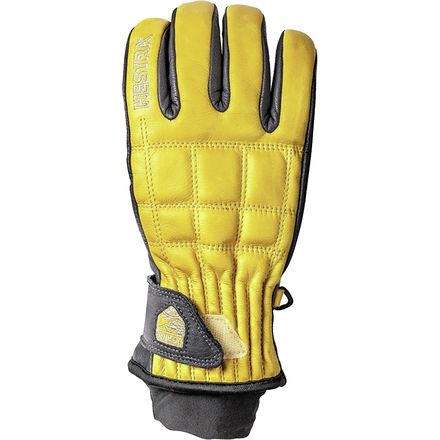 Detail Images
Description
Henrik. He's so hot right now, especially his hands. Henrik.
When speed skiing in Alaska or lapping the park at the northernmost ski resort in the world, pro hucker Henrik Windstedt doesn't have time for anything less than his Hestra Pro Glove. A shotty glove isn't exceptable for this Swedish skier that knows a thing or two about being out in the cold. That's why he designed his glove with durable, snow-proof leather and put in a layer of Thermolite insulation to lock in the warmth when skiing above the Arctic circle.
The leather outer shell provides flexible, insulating, and windproof protection from the elements with a stylish grid pattern on the back of the hand
Cowhide leather palm increases durability and tactile sensitivity while pre-shaped fingers don't need to be broken in before use
Polyester lining adds comfort and aids moisture management while skiing hard
The Lycra snow cuff and hook-and-loop wrist strap ensure no snow gets inside
Handcuff technology is a leashed strap that wraps around your wrist so you can keep your gloves off the snow after you slip them off to talk on the radio
I bought these gloves off season to capture the discount. Will write more after the season starts and have a chance to use them.
Great glove for most days.
Familiarity:

I've put it through the wringer

Fit:

True to size
I used these gloves all last winter. This is a great glove for most of the days throughout the ski season. They're comfortable and have great dexterity. I also really appreciate the leashes. They're Hestra so you know they're well-made but they have a high price tag to go with it.

I just wouldn't recommend them for days in the low single digits.
Are they as warm as the Hestra Vertical Cut?
Ive always thought the Vertical to be warmer but, I am contacting our rep directly to find out what they say. I will shoot you an email when I hear back from them and I will also post it on the site.
Bill - Any update on the warmth of these compared to the Vertical or Fall Line? Why is this glove so much more expensive than both of those?
Awesome glove, great dexterity
Familiarity:

I've put it through the wringer

Fit:

True to size
This is my go to glove, as long as the temps are > 0F. There's virtually no breaking in period, as they feel well-worn right off the bat. Some people think the wrist loops are a little goofy, but after rocking them for a season there's no way I'd ski without them. They leave your hands free to move instead of awkwardly sticking them under your arm pit or dropping them off the chair. I treat my gloves with the accompanying balm or a similar store-bought balm to make them a little more supple and to up keep the leather. Not totally required, but it helps give the gloves a little more life and maintains the feel.
Honestly this is the most comfortable/dexterous glove I've ever worn.



I knew the moment I put the glove on that it had to be mine and that I'd pay any price to have it.



I've worn it all season so far and have had no issues. Super warm, my hands get so hot in blizzard conditions I usually have to take my hands out on the lift.



Love the wrist straps too.

GET THESE GLOVES
Not really worth the price!!!!
Gender:

Male

Familiarity:

I've put it through the wringer
Yes they are a true fit and are made of leather.. that's what the two stars are for... they don't keep your hands warm for nothing!! Here in the Wasatch when its really cold these gloves are useless! If you feel like paying over 180 bucks for gloves that don't keep your hands warm, than by all means go for it! Highly don't recommend!
Henrik Windstedt Pro Glove - Wow.
Got the Henrik Windstedt Pro Glove a few weeks ago - after a number of days out in the Wasatch, I can say these gloves are awesome. They look unlike any other glove I've seen, fit perfectly (true to size - see the size chart if you need to measure your hands), and are well-constructed from high-grade leather. Highly recommended.
Solid, Dependable Performer and Looks Good Too!
Hestra like Henrik, is Passionate about the strength, durability and style of their Gloves and Accessories. The Winsteadt Signature Pro model combines all the best features found in Hestra technologies in a nimble and bulk free design. And I am sure that Henrik would agree that when he is doing cartwheels and tomahawking down the face of the Bec de Roses, the last thing he is worrying about is his hands getting cold or possibly even loosing his gloves. Hestra Handcuffs take care of that. All in All a very handsome, technically proficient,and comfortable glove. And the Tourquoise/Lime rocks it on the podium and in the lift line.
Would this be a good glove for spring...
Would this be a good glove for spring skiing? Is it waterproof?
Probably not... they are too warm for spring skiing and don't breath as well as you would need on a warm spring day. I'd get some windstopper/softshell for spring skiing. They would work better and also would save you some money since they are under $100 bucks.