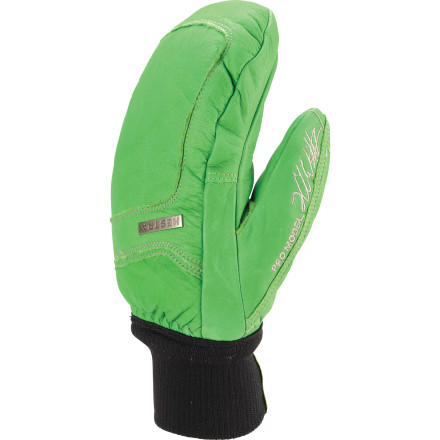 Community Images
Before a long day of ripping turns, pull on the timeless Henrik Windstedt Classic Mitten from the experts at Hestra. Specially treated leather and Thermolite insulation provide the warmth and comfort only a well-made mitten can provide. The knitted Hestra Handcuffs snugly fit around wrists to keep snow out and provide all-day comfort.
Constructed from Cowhide Aniline which preserves the natural characteristics of the leather and provides excellent weather resistance
Thermolite and Fiberfill synthetic insulation keeps digits warm on cold days
Bemberg 5-finger lining works to keep each digit warm
Knitted Hestra handcuffs snugly fit around wrist
stitching is defective on top of mitten
Familiarity:

I've used it once or twice and have initial impressions
Bought these mittens at the end of last year on sale… Brought them out when the temps were below 15 degrees. Kept me warm but after my second day skiing the stitch on the top came undone leaving a hole. Hestra defect. Contacted Backcountry and they have a 30 day warranty and told me to contact Hestra for repair. Love the mittens for warmth but need them to be durable and last. Bummed!
I've tried 2 other pairs of mittens and nothing kept my hands as warm as these. The cuffs are slim, so they fit right under my Obermeyer Leighton jacket. However, I did find that they were not as tight fitting around my wrist as the POC mittens. So, I would suggest wearing a base layer with thumb holes for really cold days. This is the only thing preventing them from being 5 stars in my boat. I've only worn them once, so I'll come back to comment on the durability. There are wrist guards, so you can feel more confident taking your mittens off on the lift. They are a bulkier mitten (hence the warmth), so loosen up your wrist guards on your ski poles a bit. A must have mitten for really cold days.
Hestra the warmest mittens ever created!
I had the white mittens about 5 years ago and they got so dirty that I had to retire them because of cosmetic isssues not because the glove fell apart. These mittens are by far the best investment a cold girl whom enjoys skiing can make. They have hand dividers on the inside to keep your hands happy and toasty warm. The outside is all leather so they are ment to take some abuse but let your hands breath when they get overheated. The version I just purchased feature wrist gators so I can take my mittens off when sitting on the lift and not tragically drop one. I have purchased a ton of gloves and mittens in my lifetime and these are truly the best. If you want your girl to be happy, buy these gloves. If you want her to complain score some cheap ones that are nylon at walmart.
Best Mitten Ever
Gender:

Female

Familiarity:

I've put it through the wringer
Hestra makes the best mittens and gloves out there, and the Henrik Windstedt Classic mitten is my ALL-TIME FAVORITE MITTEN. They're realllly warm and realllly comfortable. The leather is really soft and stands up to the beatings. Even though the mittens are really insulated to keep you warm, I find they are breathable too so even if you're getting hot hands they still don't get too sweaty. They hold up extremely well in all conditions- heavy, wet snow, windy days, and long days in the backcountry.



The mittens have the finger dividers in the inside as well, making it so you still have control with your hands. Another great feature of these mittens is they have wrist-band connectors (quite a few styles of Hestra gloves comes with these, but not all). They may seem childish but once you utilize them you can't go back. For example, I was caught in a massive avalanche and my mittens got ripped off like everything else, but they stayed with me because I had on the wrist-bands. I was partially buried for quite a while and my hands would have definitely been frost bit by the time I was unburied if I didn't have my mittens still connected to me to put back on (my arms and face were the only thing free of being cemented in during the burial so I was able to put them on).



The knitted cuffs are comfortable, fit snugly on the wrists and go right under your jacket cuffs seamlessly- the cuffs are anything but bulky.

The mittens fit true to size.