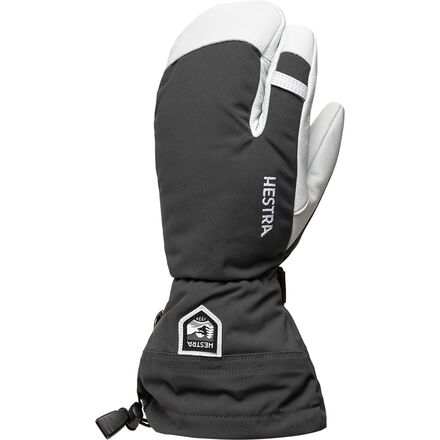 Detail Images

Community Images
Description
3 fingers of fun. Or 2 plus your thumb.
The Army Leather 3-Finger glove gives you the warmth of mittens combined with the dexterity of gloves. You'll appreciate the ability to unzip your pack, grab a snack and not drop it while wearing the 3-Finger. The interior lining is removable and replaceable, so you can customize your warmth. The 3-Finger is constructed from windproof, waterproof and breathable Delfy nylon fabric. Army Leather goatskin palms are super grippy and flexible.
Lobster Claw for the Win
Familiarity:

I gave it as a gift but have feedback to share

Fit:

True to size
I gave this to my man as a birthday present. He has purchased other "lobster claw" gloves in the past so he is a big fan of the their functionality and warmth. However, the Hestra is a step above the competition. The glove liner is so soft and keeps your hands warm even on the coldest days. Of course the best feature is the design, no need to fumble around with taking your mittens on and off just to get to your zipper, although the wrist straps and gaiters on these are top notch. These gloves are simply the best and every mitten lover should have a pair in their gear arsenal
No more freezing fingers
Familiarity:

I've put it through the wringer

Fit:

True to size
A good buddy of mine turned me on to this brand, never buying any other glove again. These bad boys fit true to size and are indeed warm! Handcuffs keep your gloves from getting lost and the extended length keeps pow pow below your skis instead of up your sleeve. These gloves are a total win!!

~BTK
Great glove, I mean Lobstah Claw!
Familiarity:

I've put it through the wringer

Fit:

True to size
We just had a pretty cold winter in the northeast. Lots of snow, lots of weather. I purchased these gloves in December after I was pretty happy with my pair of Hestra Henrik Windstedt gloves. I was originally concerned these might not keep my hands as warm as a traditional full mitten. I was wrong. This had lots of protection from the elements and always kept my hands nice and toasty - even on the coldest, windiest days.

I remember one day in particular, when the wind was blowing 30mph+ and the temps were in the single digits, my brother had to bail because his hands were freezing meanwhile my hands were completely unfazed by any of the weather conditions.

The only thing I'm upset about is never owning a pair of Hestra gloves before this year.
My savior-mitten... marry me?
Familiarity:

I've put it through the wringer

Fit:

True to size
This mitten... or weird 3 fingered mutant glove... has saved my buns, or more accurately, my phalanges from misery and/or inevitable frost bite on multiple occasions. From the peaks of the Chugach Range on a -20 F day to 9 hours outdoors with 1.5' of new snow and temperatures below 10 F in Montana for my Avy1 course.... I would have had a lot less fun on these cold days if it weren't for my Hestras. They're super nice to slip on after a long, cold tour and warm up from the outside in. The advantage of the 3 fingers is that you have a little more maneuverability for switching over a splitboard, monkeying with your pit digging gear, or pulling up your gaiter. I wouldn't go into the backcountry without these guys if its below freezing. Favorite gloves I've ever owned.
Great Gloves for a Variety of Conditions
Familiarity:

I've put it through the wringer

Fit:

True to size
Bought these to give greater range than the gloves that I'd been skiing with - gloves that, unfortunately, handled tons of abuse but didn't keep my hands warm in single digit temps and sub-zero wind-chills.
To steal a phrase, when wearing Hestra's 3-fingers, I feel like "I'm an angel baby swaddled in a cocoon of cloud candy." They proved plenty warm on frigid, East Coast days from Pennsylvania's Whitetail to Vermont's Smugglers Notch. The dexterity is far better than the competition, and despite the color, they hold up very well to a range of abuse. On the coldest days, they can be supplemented with the optional Primaloft liners, and/or with silkweight liner gloves.
Highly recommend these as a warm, utilitarian glove option.
Best "Gloves" EVER!
Familiarity:

I've used it several times

Fit:

True to size
I've been skiing for nearly four decades. In my entire skiing life, I've never had gloves as awesome as there. Super warm, but not ridiculously hot; excellent features (e.g., idiot strap, cinchers, etc.) Basically, if you are glove shopping, stop looking and buy there. :)
Hestra Heli 3-Finger Glove
Familiarity:

I've put it through the wringer

Fit:

True to size
Great glove / mitten but one of the selling points is the replaceable liner which isn't actually available, from anyone including Hestra. A bit of marketing joke on Hestra's customers.
not water proof not warm
Familiarity:

I've put it through the wringer

Fit:

True to size
These gloves are fine if your skiing on a 30 degree dry day but coming from someone who usually doesn't get cold or bothered by wetness. under 25 degrees without hand-warmers your hands will freeze and even with hand-warmers it doesn't make a difference. If it is raining or if your hands are in contact with the snow your hands will get soaked. I have had these gloves for two seasons I really like the three finger design but since hestra calls these gloves waterproof I don't know if I will buy another pair of higher quality hestras because I don't know if I can trust them.
Great Glove for Snowboarding
Familiarity:

I've used it several times

Fit:

True to size
I bought these gloves specifically because my hands get cold while I'm snowboarding. I have regular, five finger gloves and when it is cold, my fingers get cold. I also have big hands so I have trouble finding XXL in five finger gloves so decided to go with the lobster glove. Didn't want a straight mitten because I need to have some dexterity to use the ratchets on my bindings.



I got the red and white version and they are just awesome. The cuffs actually keep the snow out very well and the wrist straps are easy to use. They are warm and comfortable.

I can't comment on durability, but I have worn them a few times so far and they seem to be holding up well. The leather part is very soft and stayed soft even after it got wet.



The are only down sides I can see . One is that they are not really a casual cold weather glove and if you don't take the time to put on the wrist straps, the straps hang out pretty far and get caught on things. This is not a terrible downside, but just don't expect to throw them on in two seconds. The other is that, obviously, the three finger part is definitely warmer than the two finger part. This kind of goes without saying since it is not a true mitten, but just in case anyone wanted to be sure.

All in all, its a great compromise between glove and mitten. It looks great and keeps you warm. Definitely worth the money I paid and would buy them again.
Unanswered Question
Anybody ever try to use these for...
Anybody ever try to use these for snowmobiling?
Beware of UPS at XMas
Familiarity:

I've put it through the wringer

Fit:

True to size
First - concerning the Hestra gloves: They are awesome. Warm and comfortable with different sizing options and removable liners. I love mine so much I bought a pair for my son for Chrstmas. And that's where the problem was.



For a week leading up to xmas, I received daily updates each delaying the arrival date by one more day. Finally on Christmas Eve I was at the UPS facility where I was told that they didn't know *where* my package was.



The backcountry rep said that it was UPS's fault. Well, I didn't make a deal with UPS. I purchased a product from backcountry with the agreement that it would be delivered to me in 2 days. It wasn't. They are responsible.
Warm and durable
Familiarity:

I've used it several times

Fit:

True to size
I got a pair as a gift and love them. I was skiing at Wachusett Mtn on 12.14.13, it was 11 degrees F with a slight wind. My hands stayed warm. My only criticism is they are almost too snug with the wristband closed and the Velcro catches on the nylon pole strap when the wristband is not snugged.
The lobster claw!
Familiarity:

I've put it through the wringer

Fit:

True to size
They're warm and great for cold days while still giving you dexterity! The fact that the liner is removable is nice too, makes them easy to dry. I really recommend these gloves, however the reason I didn't give it 5 stars is that the leather does get cut fairly easily so be careful when carrying skis (also if you're OCD the white leather won't stay white for long). These gloves are well thought out and have lots of nifty features.
Good off the rack, not so durable..
Familiarity:

I've put it through the wringer

Fit:

True to size
Loved these things when they were brand new, used them heavily all season last winter. Found that they were very warm as long as they weren't water logged, which, if your out in the snow for more than 4-5 hours, they will be.



Last season near the end of winter I was finding that the warmth, and the materials of the gloves were degrading badly. My hands were getting really cold in temps that I would not consider brutal, and despite all of the effort I was exerting hiking out in the mountains.



If you are willing to spend the money on them, give them a shot. However, you should know that heavy use will limit these to one season of quality warmth and protection. The wrist strap feature is absolutely brilliant, and should be on every glove ever made...
meh.
Familiarity:

I've put it through the wringer

Fit:

True to size
Have had these gloves for a couple or so seasons (in the PNW) now and my search for a glove continues. The biggest thing I have against these is that they don't keep my hands warm unless it's sunny out. I've use them with hand warmers but still can't keep warm. I treat the leather every season but the leather seams manage to get moisture in them. I suppose if you've got warmer hands these gloves would be great, but those with cold hands should stay far away from them. The wrist straps should be imitated by every glove! Avoid them as well if you'd rather not strike up lift chair conversations as people like to ask about these lobster style gloves.
Second Time Around
Familiarity:

I've put it through the wringer

Fit:

True to size
My first pair of Heli-3 Finger Gloves lasted over 300 days of hard snowboarding at J.Hole, Summit County Colorado and the Wasatch. The second pair so far has about 100 days into a second season at the Wasatch and nearby areas. I find it true to size, but if you need fine finger control for some reason, the 3 finger set up is not it. It is definitely clumsy for something like working a camera -- truthfully, a snowboarder doesn't have a lot need for a sensitive grip.



I've been boarding since 1985 and these are easily the best. Really tough for batting through tree branches, touching down on icy crust, or handling rock on hikes for turns. I've used them with a pair of thin silk inners inside the regular liners at -30 degrees at 10,000 feet. Wet Spring comes around, I treat the backs with a NicWax product, pull the heavy liner and just use my thin silks inside, and I'm happy until May.



The picture shows me and the second pair on top of Murdock Peak at Canyons Ski Area -- carrying my daughter-in-law's board in exchange for a picture.
Good gloves
Familiarity:

I've put it through the wringer

Fit:

True to size
I love these gloves but I must agree that they are not super warm when the temps get really frigid. I tend to get hands cold easily so please factor that in. However, I have had an experience in single digits where my back was sweaty and my hands cold. I love the removable liners but they could be warmer.