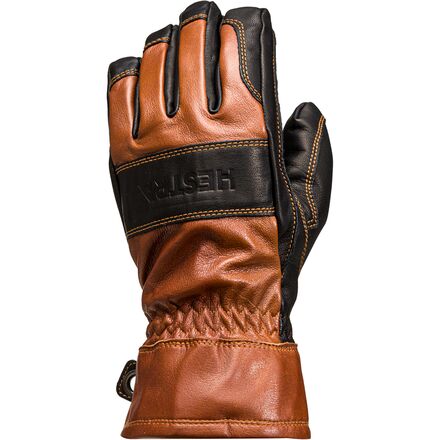 Detail Images

Community Images
Best Gloves I've Ever Worn
Fit:

True to size
These gloves are great!
They are unbelievably well made, perfect fit and very warm.
I've worn these in 0 degree F days and they were warmer than any other gloves I own. The wool liner feels great and they are really tough. I do wish that they came in solid black, but that is my only complaint with them. These are 1 of the few pairs I've ever had that the thumbs weren't too long.
I even bought a second pair to have as spares.
Great Glove
Familiarity:

I've used it several times

Fit:

True to size
These gloves have been awesome for me. I am, however, in the market for new liners as one has a hole in it and they're pretty beat up. Anyone know if there is a slightly warmer liner from Hestra that will still fit in the glove? Maybe the one that goes in the Army Leather glove?
Sweet gloves
Familiarity:

I've put it through the wringer

Fit:

True to size
These gloves are extremely well build. The felt/wool? liners are durable and warm. Overall I was worried these would be too thin and not warm enough for the Northeast, but they have held up to icy VT winters well. Use the sizing guide on the Hestra website if you have any questions there. Mine have not stretched much if at all. I apply leather protectant a few times a season to take care of them. So far, so good. Would buy again in a heartbeat and most definitely will...If I ever need to.
Spent a month locating gloves thru main office in Sweden. But US operations screwed it up & not only never apologized or tried to make it right but haughty marketing manager there tried to order us not to communicate with the head office about the problem to try to cover up their incompetence. Maybe they have a good product but we'll never know because we won't deal with any company who treats customers so poorly. Too many good glove manufacturers out there to waste your time with this one.
After 30 days skiing with Hestra's guide glove here are my observations:



1.) They keep your hands dry. The wool liner does an excellent job even on the wettest days of keeping the moisture off your hands. The leather on these gloves is high quality, but it's not Goretex so on wet days they will absorb moisture. I've had days where the outside of the glove looks soaked, but my hands are toasty inside.

The downside to Goretex is when you do get moisture inside the glove it can be hard for it to escape, giving you that clammy feeling. You won't run into clammy hands with the guide glove.



2. Hestra makes durable gloves. My last pair of hestra's lasted 7 seasons, and they took a hell of a beating without sacrificing warmth. I anticipate these will do the same, after nearly three months owning them they have yet to show signs of damage. Make sure to buy some nikiwax or a similar leather balm, these come with hestra's in house brand of balm, but I suggest getting some nikiwax to extend the life of the glove.



3.) They stay warm without sacrificing dexterity. Hand warmth varies from person to person, if you have circulation issues you may want to add another layer(warmer core=warmer extremities) or try throwing a hand warmer in each glove. That being said I have not had an issue with these gloves lacking in warmth, even on colder days my hands don't freeze up and on warmer days I usually stash the liner because my hands start to overheat. The gloves themselves aren't overly bulky, which is a common issue with gloves that pack as much insulation as possible. Hestra nailed the middle ground between warmth and dexterity.



4.) They look badass. Seriously, don't be surprised if you find yourself hucking a cliff you wouldn't have even looked at in the past.



Bottom Line: The guide glove is burly, badass, and warm. What are you waiting for?


Built to last
Familiarity:

I've put it through the wringer

Fit:

True to size
Use these gloves for everything. Backcountry days, resort riding, and working in the shed. Its a versatile glove. Warm enough to handle below zero temps in Jackson then feel comfortable on spring tours in the Wasatch. You can't beat a good leather glove. Keep them water resistant with leather balm and they last forever.
Unanswered Question
What do they weigh? In, say, size 11, or...
What do they weigh? In, say, size 11, or whatever you've got.
Love this Glove
Familiarity:

I've used it several times

Fit:

True to size
I love this glove but decided to go with the natural color.
One of the Best gloves out there
Familiarity:

I've used it once or twice and have initial impressions

Fit:

True to size
I am between Hestra size 9 and 10's in general but went with the 10 on the Guide. Love the feel of this glove and the dexterity. If you notice on the inside label the shell is made in Hungary. Guess maybe they couldn't do the stitching well in China. You should buy this glove before they start making in China since all the other Hestra gloves come in plastic packaging with a "made in China" label. I may buy a second pair for this reason since it seems like everything is going that direction. I decided to keep this glove because of the removable wool liner, which is probably worth half the cost of this glove as well. Most other liners are made of polyester or synthetic keeping odors and not as warm. Haven't used these skiing yet but have used for cold weather motorcycle riding and hands were toasty warm.


Worth the money!!!
Familiarity:

I've put it through the wringer

Fit:

True to size
This is a great glove that is worth the money. I have used this glove for the past 3 ski seasons. My fingers used to always get cold and I've tried many gloves along the way. I was a little worried when I bought these gloves if I was just wasting my money, and my fingers would still get cold. NOT THE CASE WITH THESE GLOVES. When you first slide your fingers into the wool liners you won't be disappointed. They are a durable glove that will last in all conditions. Through the years I did have a small tear on one of the fingers, but the folks at backcountry hooked me up with a new pair. Bottom line: great glove and you won't be disappointed.
How is the length of the fingers compared...
How is the length of the fingers compared to other gloves you own?

Thanks!
If you are concerned about what sort of size you should buy, check out the sizing guide provided by BC right below the drop-down tab you click to select a size.

Or is it that you are concerned about finger length because you have atypically long fingers for your hand size?
Do they fall off easily or do they stay on tight? I was also wondering if they are really worth the money.
I have the seth morrison Hestra glove/mitts... I loved them until my hands would be damp and cold. Then I'd put my hands in my husband's guide gloves (much less attractive for a girl, imho) and they'd feel amazing and wooly and warm.

I finally bought these this year and haven't looked back.

These don't match my pink jacket as nicely but my hands are so so happy.



* The wool liner stays warm when wet

* The wool liner comes out to dry and dries fairly fast

* The wool liner is well-secured with lots of velcro detailing.

* The length is fine- not too short but not clunky and annoying.

* The loop and small carabiner on the side keep them together or you can clip to your pack when hiking/touring and your hands overheat!

* Leather softens up fast

* Pack up so small & work great as a second pair in my ski backpack

* Fast on/off

* Held up in both wet snow & fine 3 m deep powder.



Could improve them with Hestra handcuffs but those can be ordered separately from Hestra directly and sewn in (which is what I did).



SUPER LOVE.
does this glove stretch much? I seem to...
does this glove stretch much? I seem to be between the 9 vs. 10 based on the sizing guide.
Husband says his didn't stretch out in size. I sized mine according to chart and it worked out well for me, but I'd size up. (I'm a 7 and they're a bit big but find they still have a good technical feel to them).
I'm on the fence about these gloves versus...
I'm on the fence about these gloves versus army XCR. I want a glove that'll be great for the Tahoe area (read the gamut from spring skiing to wet pow). My biggest concern about these ones is waterproofing. How do these hold up in an all out wet blizzard? Are they going to soak through? I've got a pair of older marmot gloves that have a leather palm (doesn't look like marmot makes them anymore) and they just soak right through when it gets wet.
Best Answer
If you're worried about them getting wet, just get some SNOW SEAL and really work those babies in. They'll be waxy and waterproof in no time and will keep the wetness at bay much, much longer. Double up with a membrane like latex gloves underneath and your own moisture won't effect it either for the coldest or wettest days.
Sounds good thanks! Bought some snow seal and these gloves. We'll see how it goes.
Also: have you considered your own sweat factor?

When I'm excited or scared by a line, my lands let me know! Then I freeze! Especially in warmer (-7 and warmer) weather...

The wool liner rocks for comfort when wet/sweaty.

The soft lovely liner of the other Hestra products freezes my hands when I'm terrified. And what would a ski trip be without a little terror??
Looking to replace the original liners for...
Looking to replace the original liners for my gloves. These are and awesome product. 4 years though and I neeed new liners.
Hey bgg,

Hestra USA has replacement liners in stock: http://hestragloves.com/en-us/gloves/liners/wool-pile-terry-liner/


It hurts me to return these...
I am training with the ski patrol here in Oregon and I have been searching for a glove that will hold up to the abuse of running sleds, checking ropelines, hauling equipment ect. while keeping my hands warm. These gloves seem like they would hold up to normal abuse for a long time, but on the second day I had them on the slopes the middle finger on one tore open. I treated them with the balm that was provided and they were waterproof for the first day, then on the second day when it was snowing I noticed near the end of the day my fingers felt wet and the leather was soaking up water. These kept my hands nice and warm as long as I was active, but got cold on the lift or if we were standing around talking about something. My hands are terminally cold on the mountain and these gloves kept my hands warmer than any other gloves I've had, though they didn't keep them warm all of the time. I'm returning these and will try my luck with the Army XCR's. Oh and the wool liner feels amazing.
I'm on the fence about whether to purchase...
I'm on the fence about whether to purchase the Hestra Guide Glove or the Heli Glove. I'm a sit skier, and I'm on track to get about 100 days this season, skiing and teaching at Telluride. I want a glove that will be very durable, very water-resistant, and keep powder out when it gets deep. I would immediately get the Guide Glove, but my only concern is that it looks like the gauntlet can't be tightened around my forearm, whereas the Heli Glove can be tightened. Since I have to stick my arms through outriggers when I ski, this could be a bit of a hassle if I can't get the gloves tight enough. Anyone have experience with both pairs?
I own both pairs of these gloves. I personally prefer the guide over the heli. I tend to take my gloves off quite a bit on a pow day, either to dj or just adjust things when im splitboarding. I found the the cuff on the heli gets a lot more snow in it then the guide. Its also bulkier so it can be a pain to stuff into your sleave. Either way these are both fantastic gloves and I would wear either of them on any day. I just prefer the smaller profile of the guide. Hope this helps